Staying connected – support available to patients and their families and friends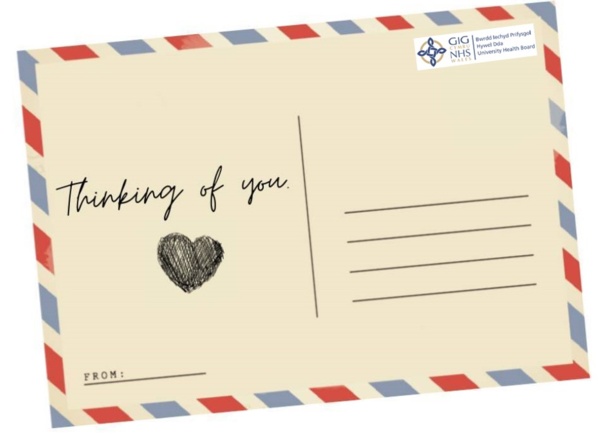 We recognise that patients gain enormous value for their well-being and recovery from visits by friends and family; however these are unprecedented times, which require specific measures to be put in place to protect our patients and our staff. Visiting is currently not allowed, only in specific circumstances.
We know it is important for you to stay in touch with friends or family members in hospital. The Patient Support Team is helping to maintain contact between patients and family in a number of ways:
Sending Messages to Loved Ones
You can now send a message to your loved ones via our online form by clicking here (opens in a new tab) The form is available in a wide range of languages.
Or you can use our dedicated email address. ThinkingOfYou.HDD@wales.nhs.uk which you can also use to include some photographs to your loved ones.
Once your messages are received, they will be printed out and delivered safely to friends or family members in hospital on your behalf.
Please ensure that you include the full name of the recipient, the ward they are on and their date of birth (if known)
If you would prefer, you can also speak to a member of the patient support team who can arrange for your message to be delivered to your friends or family members in hospital. You can contact them on 0300 0200 159.
Dropping off belongings and gifts
The Patient Support Team can also help relatives and/or carers to arrange the drop off (and pick-up) of laundry and other essential personal items.
In order to arrange this service, please contact us on 0300 0200 159. You will be met outside the Hospital's main entrance where a member of staff will come to you, and complete the drop off/pick up. Please only do this by prior arrangement by speaking to the Patient Support Team who will advise you on the specific requirements.
Virtual Visiting
Our wards have i-pads which can be used to arrange video calling where appropriate, using a range services such as Skype.