Small changes make a big difference this NHS Sustainability Day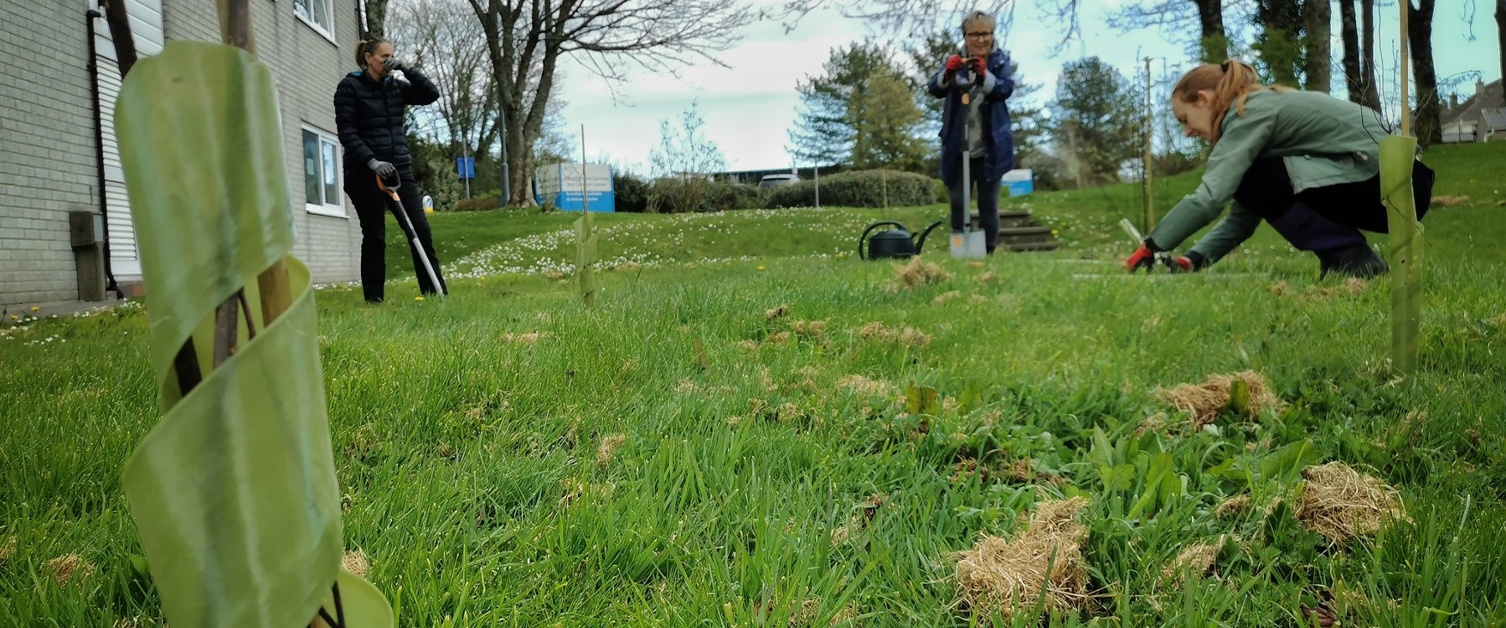 Hywel Dda University Health Board is joining other NHS organisations today (4 June) to celebrate NHS Sustainability Day.
This day provides a platform to showcase some of the work that is happening in the health sector and suggests ideas to NHS employees on actions to take on a range of topics, from nutrition to energy production.
Staff from across the health board are using the day to celebrate some of the ways in which they are trying to be kinder to the planet and help to improve the wellbeing of staff, patients and visitors.
Pembrokeshire midwife, Becci Johnson, has developed up a poster containing 10 Climate Change Actions, to encourage new parents to be more sustainable and demonstrate how small actions can make a big difference.
The poster features tips and advice to help both people and the environment. One example is breastfeeding; it has been calculated that carbon dioxide savings gained by supporting mothers to breastfeed just in the UK could be the equivalent of taking over 77,000 cars off the road each year.
Tree planting and meadow creation have been another green project that staff have been involved in. In the winter of 2020, NHS Forest in association with Ecosia donated 200 native trees to Withybush Hospital which have been planted on the site.
Although currently only small, the saplings have really made a positive impact on the view whilst walking through the hospital site. It is hoped that the project will be extended to many other sites.
Staff at Withybush have also been working with Plantlife Cymru / Magnificent Meadows to create miniature wildflower meadows for sustainable habitats and ecosystems.
All of these projects together aim to improve the health and wellbeing of patients, staff and communities by increasing access to green space and encouraging biodiversity.
Local procurement for food supplies is another way the health board is trying to reduce its carbon footprint; the health board is working with the Centre for Local Economic Strategies and Public Service Board partners in Carmarthenshire on developing a progressive procurement approach.
The aim is to develop a supply chain of local enterprises, Small and Medium Enterprises, employee owned businesses, social enterprises, cooperatives and other forms of local ownership.
A partnership with Castell Howell has proven to be mutually successful and will provide a base for further work during 2021 with other public sector bodies such as Carmarthenshire County Council, in promoting the procurement of food from sources within Carmarthenshire, Ceredigion and Pembrokeshire.
Maria Battle, Chair of Hywel Dda University Health Board said: "The Health Board as key anchor institution has a pivotal role to play to encourage staff and our local communities to take positive action positive action on the health emergency posed by climate change.
"We're working hard to identify actions that c could be rolled out across the whole health board and the case studies we've shared this week are just a few of the initiatives which are being delivered."
Ros Jervis, Director of Public Health for Hywel Dda University Health Board added: "The Wellbeing of Future Generations (Wales) Act provides a framework for action and our corporate departments are as important in tackling climate change as the way we deliver services to patients in hospital or community settings.
"Climate change isn't someone else's responsibility. It is all our responsibility and collectively we can all play a role in securing wellbeing for our current and future populations.
"Today is an opportunity to encourage others to join in making simple changes which can make a big difference. For example, switching to refillable water bottles instead of plastic bottles could save 65kgCO2 per year, and turning off printers, computers and other equipment overnight helps to manage heat loss and reduce CO2 emissions."
If you'd like to find out more about our work visit our Green Health pages https://hduhb.nhs.wales/about-us/governance-arrangements/the-well-being-of-future-generations-wales-act/green-health-in-hywel-dda/ or email StrategicPartnerships.hdd@wales.nhs.uk