Thank you to those supporting our communities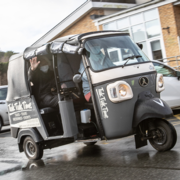 We'd like to give a big shout out to everyone who is helping who has helped someone attend their vaccination appointments these past few weeks. There has been an amazing community response and over the next few weeks we'll try and showcase as many as we can in our bulletin update, starting this week with the amazing efforts of Tuk Tuk Time.
Based in Pembrokeshire, Tuk Tuk Time may be more used to ferrying newlyweds on their wedding day or giving visitors a tour of the sites, but in recent weeks the team have helped transport people, free of charge, to their vaccination appointments.
Lorriane Niederlag, owner of Tuk Tuk Time said: "Is life about the journey or the destination?  We're proud to be a part of both we hope." Thank you to Lorraine and all the team for your amazing efforts and helping your community.