Patient support services (feedback and complaints)
During this time, we know that it is important for you to stay in touch with friends or family members in hospital. You can now send a message to your loved ones via our on line form. For information and updates visit our COVID-19 information page (opens in new tab).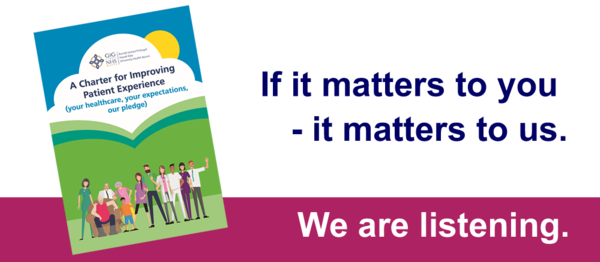 Share your experience
Quality drives everything we do and for us to continue to improve we'd like to know about your recent experience of using our services.
You can do this by contacting our patient support services:
Telephone: 0300 0200 159
Email: hdhb.patientsupportservices@wales.nhs.uk
Online: Using our feedback form (opens in new tab)
Post: Freepost Feedback @ Hywel Dda

Privacy notice - The Patient Experience Team may collect and store your information in line with the NHS' and national data protection legislation. We obtain your information to monitor and get feedback on the services we provide to you to identify areas of improvement. This information is captured from yourselves via a range of methods. Click here for more information on our Privacy Notices (opens in new tab).