Vaccination invites extended to priority group 4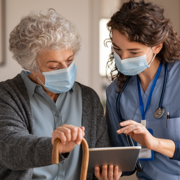 People aged 70 to 74 years old and those identified as clinically extremely vulnerable (who were recently written to in order to shield) will be contacted by their GP practices to receive their first dose of the vaccine this week.
At the same time, GPs will be completing or ensuring they have contacted all over 80-year-olds in their areas.
GP practices have also been busy vaccinating older adult care home residents. Last week, the health board announced that around 85.7% of older adults in eligible care homes have been vaccinated and this figure has further risen this week to more than 90%.