11 August 2021 - Hywel Dda vaccine bulletin - Issue 31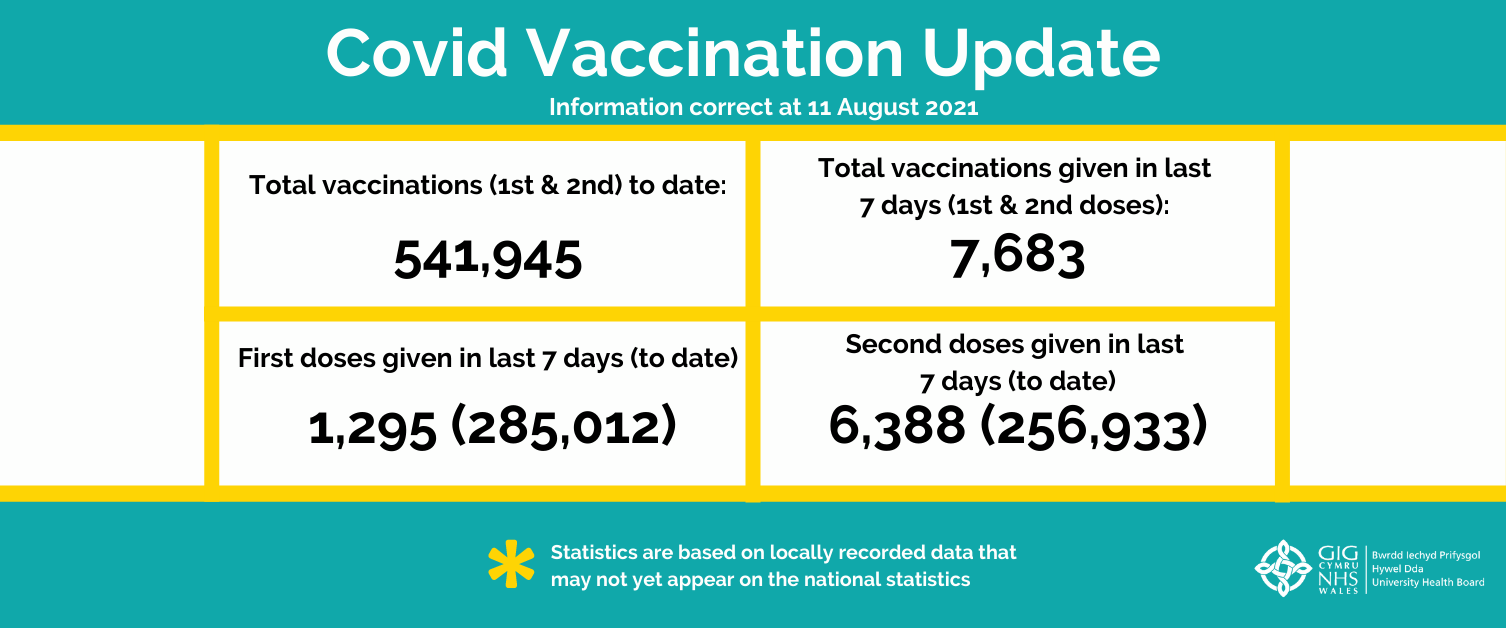 Welcome to issue 31 of Hywel Dda University Health Board's Vaccine Bulletin.
This weekly update will provide the latest information regarding the progress of the COVID-19 Mass Vaccination Programme across Carmarthenshire, Ceredigion and Pembrokeshire.
Vaccination team to attend Pembrokeshire County Show
Our mobile vaccination van, in partnership with Mid and West Wales Fire and Rescue Service, will be attending the Pembrokeshire County Show on 18 and 19 August.
Wales' largest county show is back for 2021 for participants and society members only, hosting equine, livestock and various other competitions.
The fire service is providing one of its vehicles and members of the team will also be in attendance to provide general community safety advice, including about home safety. 
Bethan Lewis, Interim Assistant Director of Public Health at Hywel Dda UHB, said: "It is a big boost to have the Pembrokeshire County Show back this year for participants.
"The vaccine rollout has spanned some of the busiest times for the farming community so we're thrilled to be able to attend the show and provide easy access to a vaccine to those attending."
Ian John, Board Member of Pembrokeshire Agricultural Society, said: ""We are looking forward to welcoming participants and members of the society to this year's slimmed down County Show. We are pleased that Hywel Dda Health Board will be attending with a mobile COVID-19 vaccination van to continue their vital work."
How to request your vaccine
Following updated JCVI advice (opens in new tab), health boards in Wales are now inviting all people aged 16 and over to be vaccinated.
If you are aged 16 or over and live in Carmarthenshire, Ceredigion or Pembrokeshire you can access your COVID-19 vaccine in the following ways:
** Those aged 16 and 17 should be offered the Pfizer/BioNTech vaccine (opens in new tab). Please note this vaccine is not currently available at the Carmarthen Showground or Ysgol Trewen (Cwm Cou, Newcastle Emlyn) mass vaccination centres.
Young people aged 12 to 15 at an increased risk of coronavirus
The JCVI has advised (opens in new tab) that young people aged 12 to 15 at an increased risk of coronavirus (COVID-19) should be offered the Pfizer/BioNTech vaccine (opens in new tab).
This includes children and young people with:
severe neuro-disabilities
Down's syndrome
underlying conditions resulting in immunosuppression
a diagnosis of learning/intellectual disability
The JCVI also recommends that those aged 12 to 15 who live with someone who is immunosuppressed should also be offered the vaccine.
We are in the process of identifying those aged 12 to 15 who are eligible to invite them to receive a Pfizer/BioNTech vaccine at a mass vaccination centre. Please do not attend a mass vaccination centre without an appointment.
To avoid any delay, you can contact us to book an appointment:
Please complete this form: First dose request form (opens in new tab) 
| Priority Group | First dose vaccine numbers | First dose percentage uptake | Second dose vaccine numbers | Second dose percentage uptake |
| --- | --- | --- | --- | --- |
| P1.1 - Older adult resident in a care home | 2,489 | 96.4% | 2,166 | 83.9% |
| P1.2 - Care home worker | 3,490 | 99.9% | 3,272 | 93.6% |
| P2.1 - All those 80 years of age and over | 22,844 | 100.0% | 22,033 | 96.4% |
| P2.2 & 2.3 - Health and social care workers | 25,950 | 99.0% | 24,861 | 94.9% |
| P3 - All those 75 years of age and over  | 18,694 | 95.8% | 18,302 | 93.8% |
| P4.1 - All those 70 years of age | 25,053 | 95.3% | 24,626 | 93.7% |
| P4.2 - Clinically extremely vulnerable individuals  under 70 years of age | 8,726 | 88.1% | 8,413 | 84.9% |
| 5. All those 65 years of age and over | 21,727 | 91.0% | 21,304 | 89.2% |
| 6. All individuals aged 16 years to 64 years with underlying health conditions which put them at higher risk of serious disease and mortality (at risk groups) | 39,060 | 87.5% | 36,798 | 82.5% |
| 7. All those 60 years of age and over | 13,455 | 69.2% | 13,214 | 67.9% |
| 8. All those 55 years of age and over | 14,953 | 80.4% | 14,558 | 78.3% |
| 9. All those 50 years of age and over | 15,315 | 94.2% | 14,771 | 90.9% |
| 10. Priority group 10 or unallocated | 73,255 | 47.7% | 52,615 | 34.2% |
| 45 to 49 years old | 11,194 | 70.8% | 10,375 | 65.6% |
| 40 to 44 years old | 10,539 | 69.4% | 9,334 | 61.4% |
| 35 to 39 years old | 11,067 | 68.6% | 8.800 | 53.1% |
| 30 to 34 years old | 11,216 | 65.9% | 8,453 | 48.4% |
| 25 to 29 years old | 10,567 | 60.5% | 7,230 | 41.4% |
| 20 to 24 years old | 12,493 | 66.2% | 6,411 | 34.0% |
| 15 to 19 years old | 6,162 | 40.8% | 2,009 | 13.3% |
| Total: | 285,012 | 73.6% | 256,933 | 66.3% |