New vaccine web page published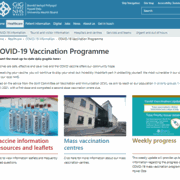 To help keep you informed about the roll out of our mass vaccination programme and to learn more about the vaccine and when you will be invited to receive it, we have published new web pages.
We hope these pages provide practical information about accessing our mass vaccination centres, important information about the vaccine including patient information leaflets as well as further details about the planning of the mass vaccination programme.
It is also where we will publish our weekly Vaccine Bulletin going forward and where you can find previous editions.