1 September 2021 - Hywel Dda vaccine bulletin - Issue 34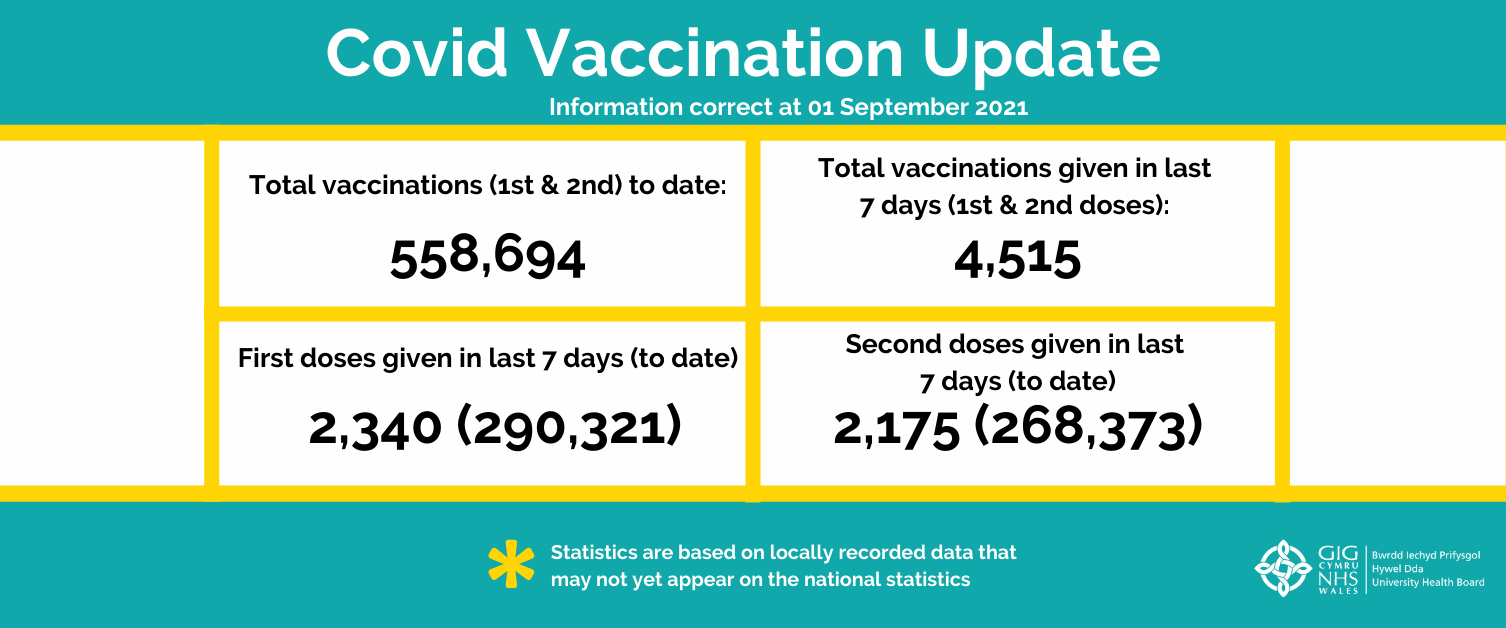 Welcome to issue 34 of Hywel Dda University Health Board's Vaccine Bulletin.
This weekly update will provide the latest information regarding the progress of the COVID-19 Mass Vaccination Programme across Carmarthenshire, Ceredigion and Pembrokeshire.
All 16 and 17 year olds have now received their offer of a COVID-19 vaccine, with all appointments scheduled by the end of August. Walk-in clinics are also open in all Hywel Dda UHB mass vaccination centres (opens in new tab), offering the opportunity for those to get the vaccination at their convenience.
Appointments are being arranged for 12 to 15 year olds who are eligible for the vaccine as identified by the JCVI. If you are under 16, please do not attend a walk-in clinic. An appointment should be made by calling 0300 303 8322 or emailing COVIDenquiries.hdd@wales.nhs.uk
Taking up the offer of vaccination is important for everyone, especially for young people so that they are at lower risk of the effects of coronavirus now that we are able to socialise more.
Carmarthen mass vaccination centre relocation
On Friday 3 September, the mass vaccination centre based at the University of Wales Trinity St David's Carmarthen campus will relocate from the Halliwell Conference Centre to the former Gamfa Wen Nursery on the same site. Signage will be in place to direct people to the new location.
The centre will be closed until Sunday 5 September. Opening times for the centre in its new location at Gamfa Wen will be published on our website as soon as possible. See mass vaccination centres (opens in new tab) page for information.
Mass vaccination van update
Following the success of our mobile vaccination van in partnership with Mid and West Wales Fire and Rescue Service (opens in new tab), plans are in place to return to locations visited previously for people to receive their second vaccine dose. First doses will still be available from the mass vaccination van.
Further information regarding times and locations will be provided as soon as possible on our website, social media channels and local media.
| Priority Group | First dose vaccine numbers | First dose percentage uptake | Second dose vaccine numbers | Second dose percentage uptake |
| --- | --- | --- | --- | --- |
| P1.1 - Older adult resident in a care home | 2,489 | 96.4% | 2,167 | 84.0% |
| P1.2 - Care home worker | 3,503 | 100.3% | 3,315 | 94.9% |
| P2.1 - All those 80 years of age and over | 22,850 | 100.0% | 22,082 | 96.6% |
| P2.2 & 2.3 - Health and social care workers | 25,999 | 99.2% | 25,077 | 95.7% |
| P3 - All those 75 years of age and over  | 18,707 | 95.9% | 18,360 | 94.1% |
| P4.1 - All those 70 years of age | 25,078 | 95.4% | 24,680 | 93.9% |
| P4.2 - Clinically extremely vulnerable individuals  under 70 years of age | 8,783 | 88.7% | 8,449 | 85.3% |
| 5. All those 65 years of age and over | 21,741 | 91.0% | 21,369 | 89.5% |
| 6. All individuals aged 16 years to 64 years with underlying health conditions which put them at higher risk of serious disease and mortality (at risk groups) | 39,215 | 87.9% | 37,271 | 83.5% |
| 7. All those 60 years of age and over | 13,467 | 69.2% | 13,265 | 68.2% |
| 8. All those 55 years of age and over | 14,985 | 80.6% | 14,662 | 78.8% |
| 9. All those 50 years of age and over | 15,525 | 95.5% | 15,090 | 92.8% |
| 10. Priority group 10 or unallocated | 77,978 | 50.8% | 62,586 | 40.7% |
| 45 to 49 years old | 11,189 | 70.8% | 10,641 | 67.3% |
| 40 to 44 years old | 10,627 | 69.9% | 9,798 | 64.5% |
| 35 to 39 years old | 11,173 | 69.2% | 9,948 | 60.0% |
| 30 to 34 years old | 11,450 | 67.3% | 9,654 | 55.3% |
| 25 to 29 years old | 10,849 | 62.2% | 8,757 | 50.2% |
| 20 to 24 years old | 12,939 | 68.6% | 9,836 | 52.1% |
| 15 to 19 years old | 9,693 | 64.2% | 3,949 | 26.2% |
| Total: | 290,321 | 75.0% | 268,373 | 69.3% |