14 April 2021 - Hywel Dda vaccine bulletin - Issue 14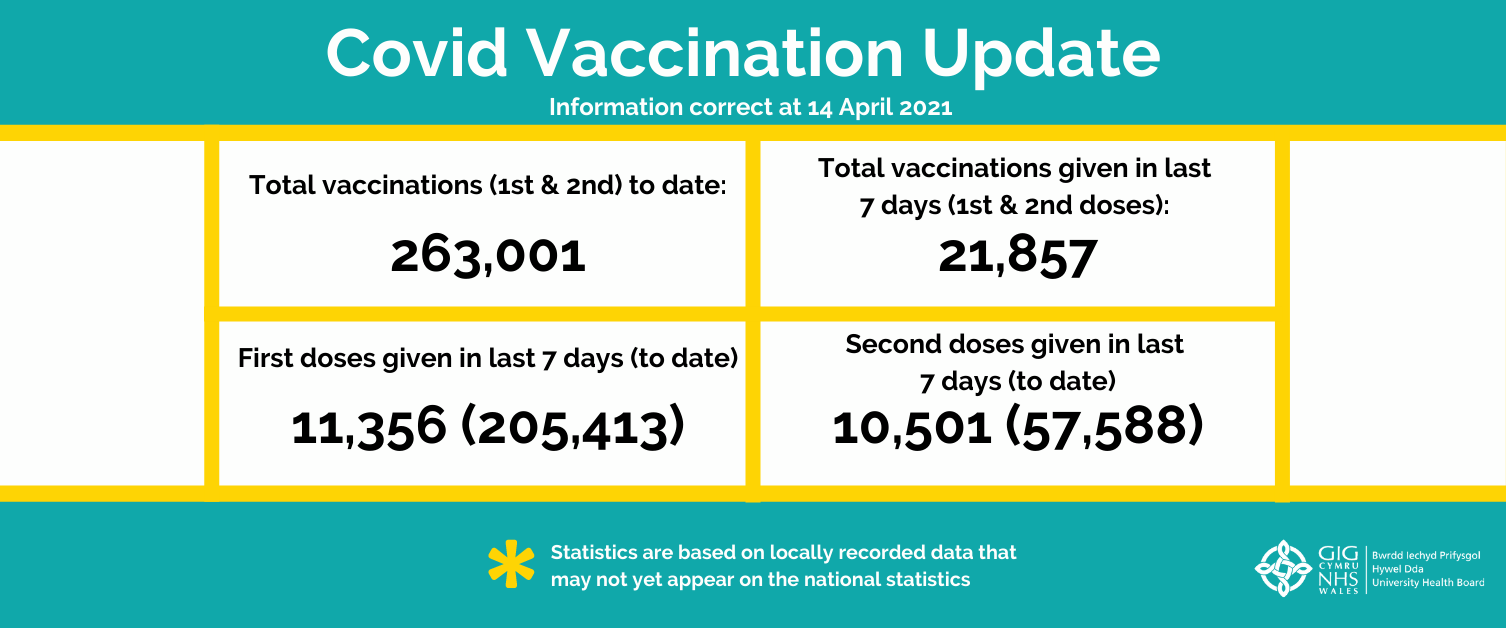 Welcome to issue 14 of Hywel Dda University Health Board's Vaccine Bulletin.
This weekly update will provide the latest information regarding the progress of the COVID-19 Mass Vaccination Programme across Carmarthenshire, Ceredigion and Pembrokeshire.
The health board is operating a 'leave no one behind' strategy for its vaccination program to ensure that those who at most risk from COVID-19 receive the vaccine and protection from the disease
Many people have been asking if the health board will be opening a list for people in lower eligibility categories can join should spare vaccines become available. The health board is continuing to schedule and address any late availability of vaccine, for example in response to DNAs (did not attends), by calling-in people from the currently eligible priority groups (1 to 9).
This is to ensure that protection from the vaccine is offered first to those at most of risk from serious harm of COVID-19.
We have a greater percentage of older people living in west Wales than other areas of Wales and it is important that we offer protection first to those most at risk of harm from COVID-19. At this stage, we do not need to invite people from lower eligibility groups to join a list as we are managing any availability of vaccine with demand from groups we have already invited in for vaccination.
Our vaccination teams from within the health board and primary care staff are making excellent progress and we are grateful to them and members of the public for their patience and for stepping forward to accept the vaccine when invited. We are committed and on target to offer vaccination to all our adult population by the end of July.
Appointments will start to be sent to people aged 40 to 49 this week, starting with the oldest and working backwards. If you are under 50 please await this invitation and do not at this stage contact your GP or the health board.
Please be patient if you haven't been contacted about your vaccine yet and we politely ask that you do not contact the health board or your GP to ask about your vaccine. You will be contacted when it is your turn.
Contact us by Friday 16 April for your first vaccine (groups 1 to 9)
An online form is now available for eligible people in priority groups 1 to 9 living to complete get in touch if they have not received a first COVID vaccine appointment.
If one or more of the following applies to you and you have not received your first vaccine appointment, please click here to contact the health board by Friday 16 April (opens in new tab):
are aged 16 to 64 and have underlying health conditions (opens in new tab) hat put you at increased risk of COVID-19 mortality
work in a care home or in health and social care in Carmarthenshire, Ceredigion or Pembrokeshire
are the primary unpaid carer of an elderly or disabled adult who is at increased risk of COVID-19 mortality, or a child with severe neuro-disabilities
People can also continue to contact us on 0300 303 8322 or by email COVIDenquiries.hdd@wales.nhs.uk by Friday 16 April.
Caldey Island visited by vaccination teams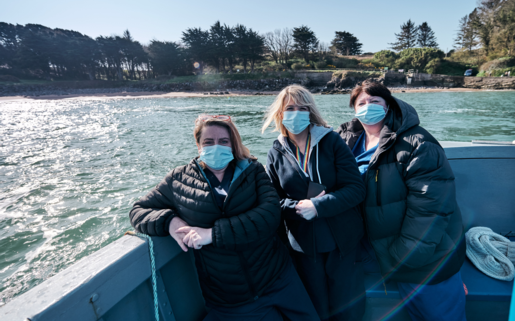 Practice staff from Tenby Surgery, a Hywel Dda University Health Board managed practice, were delighted to return to Caldey Island by boat this morning to offer second dose vaccinations to the order of monks that live there, as well as to the eligible residents of the Island.
The Oxford/AstraZeneca vaccine was safely transferred by boat, along with the immunisers, to provide a combination of first and second vaccine doses.
Jill Paterson, Director of Primary Care, Community and Long Term Care said: "This is definitely one of our more unique vaccination clinics to reach our communities and we are pleased to be returning."
Caldey Island is one of Britain's holy islands with a long monastic heritage. The Cistercian monks took up residence in 1929 and lead a life of prayer and quiet living.
Prior to the COVID-19 pandemic, day guests were allowed to visit the island in the summer season and it is hoped the island will re-open to day visitors very soon.
| Priority Group | First dose vaccine numbers | First dose percentage uptake | Second dose vaccine numbers | Second dose percentage uptake |
| --- | --- | --- | --- | --- |
| P1.1 - Older adult resident in a care home | 2,489 | 96.4% | 1,681 | 65.1% |
| P1.2 - Care home worker | 3,386 | 96.9% | 2,720 | 77.8% |
| P2.1 - All those 80 years of age and over | 22,710 | 100.0% | 8,971 | 39.5% |
| P2.2 & 2.3 - Health and social care workers | 25,029 | 99.3% | 21,025 | 83.4% |
| P3 - All those 75 years of age and over  | 18,421 | 94.4% | 16,163 | 82.8% |
| P4.1 - All those 70 years of age | 24,789 | 94.3% | 907 | 3.4% |
| P4.2 - Clinically extremely vulnerable individuals  under 70 years of age | 8,557 | 86.4% | 2,272 | 22.9% |
| 5. All those 65 years of age and over | 21,355 | 89.4% | 309 | 1.3% |
| 6. All individuals aged 16 years to 64 years with underlying health conditions which put them at higher risk of serious disease and mortality (at risk groups) | 36,458 | 81.7% | 1,580 | 3.5% |
| 7. All those 60 years of age and over | 13,084 | 67.2% | 238 | 1.2% |
| 8. All those 55 years of age and over | 14,263 | 76.7% | 250 | 1.3% |
| 9. All those 50 years of age and over | 9,899 | 60.9% | 271 | 1.7% |
| Other priority groups or unallocated | 4,972 | 3.2% | 1,201 | 0.8% |
| Total: | 205,413 | 53.0% | 57,588 | 14.9% |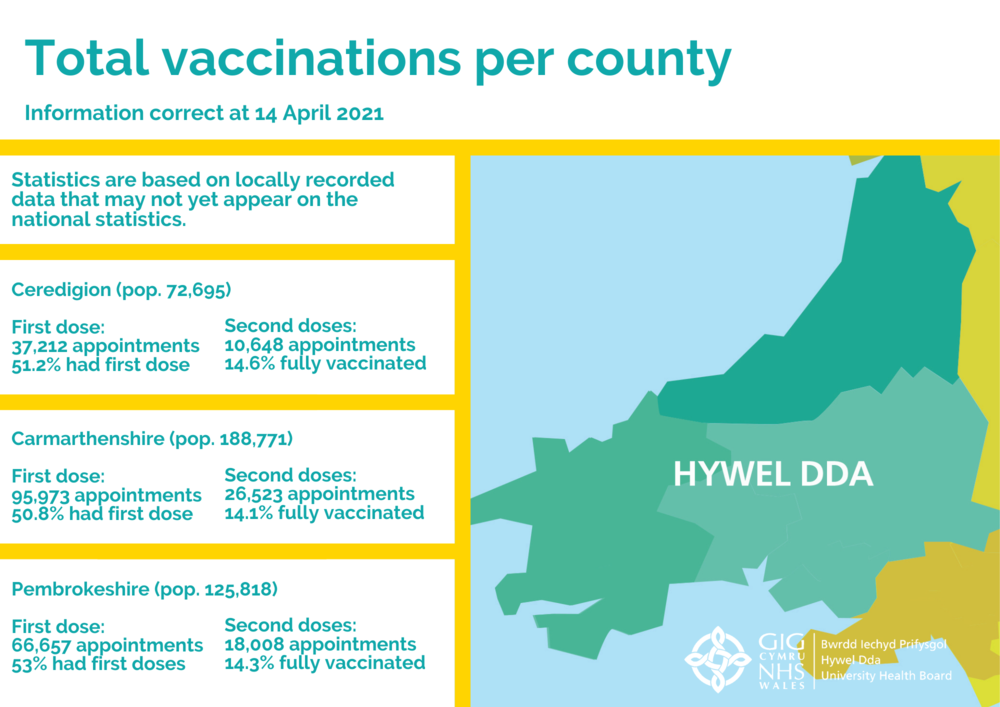 Please don't contact your GP, pharmacy or health board to ask when you will receive the vaccine
This week, health services have been inundated with calls, emails and social media messages from the public enquiring about the vaccine. We understand people are anxious and want to know when they can have the vaccine. Please do not contact your GP, pharmacy or health board; you will be contacted when it is your turn. People will be invited to receive the vaccine in order of priority, so please be patient.