14 July 2021 - Hywel Dda vaccine bulletin - Issue 27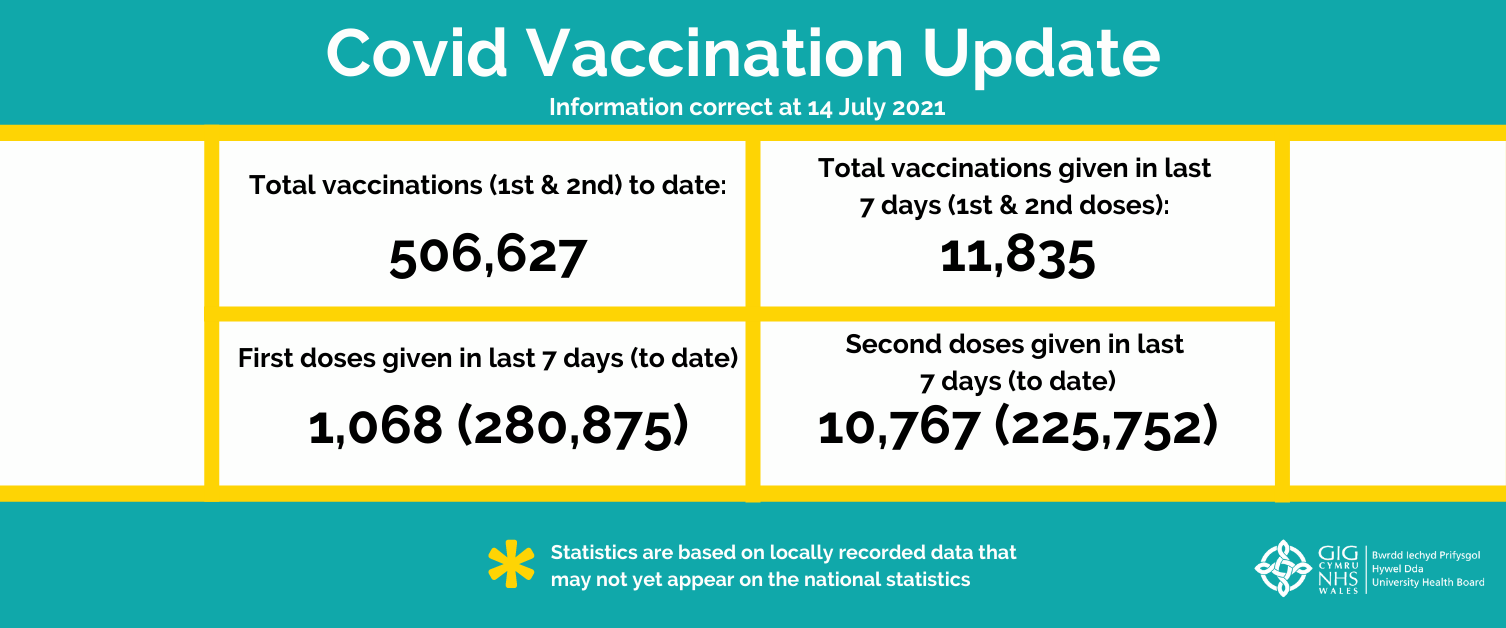 Welcome to issue 27 of Hywel Dda University Health Board's Vaccine Bulletin.
This weekly update will provide the latest information regarding the progress of the COVID-19 Mass Vaccination Programme across Carmarthenshire, Ceredigion and Pembrokeshire.
Update on walk-in clinics
To help all Hywel Dda residents have easy and flexible access to a COVID-19 vaccine, first and second dose walk-in vaccine clinics have been running at all Hywel Dda mass vaccination centre across Carmarthenshire, Ceredigion and Pembrokeshire as well as dedicated antenatal and mental health and wellbeing vaccine clinics in selected venues.
Over the next few weeks, some of our centres will close to allow for staff training and as the number of people attending walk-in appointments reduces.
Please check our website and social media channels for any changes to the opening times of some of our venues (opens in new tab) before travelling.
Appointments can still be made by contacting us in one of the following ways:
First dose online request forms (opens in new tab)
Second dose online request form - if you had your first vaccine 8 or more weeks ago (opens in new tab)
Telephone: 0300 303 8322
Email: COVIDenquiries.hdd@wales.nhs.uk
Hywel Dda University Health Board's mobile vaccination van, in partnership with Mid and West Wales Fire and Rescue Service (opens in new tab), will be located in Llanybydder from Thursday 15 to Saturday 17 July.
The mobile vaccination clinic will be based at Station Terrace car park - Teras Yr Orsaf, SA40 9XX (opens in new tab) and will be open between11.00am and 7.00pm.  There is no need to contact the health board to book an appointment.
The vaccination van will deliver the vaccine to anyone aged 18 and over that requires either a first or second dose (Moderna and Oxford AstraZeneca).  Second doses can be given 8 weeks after the first dose.
Over 500 vaccines have been given to date using the mobile vaccination van at locations in Cross Hands and Pembroke Dock.
With the rise in cases across the UK, Hywel Dda UHB is urging as many people as possible to come forward for their first and second doses as soon as possible.
The NHS COVID Pass (opens in new tab) allows you to show others that you've received a COVID-19 vaccine when travelling abroad. If you were vaccinated in Wales and are aged 16 or over, you can get a digital NHS COVID Pass. NHS Digital is working with NHS Wales to put in place data sharing arrangements between Wales and England. All people vaccinated in Wales or England who are registered with a GP in Wales can already obtain their digital COVID pass through the NHS website from 23 June 2021. All people registered with a GP in England but vaccinated in Wales will be able to evidence their COVID Vaccination data through the NHS website (opens in new tab) from 17 July.
| Priority Group | First dose vaccine numbers | First dose percentage uptake | Second dose vaccine numbers | Second dose percentage uptake |
| --- | --- | --- | --- | --- |
| P1.1 - Older adult resident in a care home | 2,489 | 96.4% | 2,160 | 83.7% |
| P1.2 - Care home worker | 3,485 | 99.7% | 3,223 | 92.2% |
| P2.1 - All those 80 years of age and over | 22,831 | 99.9% | 21,943 | 96.0% |
| P2.2 & 2.3 - Health and social care workers | 25,879 | 98.8% | 24,480 | 93.4% |
| P3 - All those 75 years of age and over  | 18,683 | 95.7% | 18,216 | 93.3% |
| P4.1 - All those 70 years of age | 25,030 | 95.2% | 24,521 | 93.3% |
| P4.2 - Clinically extremely vulnerable individuals  under 70 years of age | 8,714 | 88.0% | 8,354 | 84.3% |
| 5. All those 65 years of age and over | 21,697 | 90.9% | 21,146 | 88.5% |
| 6. All individuals aged 16 years to 64 years with underlying health conditions which put them at higher risk of serious disease and mortality (at risk groups) | 38,858 | 87.1% | 35,810 | 80.3% |
| 7. All those 60 years of age and over | 13,415 | 69% | 13,108 | 67.4% |
| 8. All those 55 years of age and over | 14,896 | 80.1% | 14,329 | 77.0% |
| 9. All those 50 years of age and over | 15,023 | 92.4% | 14,052 | 86.4% |
| 10. Priority group 10 or unallocated | 69,874 | 45.5% | 24,410 | 15.9% |
| 45 to 49 years old | 11,155 | 70.5% | 9,017 | 57.0% |
| 40 to 44 years old | 10,397 | 68.4% | 6,839 | 45.0% |
| 35 to 39 years old | 10,809 | 67.0% | 3,844 | 23.2% |
| 30 to 34 years old | 10,862 | 63.9% | 2,651 | 15.2% |
| 25 to 29 years old | 10,046 | 57.6% | 1,447 | 8.3% |
| 20 to 24 years old | 11,587 | 61.4% | 1,351 | 7.2% |
| 15 to 19 years old | 5,029 | 33.3% | 441 | 2.9% |
| Total: | 280,875 | 72.5% | 225,752 | 58.3% |