19 May 2021 - Hywel Dda vaccine bulletin - Issue 19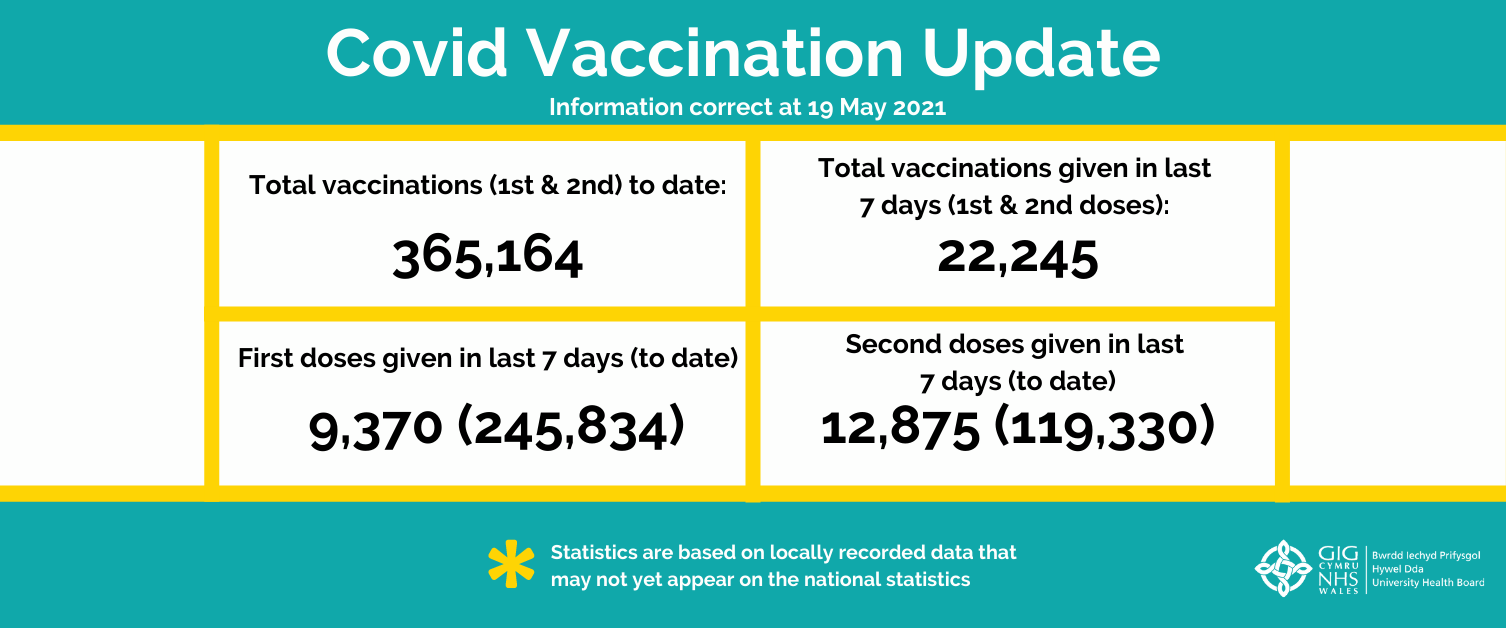 Welcome to issue 19 of Hywel Dda University Health Board's Vaccine Bulletin.
This weekly update will provide the latest information regarding the progress of the COVID-19 Mass Vaccination Programme across Carmarthenshire, Ceredigion and Pembrokeshire.
Thanks to the incredible efforts of primary care and mass vaccination appointments, we can now say everyone aged 25 and over should have received their appointment letter. If you are 25 or over and haven't received an appointment, or if you have changed your mind about receiving the vaccine, please request one as soon as possible by completing this online request form (opens in new tab).
Using the online form is the easiest way for the health board's booking team to receive all the information they need to arrange an appointment. If you are unable to complete the online form, you can also book your first vaccine appointment by calling 0300 303 8322 or emailing your name, date of birth, nearest mass vaccination centre and a contact phone number to COVIDenquiries.hdd@wales.nhs.uk
Thanking our GP practices
The health board is overwhelmed by the commitment and energy shown by GP practices in their participation in the COVID-19 mass vaccination programme.
All 48 GP practices across Carmarthenshire, Ceredigion and Pembrokeshire signed up to deliver the programme, committing to delivering the programme to certain JCVI priority groups.
Of all doses given so far, 51% (186,735 doses) have been given by GP practices. Practices are now well on their way to completing the task of offering a second dose to every patient who has had a first vaccine and have already done 70,571 second vaccine doses at the time of publication.
Dr Sion James, Deputy Medical Director for Primary Care said "Having the experience of running the vaccination programme in my own practice I know how both challenging and rewarding it has been to be part of this programme. It is testament to our Practices commitment to delivering the best patient care possible that they have continued to work with us throughout the programme.
Jill Paterson, Director of Primary Care, Community Services and Long Term Care said "I am proud of the commitment shown by all of our practices for the excellent work that they have done in helping the Health Board to deliver this programme. Throughout the pandemic their commitment to maintaining the delivery of general medical services to their patients hasn't wavered despite staff being under pressure and feeling tired. The delivery of the vaccination programme has been a whole system effort to protect our patients."
The COVID-19 vaccination is one of our most important tools to help reduce the spread of the virus. The vaccines are safe and effective and offer individual protection from COVID-19. It will also offer greater protection for our loved ones and communities.
There are 3 COVID-19 vaccines currently available, Pfizer-BioNTech, Oxford-AstraZeneca and Moderna.
Vaccinating the population and encouraging uptake will:
protect people from COVID-19 including those who are most vulnerable
enable us to lift restrictions in due course
help us to return to a more normal life
Getting vaccinated is not mandatory and we understand that people will want information on safety. We ask that people educate themselves with factual and reliable information before coming to a decision.
Read the latest information on COVID-19 vaccination on the Public Health Wales website (opens in new tab)
The JCVI do not currently advise vaccinating children who are household contacts. They also do not currently advise vaccinating household contacts of immunosuppressed children.
Please do not contact the health board if you are in group 10 and aged 18 to 24 to ask about your vaccine appointment at this time. You will be contacted as soon as it is your turn.
| Priority Group | First dose vaccine numbers | First dose percentage uptake | Second dose vaccine numbers | Second dose percentage uptake |
| --- | --- | --- | --- | --- |
| P1.1 - Older adult resident in a care home | 2,489 | 96.4% | 2,099 | 81.3% |
| P1.2 - Care home worker | 3,440 | 98.5% | 3,014 | 86.3% |
| P2.1 - All those 80 years of age and over | 22,820 | 99.9% | 21,330 | 93.3% |
| P2.2 & 2.3 - Health and social care workers | 25,557 | 100.0% | 21,898 | 85.7% |
| P3 - All those 75 years of age and over  | 18,632 | 95.5% | 17,767 | 91.0% |
| P4.1 - All those 70 years of age | 25,001 | 95.1% | 23,678 | 90.0% |
| P4.2 - Clinically extremely vulnerable individuals  under 70 years of age | 8,657 | 87.4% | 7,687 | 77.6% |
| 5. All those 65 years of age and over | 21,615 | 90.5% | 14,900 | 62.4% |
| 6. All individuals aged 16 years to 64 years with underlying health conditions which put them at higher risk of serious disease and mortality (at risk groups) | 37,743 | 84.6% | 4,113 | 9.2% |
| 7. All those 60 years of age and over | 13,330 | 68.5% | 593 | 3.0% |
| 8. All those 55 years of age and over | 14,708 | 79.1% | 512 | 2.8% |
| 9. All those 50 years of age and over | 14,336 | 88.2% | 522 | 3.2% |
| 10. Priority group 10 or unallocated | 37,505 | 24.3% | 1,217 | 0.8% |
| Total: | 245,834 | 63.5% | 119,330 | 30.8% |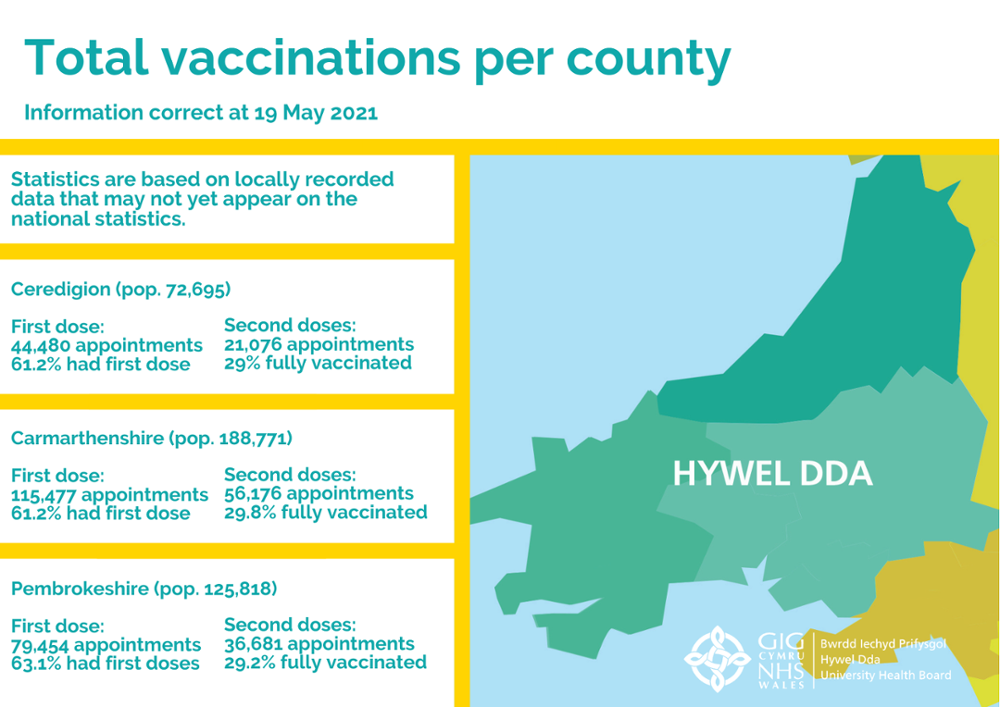 Please don't contact your GP, pharmacy or health board to ask when you will receive the vaccine
This week, health services have been inundated with calls, emails and social media messages from the public enquiring about the vaccine. We understand people are anxious and want to know when they can have the vaccine. Please do not contact your GP, pharmacy or health board; you will be contacted when it is your turn. People will be invited to receive the vaccine in order of priority, so please be patient.