25 August 2021 - Hywel Dda vaccine bulletin - Issue 33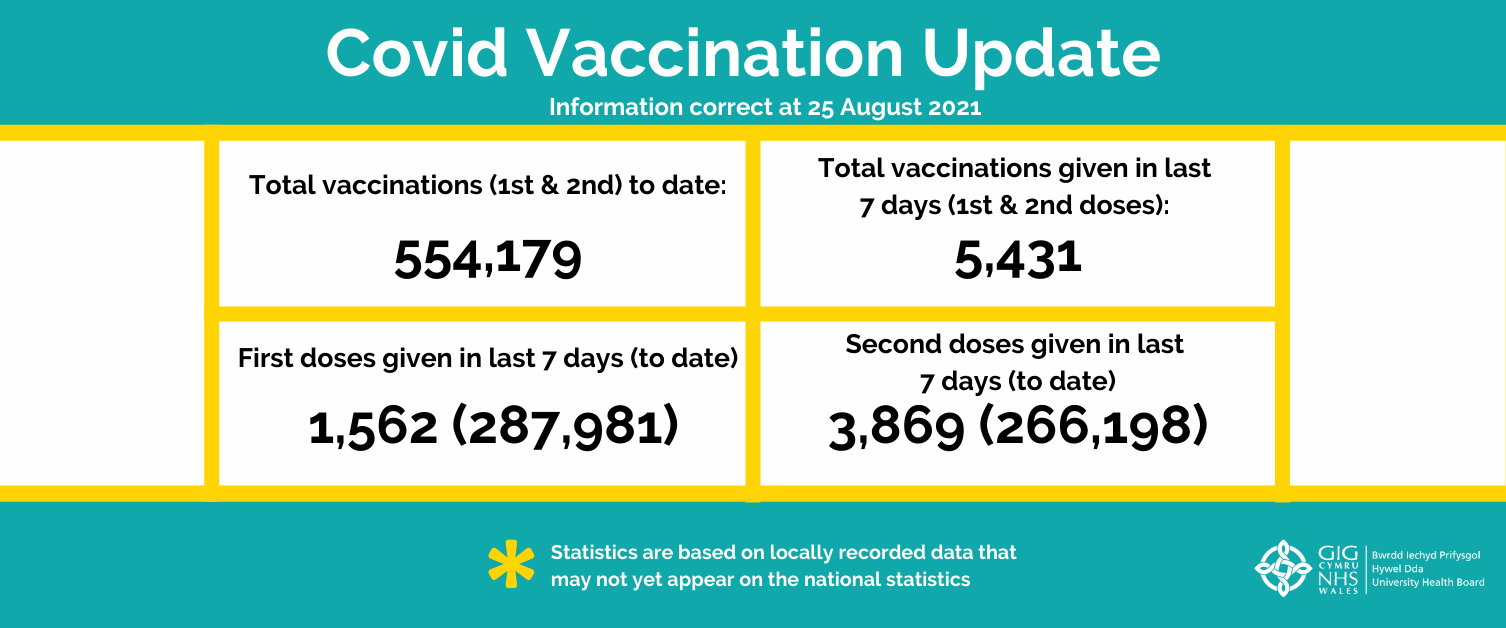 Welcome to issue 33 of Hywel Dda University Health Board's Vaccine Bulletin.
This weekly update will provide the latest information regarding the progress of the COVID-19 Mass Vaccination Programme across Carmarthenshire, Ceredigion and Pembrokeshire.
Dedicated pregnancy and breastfeeding vaccination clinics
There are dedicated pregnancy and breastfeeding COVID-19 vaccination clinics at four mass vaccination centres every Tuesday morning.
All mass vaccination centres across Carmarthenshire, Ceredigion and Pembrokeshire will be able to vaccinate anyone who is pregnant or breastfeeding. The antenatal clinics will be delivered by midwife vaccinator should anyone wish to receive additional counselling and advice about receiving the vaccine during pregnancy.
The dedicated pregnancy and breastfeeding clinics will run every Tuesday morning between 9.00am and 1.00pm at the following mass vaccination centres:
Unit 2a, Dafen Industrial Estate, Heol Cropin, SA14 8QW
Halliwell Conference Centre, University of Wales Trinity Saint David, Carmarthen, SA31 3EP
Pembrokeshire Archives, Prendergast, Haverfordwest, SA61 2PE
Thomas Parry Library, Llanbadarn Campus, Aberystwyth University, Aberystwyth, SY23 3AS
Should you wish to attend a dedicated pregnancy and breastfeeding vaccine clinic you can self-refer by completing the following online form (opens in new tab). Choose the 'Antenatal Clinic' option, or calling 0300 303 8322. Please do not attend without an appointment.
The Royal College of Obstetricians and Gynaecologists and Royal College of Midwives have produced an information sheet and decision aid (opens in new tab). You may find other information (opens in new tab) helpful. Alternatively please talk to your midwife or consultant about the risks and benefits to help inform your decision.
Pembrokeshire vaccination team at Haverfordwest community event
Our mobile vaccination team will be in the Garth area of Haverfordwest at the Garth Fields (top of Trafalgar Road) between 10.30am and 3.30pm on Thursday 26 August. They will be present at the county's litter pick and COVID Vaccination event. This is part of a drive to increase the numbers of people getting vaccinations in the area.
The vaccination team will be able to offer both first and second doses of the Astrazeneca and Moderna vaccines where eligible. They will be available to anyone 18 and over on a walk-in basis. No appointment is needed. The forthcoming flu programme will also be discussed.
Mobile vaccination team to visit Folly Farm
Our mobile vaccination unit will be at Folly Farm in Pembrokeshire, this bank holiday Monday (30 August).
The van will be there from 10.00am to 5.00pm. The aim is to deliver vaccines to parents who haven't been able to get their COVID-19 vaccines so far, as well as 16–17 year-olds accompanying their families. Astrazeneca, Moderna and Pfizer vaccines will be available at the unit, and no prior booking will be required.
Llanelli student relieved after receiving COVID-19 vaccination at a walk in clinic
A year 12 student from Llanelli felt less worried to attend college in September after receiving her COVID-19 vaccination.
16-year-old Hollie O'Brien expressed relief from getting the Pfizer vaccine as part of the vaccination programme (opens in new tab) at Hywel Dda University Health Board.
"Me and my sister had COVID all over Christmas. We thought we had tonsillitis, but when my sister fell ill after me, she got tested and it was positive.
Despite being very unwell, a few days in bed helped. We didn't see our grandparents however, as it would not have been as easy for them."
Hollie was enjoying a family day out in Tenby when she decided to get her vaccine as Tenby Leisure Centre were offering a walk-in clinic.
"I wanted to get the vaccine to help others around me who are a lot older than me and could potentially have much worse symptoms. I wasn't worried about getting the vaccine, as my mother recently had hers and she was fine. All I had was a sore arm after. I knew there could be side effects, but they wouldn't be as bad as how I felt when I was COVID-19 positive."
She added - "If you are worried speak to people who have had it. The vaccination staff are also very helpful and will answer any of your questions."
Having previously attended Bryngwyn Comprehensive School, Hollie will be attending Coleg Sir Gar in September to study law, mathematics and psychology.
"I am not sure exactly what job I would want in the future, but I would like to help people who suffer with mental health."
How to request your vaccine
Following updated JCVI advice (opens in new tab), health boards in Wales are now inviting all people aged 16 and over to be vaccinated.
If you are aged 16 or over and live in Carmarthenshire, Ceredigion or Pembrokeshire you can access your COVID-19 vaccine in the following ways:
** This week we have been writing to those aged 16 and 17 to invite them to their nearest centre (apart from Carmarthen Showground). Those in this age group will be offered the Pfizer/BioNTech vaccine (opens in new tab).
Young people aged 12 to 15 at an increased risk of coronavirus
The JCVI has advised (opens in new tab) that young people aged 12 to 15 at an increased risk of coronavirus (COVID-19) should be offered the Pfizer/BioNTech vaccine (opens in new tab).
This includes children and young people with:
severe neuro-disabilities
Down's syndrome
underlying conditions resulting in immunosuppression
a diagnosis of learning/intellectual disability
The JCVI also recommends that those aged 12 to 15 who live with someone who is immunosuppressed should also be offered the vaccine.
This week, we have started to contact (by telephone) the families of those aged 12 to 15 at increased risk to book appointments. We kindly request that if you are the parent or guardian of a child who is at increased risk, to not attend our walk-in clinics and please wait to be contacted by the vaccination team.
| Priority Group | First dose vaccine numbers | First dose percentage uptake | Second dose vaccine numbers | Second dose percentage uptake |
| --- | --- | --- | --- | --- |
| P1.1 - Older adult resident in a care home | 2,489 | 96.4% | 2,167 | 84.0% |
| P1.2 - Care home worker | 3,498 | 100.1% | 3,298 | 94.4% |
| P2.1 - All those 80 years of age and over | 22,848 | 100.0% | 22,074 | 96.6% |
| P2.2 & 2.3 - Health and social care workers | 25,987 | 99.2% | 25,014 | 95.5% |
| P3 - All those 75 years of age and over  | 18,704 | 95.8% | 18,335 | 93.9% |
| P4.1 - All those 70 years of age | 25,073 | 95.4% | 24,667 | 93.8% |
| P4.2 - Clinically extremely vulnerable individuals  under 70 years of age | 8,743 | 88.3% | 8,438 | 85.2% |
| 5. All those 65 years of age and over | 21,737 | 91.0% | 21,353 | 89.4% |
| 6. All individuals aged 16 years to 64 years with underlying health conditions which put them at higher risk of serious disease and mortality (at risk groups) | 39,162 | 87.8% | 37,176 | 83.3% |
| 7. All those 60 years of age and over | 13,464 | 69.2% | 13,250 | 68.1% |
| 8. All those 55 years of age and over | 14,972 | 80.5% | 14,638 | 78.7% |
| 9. All those 50 years of age and over | 15,461 | 95.1% | 14,994 | 92.2% |
| 10. Priority group 10 or unallocated | 75,842 | 49.4% | 60,794 | 39.6% |
| 45 to 49 years old | 11,198 | 70.8% | 10,608 | 67.1% |
| 40 to 44 years old | 10,597 | 69.7% | 9,706 | 63.9% |
| 35 to 39 years old | 11,138 | 69.0% | 9,657 | 58.2% |
| 30 to 34 years old | 11,380 | 66.9% | 9,375 | 53.7% |
| 25 to 29 years old | 10,772 | 61.7% | 8,454 | 48.4% |
| 20 to 24 years old | 12,848 | 68.1% | 9,310 | 49.4% |
| 15 to 19 years old | 7,867 | 52.1% | 3,681 | 24.4% |
| Total: | 287,981 | 74.4% | 266,198 | 68.7% |