28 July 2021 - Hywel Dda vaccine bulletin - Issue 29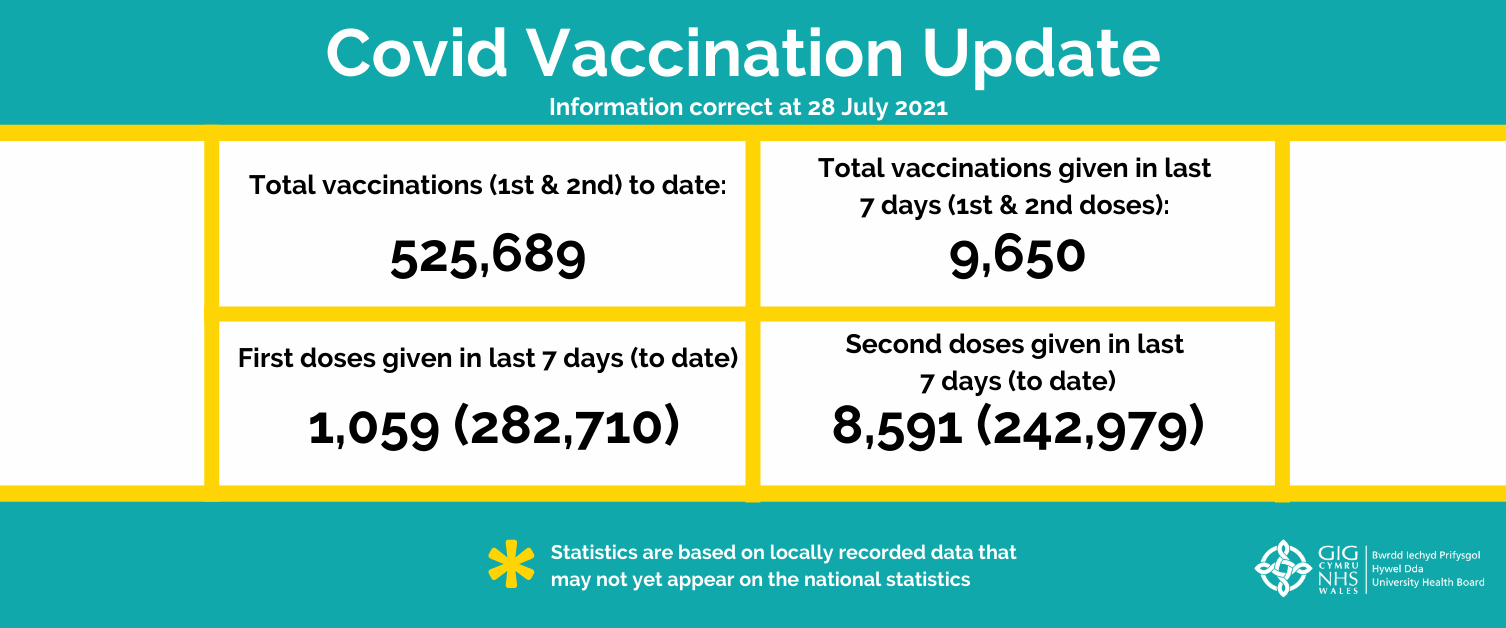 Welcome to issue 29 of Hywel Dda University Health Board's Vaccine Bulletin.
This weekly update will provide the latest information regarding the progress of the COVID-19 Mass Vaccination Programme across Carmarthenshire, Ceredigion and Pembrokeshire.
First and second dose walk-in vaccine clinics continue to run at all Hywel Dda mass vaccination centre across Carmarthenshire, Ceredigion and Pembrokeshire and this week it has been wonderful to start welcoming young people who will be turning 18 on or before 31 October 2021 (opens in new tab) through our doors.
Everyone is welcome; if you have changed your mind having already declined a vaccine we will be happy to see you or if you would like to speak to someone before deciding whether to have it, our brilliant vaccination team will be more than happy to speak to you and answer any questions you may have.
Please check the opening times of your local centre (opens in new tab) and call in to receive your first vaccine dose, available for anyone aged 18 and over on 31 October 2021, or your second vaccine dose if it is due (eight weeks after your first).
Or if you live close to Ammanford, our mobile vaccination, in partnership with Mid and West Wales Fire and Rescue Service (opens in new tab), will be located in Ammanford from Wednesday 28 to Saturday 31 July.
The mobile vaccination clinic will be based at Ammanford's Tesco Superstore car park (opens in new tab) (Park Street, SA18 2LR) and will be open between 11.00am and 7.00pm.  There is no need to contact the health board to book an appointment.
The vaccination van will deliver the vaccine to anyone aged 18 and over that requires either a first or second dose (Moderna and Oxford AstraZeneca).  Second doses can be given 8 weeks after the first dose.
The fire service is providing one of its vehicles and members of the team will also be in attendance to provide the public with general community safety advice, including about home safety. 
Upcoming changes to location of mass vaccination centres at Cardigan and Llanelli
Following last week's update that Cardigan's mass vaccination centre (opens in new tab) will move to a new location on Monday 26 July, please note the move has been temporarily delayed and so the Cardigan mass vaccination centre will be this Friday 30 July to Sunday 1 August between 10am and 5pm for walk-ins at Teifi Leisure Centre. Please note Moderna will be the only vaccine available.
An update regarding this relocation will be provided at the earliest opportunity.
This week will also see Llanelli's mass vaccination centre (opens in new tab) move to Dafen Industrial Estate (Unit 2a, Heol Cropin, SA14 8QW), to enable the wider reopening of The Ffwrnes theatre,
The centre's last day in its current location will be Thursday 29 July. Walk-ins will continue to be available every day at The Ffwrnes (opens in new tab) between 10.00am and 6.00pm until it closes.
Llanelli's mass vaccination centre will reopen in its new location in Dafen on Monday 2 August and will be accepting walk-ins seven days a week between 10.00am and 6.00pm for first and second doses with Astrazeneca, Pfizer and Moderna vaccines available.
We understand for some people this may be further to travel, but we cannot stress how important it is, with the recent rise in cases, that people receive their second vaccine dose when invited.
If anyone is unable to attend their appointment at our new location by any other means, the health board has transport support in place which can be arranged via our Command Centre by calling 0300 303 8322 or emailing covidenquiries.hdd@wales.nhs.uk.
| Priority Group | First dose vaccine numbers | First dose percentage uptake | Second dose vaccine numbers | Second dose percentage uptake |
| --- | --- | --- | --- | --- |
| P1.1 - Older adult resident in a care home | 2,489 | 96.4% | 2,160 | 83.7% |
| P1.2 - Care home worker | 3,490 | 99.9% | 3,250 | 93.0% |
| P2.1 - All those 80 years of age and over | 22,836 | 99.9% | 21,967 | 96.1% |
| P2.2 & 2.3 - Health and social care workers | 25,918 | 98.9% | 24,690 | 94.2% |
| P3 - All those 75 years of age and over  | 18,689 | 95.8% | 18,271 | 93.6% |
| P4.1 - All those 70 years of age | 25,040 | 95.2% | 24,558 | 93.4% |
| P4.2 - Clinically extremely vulnerable individuals  under 70 years of age | 8,722 | 88.1% | 8,384 | 84.7% |
| 5. All those 65 years of age and over | 21,715 | 90.9% | 21,196 | 88.8% |
| 6. All individuals aged 16 years to 64 years with underlying health conditions which put them at higher risk of serious disease and mortality (at risk groups) | 38,952 | 87.3% | 36,286 | 81.3% |
| 7. All those 60 years of age and over | 13,437 | 69.1% | 13,166 | 67.7% |
| 8. All those 55 years of age and over | 14,928 | 80.3% | 14,457 | 77.7% |
| 9. All those 50 years of age and over | 15,181 | 93.4% | 14,495 | 89.2% |
| 10. Priority group 10 or unallocated | 71,312 | 46.4% | 40,099 | 26.1% |
| 45 to 49 years old | 11,153 | 70.5% | 9,967 | 63.0% |
| 40 to 44 years old | 10,509 | 69.2% | 8,482 | 55.8% |
| 35 to 39 years old | 10,916 | 67.6% | 7,495 | 45.2% |
| 30 to 34 years old | 11,037 | 64.9% | 6,686 | 38.3% |
| 25 to 29 years old | 10,304 | 59.0% | 3,895 | 22.3% |
| 20 to 24 years old | 12,043 | 63.8% | 2,746 | 14.6% |
| 15 to 19 years old | 5,343 | 35.4% | 826 | 5.5% |
| Total: | 282,710 | 73.0% | 242,979 | 62.7% |