31 March 2021 - Hywel Dda vaccine bulletin - Issue 12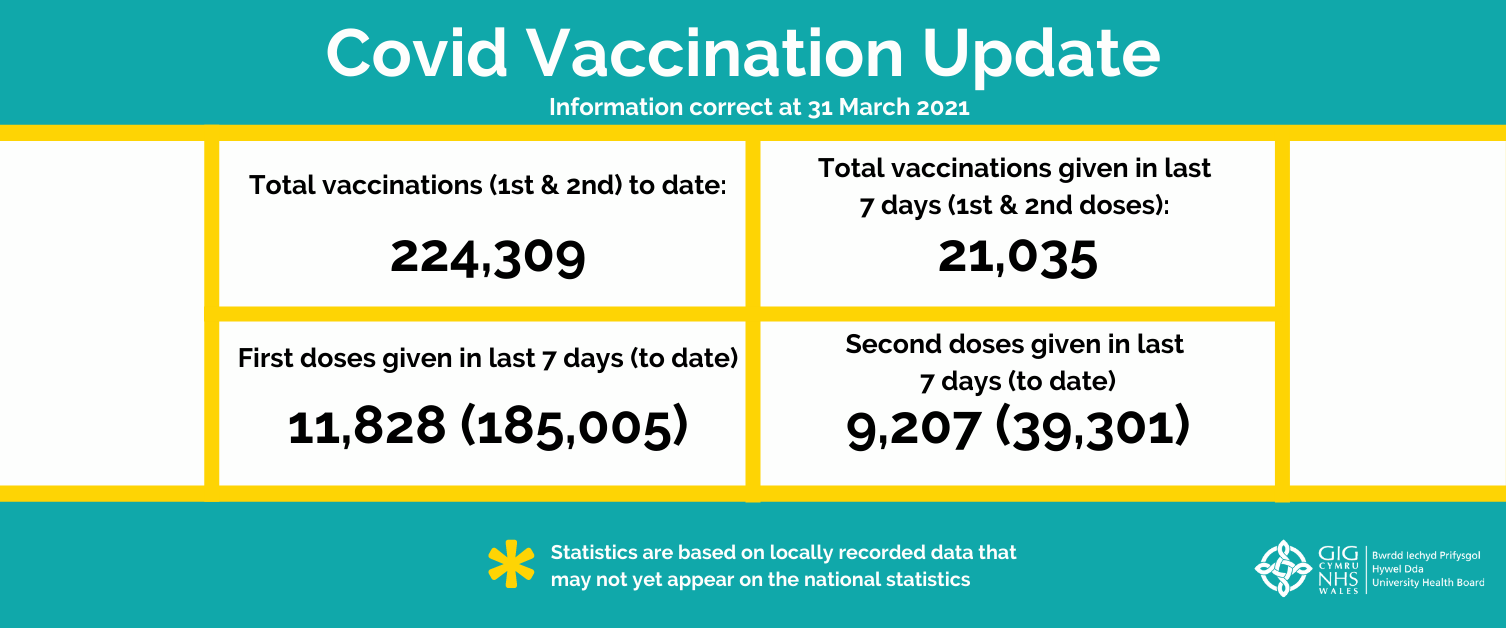 Welcome to issue 12 of Hywel Dda University Health Board's Vaccine Bulletin.
This weekly update provides the latest information regarding the progress of the COVID-19 Mass Vaccination Programme across Carmarthenshire, Ceredigion and Pembrokeshire.
185,005 people in our three counties have now received their first dose of the vaccine, and 39,301 people are fully vaccinated having received both doses.
The uptake of the vaccine remains high and we believe at least 80% of each priority groups 1 to 9 will received their first vaccine dose by milestone 2 of the Welsh Government's National Vaccination Strategy, and update of which can be viewed here (opens in new tab).
We will have offered a first dose of the vaccine to all those in priority groups 5-9 by Sunday 18 April. This includes:
everyone aged 50 to 69
everyone aged over 16 with an underlying health condition, which puts them at increased clinical risk of serious illness with COVID-19 – including some people with learning disabilities and with severe mental illness and those experiencing homelessness
many invaluable unpaid carers who provide care for someone who is clinically vulnerable to COVID-19
Please be patient if you haven't been contacted about your vaccine yet and we politely ask that you do not contact the health board or your GP to ask about your vaccine. You will be contacted when it is your turn.
Everyone in groups 5 to 9 should expect to receive their first vaccine appointment by Easter Monday, 5 April.
To ensure no one is left behind, on Tuesday 6 April, the health board will launch an appeal asking people in groups 1 to 9 who have not been contacted to get in touch to arrange their first vaccine dose. This appeal will be shared on our social media channels, in local newspapers and on local radio stations.
When will I receive my second vaccine?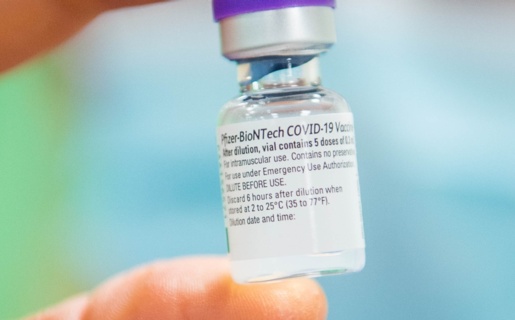 Second doses are essential for longer term protection, so it's important that everyone comes forward for their full course when called.
When you will be contacted for your second vaccine dose depends on which vaccine you have received.
We are asking anyone who received the Pfizer vaccine and has not received a second vaccine appointment yet, to get in touch as soon as possible on 0300 303 8322. Please note our phone lines get very busy at times and you may have to wait for the call to be answered. You can also contact us by emailing your name and contact phone number to COVIDenquiries.hdd@wales.nhs.uk
The health board aims to complete all second Pfizer vaccine doses by week commencing Monday 12 April.
To check which vaccine you received, look at the card given to you when you received your first vaccine. It will say if you received either the Pfizer BioNtech vaccine, or the Oxford AstraZeneca vaccine.
If you received a first vaccine dose of the Oxford AstraZeneca vaccine, we politely ask that you do not contact your GP practice or health board at this time to ask about a second vaccine appointment. You will be contacted when it is your turn for a second dose – we are calling those who received a Pfizer first dose at this time.
Care home residents, people aged over 80 and all other priority groups who have received the Oxford AstraZeneca vaccine at the GP surgery will be contacted between 11 to 12 weeks following their first vaccine with an appointment time.
Confidence is building around the effectiveness of the vaccines. Emerging evidence is clear on the impact of the vaccine in preventing severe disease and hospitalisation. That is now playing out in admissions to our hospitals, and thankfully, numbers of deaths from coronavirus being reported.
UK and EU regulators have also been very clear about the safety of the vaccines. The benefits of vaccination outweigh any possible risks. The vaccines are both safe and effective.
As we approach Easter, and increased contact with others, please remember to wash your hands, keep socially distanced and wear face coverings where needed. Together we can keep Hywel Dda safe.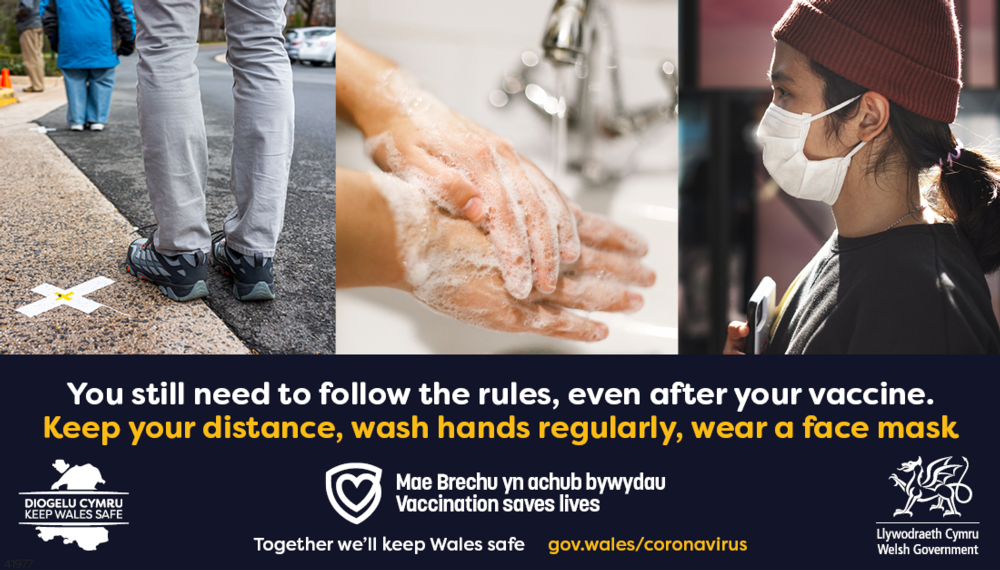 | Priority Group | First dose vaccine numbers | First dose percentage uptake | Second dose vaccine numbers | Second dose percentage uptake |
| --- | --- | --- | --- | --- |
| P1.1 - Older adult resident in a care home | 2,489 | 96.4% | 1,228 | 47.6% |
| P1.2 - Care home worker | 3,330 | 95.3% | 2,423 | 69.3% |
| P2.1 - All those 80 years of age and over | 22,664 | 99.8% | 1,558 | 6.9% |
| P2.2 & 2.3 - Health and social care workers | 24,198 | 98.8% | 19,400 | 79.2% |
| P3 - All those 75 years of age and over  | 18,294 | 93.7% | 10,977 | 56.2% |
| P4.1 - All those 70 years of age | 24,746 | 94.1% | 398 | 1.5% |
| P4.2 - Clinically extremely vulnerable individuals  under 70 years of age | 8,488 | 85.7% | 805 | 8.1% |
| 5. All those 65 years of age and over | 21,261 | 89.0% | 138 | 0.6% |
| 6. All individuals aged 16 years to 64 years with underlying health conditions which put them at higher risk of serious disease and mortality (at risk groups) | 34,731 | 77.8% | 1,101 | 2.5% |
| 7. All those 60 years of age and over | 12,807 | 65.8% | 107 | 0.5% |
| 8. All those 55 years of age and over | 7,517 | 40.4% | 115 | 0.6% |
| 9. All those 50 years of age and over | 1,339 | 8.2% | 122 | 0.8% |
| Other priority groups or unallocated | 3,138 | 2.0% | 930 | 0.6% |
| Total: | 185,005 | 47.8% | 39,301 | 10.1% |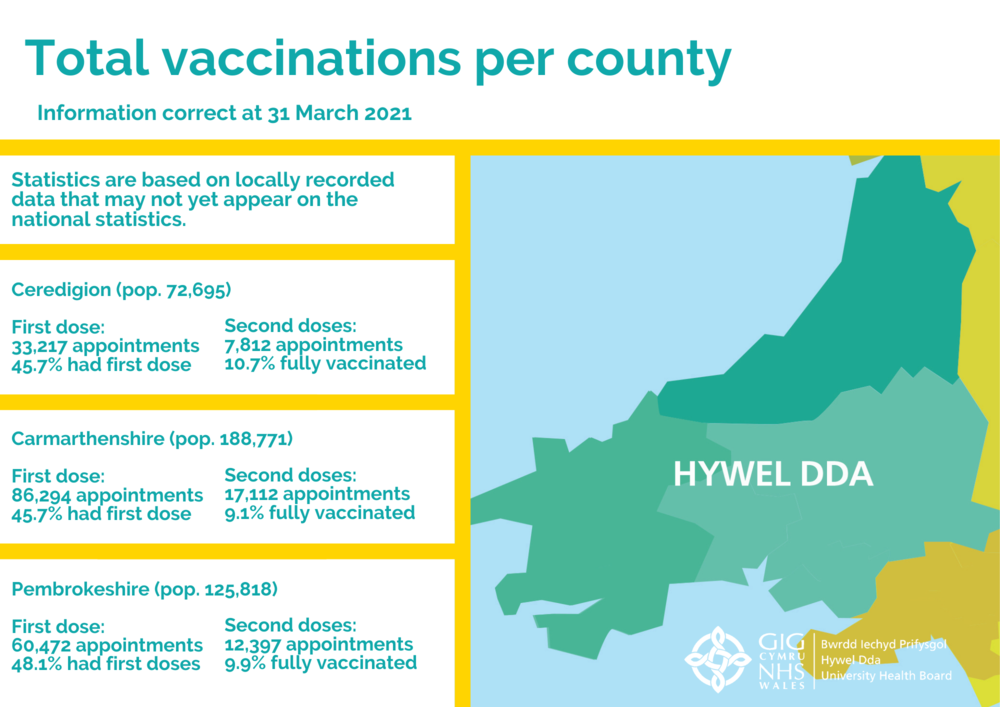 Please don't contact your GP, pharmacy or health board to ask when you will receive the vaccine
This week, health services have been inundated with calls, emails and social media messages from the public enquiring about the vaccine. We understand people are anxious and want to know when they can have the vaccine. Please do not contact your GP, pharmacy or health board; you will be contacted when it is your turn. People will be invited to receive the vaccine in order of priority, so please be patient.