7 July 2021 - Hywel Dda vaccine bulletin - Issue 26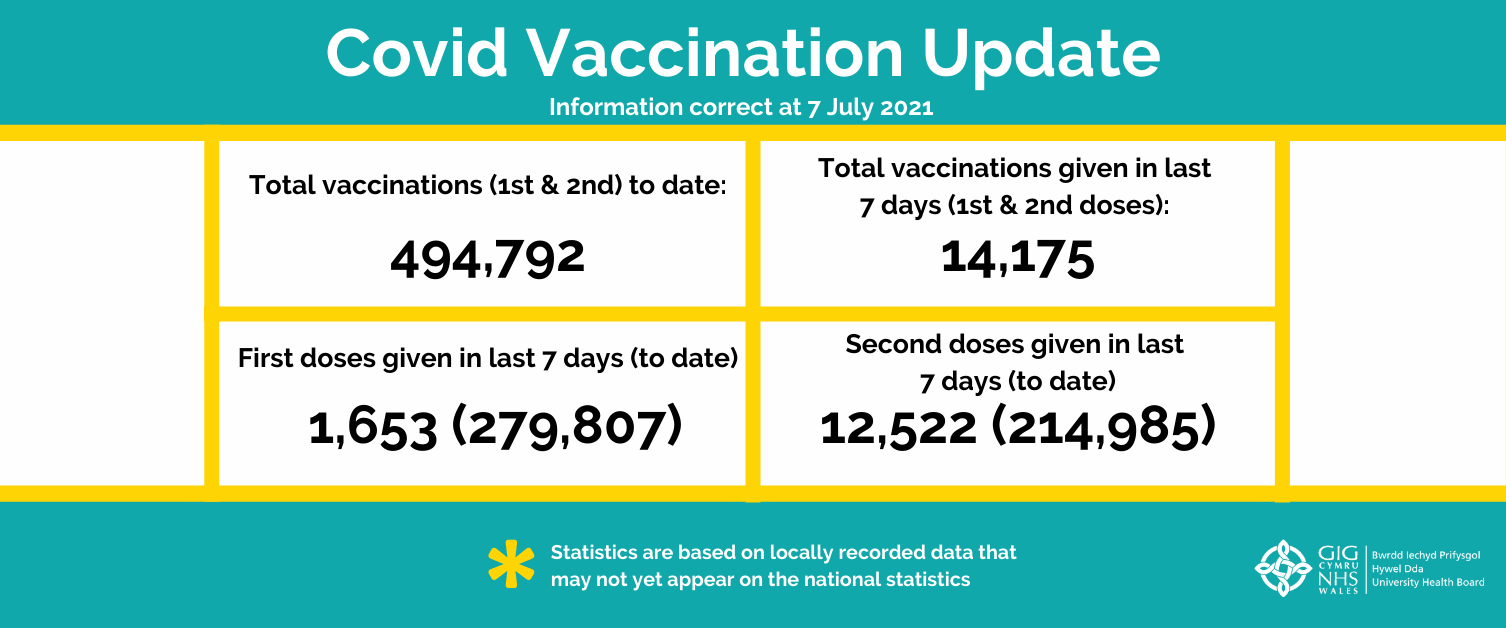 Welcome to issue 26 of Hywel Dda University Health Board's Vaccine Bulletin.
This weekly update will provide the latest information regarding the progress of the COVID-19 Mass Vaccination Programme across Carmarthenshire, Ceredigion and Pembrokeshire.
Across Wales, more than 75% of adults aged under-50 in Wales have had their first dose. It is not too late for anyone who has changed their mind about having a vaccine to get an appointment.
Wales has a "no one left behind" policy. If you would like to book your first dose please contact us using the following ways to request an appointment as soon as possible:
First dose online request form (opens in new tab)
Second dose online request form - if you had your vaccine 8 or more weeks ago (opens in new tab)
Telephone: 0300 303 8322
Email: COVIDenquiries.hdd@wales.nhs.uk
What vaccines are available at walk-in clinics?
First and second dose walk-in vaccine clinics are running at all Hywel Dda mass vaccination centres. This is to help all Hywel Dda residents have easy and flexible access to a COVID-19 vaccine across Carmarthenshire, Ceredigion and Pembrokeshire. We also have dedicated antenatal and mental health and well-being vaccine clinics in selected venues.
Click here for more information and opening times (opens in new tab)
Every effort is being made to ensure a good supply of all vaccines are available at the majority of our centres. Please note the drive through centre in Carmarthen has Oxford AstraZeneca and Moderna only. Our centre in Cardigan will only have stocks of one vaccine on any given day. Please check social media or call 0300 303 8322 to ensure the right vaccine is available for you at Cardigan before travelling.
Walk-ins are available at Cardigan mass vaccination centre for Moderna vaccines from 9.00am to 5.00pm on Saturday 10 and Sunday 11 July.
If you attend a walk-in vaccination clinic for your second dose earlier than 8 weeks after the first dose, Hywel Dda mass vaccination centre staff reserve the right to refuse and request they return 8 weeks following their first vaccine.
Mobile COVID-19 vaccination van moves to Pembroke Dock this week
Following the success of the mobile vaccination van in Cross Hands last week, a COVID-19 vaccination clinic will be operating in Pembroke Dock. This will run Thursday 8th to Saturday 10th July in partnership with Mid and West Wales Fire and Rescue Service (opens in new tab).
The mobile vaccination clinic (opens in new tab) will be based at Western Way car park (behind Asda petrol station, SA72 6DB) and open 11.00am - 7.00pm.  There is no need to contact the health board to book an appointment.
Members of the fire service will be in attendance to provide the public with general community safety advice, including about home safety. They will be joined by our Community Development Outreach team. The team are reaching out to ethnic minority people living in Pembrokeshire to help them during the COVID-19 pandemic, support community cohesion, and remove barriers to accessing services.
We now have a level of certainty about the Autumn Booster Campaign. The Joint Committee for Vaccination and Immunisation has published interim advice on 30 June as we move into a new phase of the COVID-19 Vaccination programme. This provides us with a welcome steer for the next stage of deployment. The JCVI interim advice (opens in new tab) recommends the autumn booster campaign begins in September 2021. Its purpose to reduce any further incidence of COVID-19 and maximise protection in those who are most vulnerable to serious infection, ahead of the winter.
For more information please read the Welsh Government COVID-19 vaccination programme weekly update: 6 July 2021 (opens in new tab).
| Priority Group | First dose vaccine numbers | First dose percentage uptake | Second dose vaccine numbers | Second dose percentage uptake |
| --- | --- | --- | --- | --- |
| P1.1 - Older adult resident in a care home | 2,489 | 96.4% | 2,154 | 83.5% |
| P1.2 - Care home worker | 3,481 | 99.6% | 3,206 | 91.8% |
| P2.1 - All those 80 years of age and over | 22,285 | 99.9% | 21,902 | 95.9% |
| P2.2 & 2.3 - Health and social care workers | 25,855 | 98.7% | 24,301 | 92.8% |
| P3 - All those 75 years of age and over  | 18,683 | 95.7% | 18,177 | 93.1% |
| P4.1 - All those 70 years of age | 25,027 | 95.2% | 24,487 | 93.1% |
| P4.2 - Clinically extremely vulnerable individuals  under 70 years of age | 8,706 | 87.9% | 8,326 | 84.1% |
| 5. All those 65 years of age and over | 21,671 | 90.7% | 21,083 | 88.3% |
| 6. All individuals aged 16 years to 64 years with underlying health conditions which put them at higher risk of serious disease and mortality (at risk groups) | 38,797 | 87.0% | 35,381 | 79.3% |
| 7. All those 60 years of age and over | 13,408 | 68.9% | 13,040 | 67.0% |
| 8. All those 55 years of age and over | 14,879 | 80.0% | 14,142 | 76.0% |
| 9. All those 50 years of age and over | 14,930 | 91.8% | 13,225 | 81.3% |
| 10. Priority group 10 or unallocated | 69,055 | 44.9% | 15,561 | 10.1% |
| 45 to 49 years old | 11,138 | 70.4% | 6,546 | 41.4% |
| 40 to 44 years old | 10,363 | 68.2% | 3,162 | 20.8% |
| 35 to 39 years old | 10,733 | 66.5% | 1,932 | 11.6% |
| 30 to 34 years old | 10,762 | 63.3% | 1,637 | 9.4% |
| 25 to 29 years old | 9,869 | 56.5% | 1,027 | 5.9% |
| 20 to 24 years old | 11,295 | 59.9% | 953 | 5.1% |
| 15 to 19 years old | 4,893 | 32.4% | 303 | 2.0% |
| Total: | 279,807 | 72.2% | 214,985 | 55.5% |