Weekly vaccine bulletin - issue two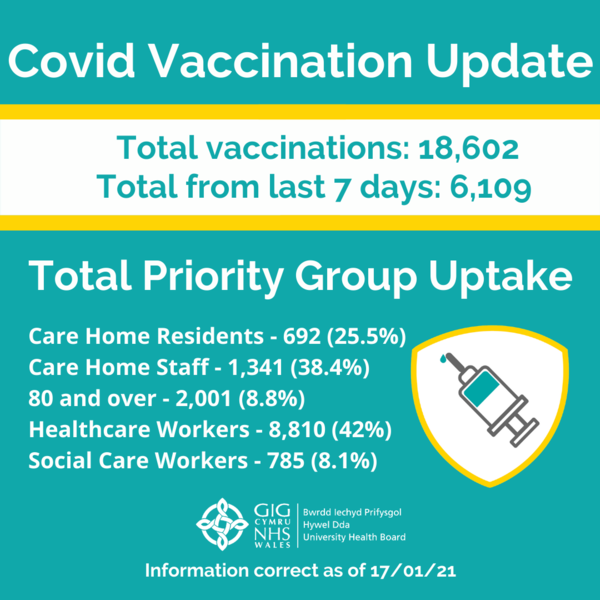 Welcome to the second edition of Hywel Dda University Health Board's Vaccine Bulletin.
This weekly update will provide the latest information regarding the progress of the COVID-19 Mass Vaccination Programme across Carmarthenshire, Ceredigion and Pembrokeshire.
Over the past seven days, the roll out of the biggest mass vaccination programme in our history made significant progress with the delivery of vaccines to GP practices across the three counties.
Since the start of the vaccination programme, 18,602 vaccines have been given. A total of 6,109 vaccinations were delivered between Monday 10 and Sunday 17 January (up from 4,676 delivered in the seven days previous).
Last week, GP practices have been able to share vaccine supplies received to ensure care home residents were vaccinated as quickly as possible. Up to Sunday 17 January, 25.5% of care home residents have received their first dose.
We are pleased to be able to confirm that starting this week, all GP practices across the three counties will receive a supply of the Oxford-AstraZeneca vaccine and as part of our vaccination roll out programme, we will continue to work with GP practices and community pharmacies to ensure the vaccine is available for patients to access easily and equitably.
An additional vaccination centre for care home workers, health service staff and social care staff opens today in Haverfordwest and will continue for these staff groups at our centres in Cardigan and Carmarthen. Additional centres in Aberystwyth and Llanelli will open in the next week, strictly for these staff groups only. If you have not yet had your vaccine, please speak to your employer as a matter of urgency to arrange an appointment; workers in these categories should not wait to be vaccinated by their GP.
For the public, additional mass vaccination centres will open in Aberystwyth, Haverfordwest and Llanelli in the coming weeks. Please be assured that vaccinations will continue at a pace through GP practices who are best placed to provide this service locally.
Hywel Dda UHB vaccine statistics (correct at publication)
18,602 total vaccinations delivered up to Sunday 17 January 2021
6,109 vaccinations administered in the last 7 days (Monday 11 to Sunday 17 January 2021)
Total uptake by priority group:

Care home residents - 692 (25.5%)
Care home worker – 1,341 (38.4%)
Aged 80 years and over – 2,001 (8.8%)
Healthcare workers – 8,810 (42%)
Social care workers - 785 (8.1%)
(Please note that above figures may fluctuate as data quality issues are addressed around the assignment of priority groups)
Total vaccinations per county up to Sunday 17 January:

Carmarthenshire 8,730 (4.6%)
Ceredigion 2,764 (3.8%)
Pembrokeshire 5,919 (4.7%)
Other 1,189 - staff working in but living outside of the three counties

18,210 vaccines confirmed for delivery week beginning Monday 18 January 2021
Urgent appeal – please don't contact your GP, pharmacy or health board to ask when you will receive the vaccine.
This week, health services have been inundated with calls, emails and social media messages from the public enquiring about the vaccine.
We understand people are anxious and want to know when they can have the vaccine. Please do not contact your GP, pharmacy or health board; you will be contacted when it is your turn. People will be invited to receive the vaccine in order of priority, so please be patient.
Click here to learn more about the vaccine, including comprehensive frequently asked questions and patient information (opens in new tab).
Staying safe after receiving the vaccine
Like all medicines, no vaccine is 100 per cent effective and some people may get COVID-19 despite having the vaccination, but their infection will be less severe.
Once you have had your vaccine, you must still act to prevent the spread of coronavirus in the community and continue to follow the COVID-19 guidance (social distancing, face coverings, lockdowns) to protect those around you.
While you cannot catch COVID-19 from the vaccine, it is possible to have caught COVID-19 and not realise you have the symptoms until after being vaccinated. The most important symptoms of COVID-19 are recent onset of any of the following:
a new continuous cough
a high temperature
a loss of, or change in, your normal sense of taste or smell
Some people also have a sore throat, headache, nasal congestion, diarrhoea, nausea and vomiting.
If you have any of the symptoms above, stay at home and arrange to have a test by calling 119 or by clicking here (opens in new tab). If you need more information about symptoms click here (opens in new tab).
Scam awareness
Criminals are using the pandemic to scam the public – don't become a victim.
You will be informed by your GP or health board when it is your turn to receive a vaccine. You'll only be contacted usually either through a phone call, a letter or text message. You will never be asked for any bank details or a payment.
Stop others falling victim to scams, report any suspicious text messages by forwarding them to Ofcom on 7726.
Further information and updates
The information contained in this bulletin is subject to frequent change and is correct at the time of publication. For up-to-date information from trusted sources please follow:
Click here for previous editions of the vaccine bulletin (opens in new tab)