A healthy future for science graduates ​​​​​​​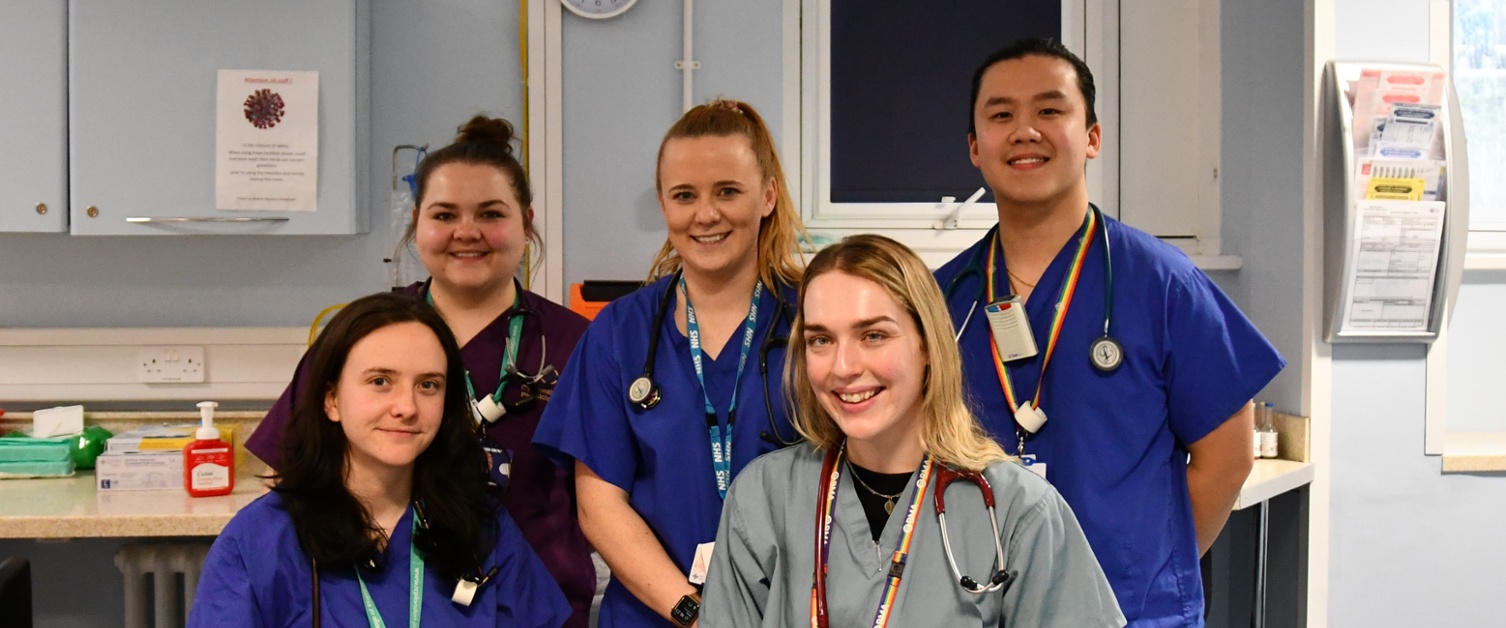 25 May 2023
Science graduates continue to take up exciting health careers as Physician Associates across Carmarthenshire, Ceredigion and Pembrokeshire.
As Physician Associates (PAs), the graduates will provide invaluable support to doctors across Hywel Dda University Health Board in the diagnosis and management of patients, working in many different areas of healthcare such as general medicine, surgery, paediatrics and general practice in primary care.
Justin Lai, a Physician Associate working in the Cardiology Department at Withybush Hospital in Haverfordwest, Pembrokeshire joined the health board in 2018 having completed a science degree and Physician Associate Studies Master's Degree. Justin initially worked in various departments on a rotational basis and is now a member of the cardiology team. He has gained experience in using his skills to diagnose and manage patients while continuing to educate colleagues and patients about the role and duties of a Physician Associate.
A valued member of the medical team, Justin continues to run clinics, providing continuity to the wards, as well as being a clinical skills tutor in the educational department. He is passionate about the Physician Associate programme and has been a driving force behind its development within the health board.
Justin said: "This is a key clinical role where we can support doctors and patients alike in delivering effective and efficient treatment. Physician associates are medically trained, generalist healthcare professionals, who work alongside doctors and provide medical care as an integral part of the multidisciplinary team."
The role involves a number of tasks, including:
taking medical histories from patients

carrying out physical examinations

seeing patients with the same diagnoses

seeing patients with long-term chronic conditions

providing diagnoses and management plans

performing diagnostic and therapeutic procedures

developing and delivering appropriate treatment and management plans

requesting and interpreting diagnostic studies

providing health promotion and disease prevention advice for patients.
Currently, physician associates are not able to prescribe or request chest x-rays or CT scans.
A recent inpatient in Withybush Hospital, Pearl Butler, commented: "Continuity of care is important. It was really reassuring to see Justin on the wards, means more time for the patient, and his knowledge was fantastic. Diolch Justin."
Professor Phil Kloer, Executive Medical Director at Hywel Dda University Health Board added: "As the PA programme continues to develop, I'm very proud to see our PA colleagues becoming more established clinicians, bringing a more adaptable and versatile approach across many areas of medicine.
"The role helps our staff to develop professionally while helping to address some of the staffing and demand challenges across the system, and, more importantly, benefits our patients."
The profession has gone from strength to strength in the UK and led to the launch of the Faculty of Physician Associates in 2015. The health board currently employees a total of 25 Physician Associates and aims to recruit more in the future.
A UK leading graduate entry course is available for people with a science degree, available at Bangor and Swansea universities, funded by Welsh Government, which can lead to jobs across Hywel Dda University Health Board and the wider NHS.
Professor Jeannie Watkins at Swansea University said: "We are delighted that we can offer an innovative and progressive programme that is viewed as one of the solutions to the NHS workforce crisis and is supported by the Welsh Government.
"The aim of the PA profession is to create a new workforce stream for the NHS taking quality science graduates and training them to practice medicine. This has created employment opportunities and pathways into healthcare that did not exist previously and has increased access to care for patients. PAs who have qualified from our programme are working collaboratively with the medical teams across the country supporting and sharing the workload. The feedback from those working with PAs and patients who have been treated by them has been incredibly positive."
Merf Williams, Senior Lecturer in Medical Sciences, who leads the two-year postgraduate course at Bangor University commented: "The Physician Associate Studies MSc provides a great pathway into medical sciences. It's fantastic to see our graduates from the course working in Hywel Dda University Health Board in both Primary and Secondary care, and contributing to the nation's healthcare in other regions. The postgraduate course complements our suite of medical and biomedical courses, including our Medicine degree being offered from September 2024."
Further information is available here:
Become a Physician Associate - Swansea University (opens in new tab)
Physician Associate | Bangor University (opens in new tab)