COVID-19 has "pushed everyone out of their comfort zone"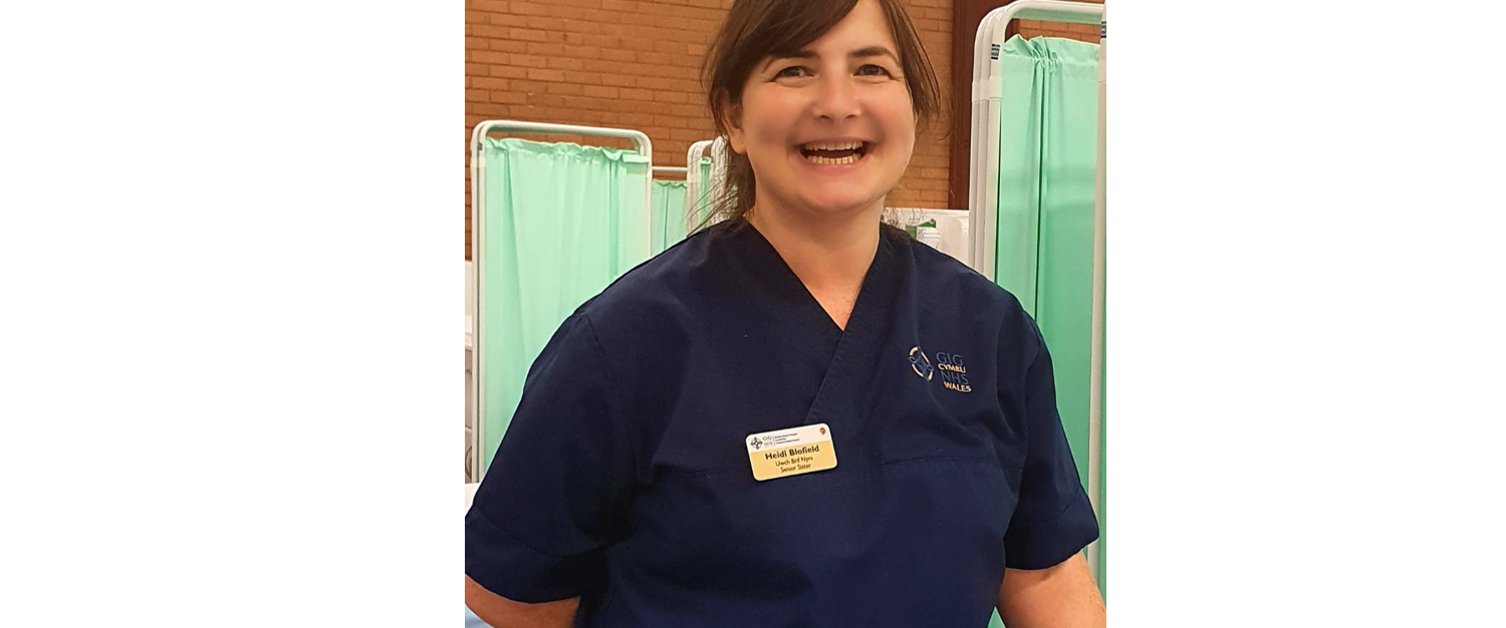 2 August 2021
A Hywel Dda respiratory nurse speaks of the turmoil of being told she couldn't nurse at peaks of the COVID-19 pandemic, as she had to shield in order to protect her own life.
Heidi Blofield, was Senior Sister at Ward 3 at Prince Philip Hospital Llanelli, specialising in respiratory conditions when she was told she had to shield due to her rheumatoid arthritis.
Despite this, she managed to contribute her skillset to the Test, Trace and Protect service, before working in the field hospitals that were set up locally.
"I felt so guilty because it felt like I was just jumping ship. Initially, I think I was just coming over the hardship of having a physical disability, but it was the mental health associated with it. As a nurse you want to nurse, and I was being told that I couldn't.
"I did try hard to find things that I could do from home and eventually I did get an opportunity to work with Test Trace and Protect which was wonderful."
Heidi was later given the opportunity to work in the field hospital in Llanelli, at the Selwyn Samuel Centre for seven months.
"We admitted in total 262 patients over the seven months. The nursing staff all came from different areas and along with them they brought their skills so that was good. We were all in a difficult time, but we were all in it together and I think that was important for anybody. We could all speak to each other and reflect."
Heidi was unable to return to Ward 3 and now has a new post in the Mynydd Mawr Rehabilitation Ward at Prince Philip Hospital.
"COVID-19 has pushed staff to do things that they weren't necessarily comfortable about doing previously, now a lot of staff are looking for new opportunities because they've had that exposure, which is great.
"It has pushed everyone out of their comfort zone and given us that drive, but it's also given opportunities that a lot of staff didn't know they had before, which is great really good. I've seen lots of staff develop and get promotions on the back as well."
Heidi came forward for Hywel Dda University Health Board's podcast series, a new project in collaboration with Planed (opens in new tab), which aims to share the experiences of local NHS staff during the pandemic. The podcasts can be accessed here: Podlediadau Hywel Dda Podcasts (opens in new tab) and is also available on Spotify.
Her message now in the summer of 2021 is that, despite the progress that has been made, we need to all continue to work together, by making wise choices in order to protect vulnerable people and the NHS at large from COVID-19.
"I think we've worked stronger together because we're all in the same boat and I think that that is absolutely evident it's just the strain now. I think the staff have worked so hard for so long that that you know the burnout is definitely there if not approaching."