COVID-19 testing kits for people unable to work from home [Updated 16/04/21]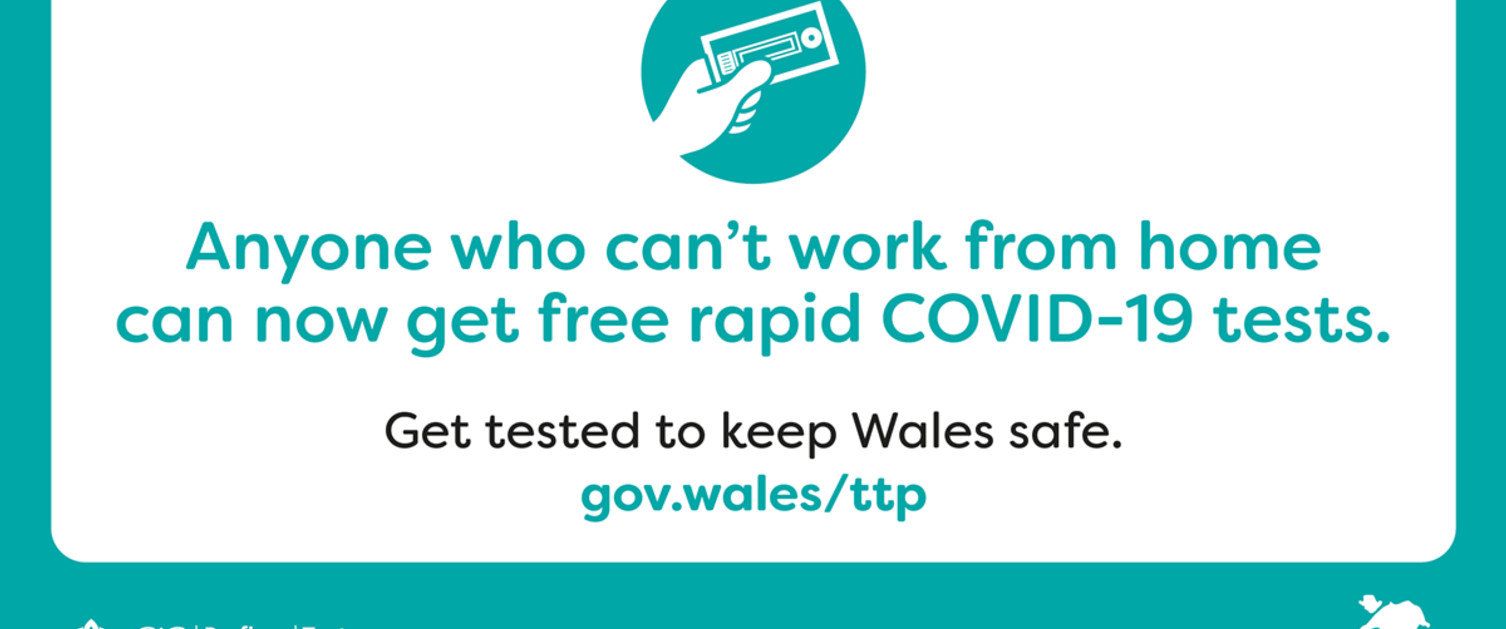 From Friday 16 April 2021 people who are unable to work from home and can't access COVID-19 testing directly through their workplace, will be able to collect testing kits locally to test themselves for the virus before attending work.
Each person will routinely be able to collect two packs of seven lateral flow device (LFD) self-test kits for home use. It is recommended that tests are undertaken twice a week with the results recorded on the UK Government portal (www.gov.uk/report-covid19-result).
This additional testing provision (known as 'LFD Collect') has been introduced across Wales by the Welsh Government as part of its plans to gradually ease restrictions. It does not change how people with symptoms already access COVID-19 testing locally or Welsh Government's current advice to work from home wherever possible.
Anyone who is required to physically go into their workplace can, if they wish, collect lateral flow device (LFD) testing kits from the sites listed below. There is no need to book an appointment, as these can be collected between 9.30am and 12.30pm (8.00am-1.00pm in Carmarthen), seven days a week:
Aberystwyth - Canolfan Rheidol (Ceredigion County Council HQ), Llanbadarn Fawr, Aberystwyth, Ceredigion, SY23 3UE (drive-through and walk-in)
Carmarthen - Carmarthen Showground Site, Nant-y-Ci, Carmarthen, SA33 5DR (drive-through only)
Haverfordwest - Pembrokeshire Archives, Prendergast, Haverfordwest, Pembrokeshire, SA61 2PE (drive-through and walk-in)
Llanelli - Dafen Yard, Llanelli, Carmarthenshire, SA14 8QW (drive-through and walk-in)
If the LFD test result is negative, the individual is safe to attend work.
If the result is positive, the individual must book a COVID-19 PCR test for the same afternoon via the online UK portal at www.gov.wales/coronavirus or by calling 119 in the usual way. Testing will be available at all the above sites. Individuals and their household members must self-isolate while awaiting their PCR result.
Alison Shakeshaft, Director of Therapies & Health Science at Hywel Dda University Health Board said: "This new collection service complements the wider testing provision we already have in Hywel Dda and the Welsh Government's Workplace Testing Scheme, which caters for organisations with larger workforces. People will be able to safely attend their workplace, if they have a negative test result, and it will help to minimise further transmission of the virus.
"We appreciate the efforts people are making to help protect each other during the pandemic. Everyone still needs to follow the guidance, even if vaccinated, by wearing face coverings where required, social distancing and regular handwashing, to help us live and work alongside the virus whilst containing its spread."
Regardless of a previous negative LFD or PCR test, anyone who develops symptoms of the virus (a new persistent cough, high temperature or loss/change of taste or smell) or other flu-like symptoms (headaches, tiredness general aches and pains) should self-isolate and book a test as soon as possible through the online UK portal at www.gov.wales/coronavirus or by calling 119.
Thank you for keeping Hywel Dda safe.