Hywel Dda first in Wales to go live with digital nursing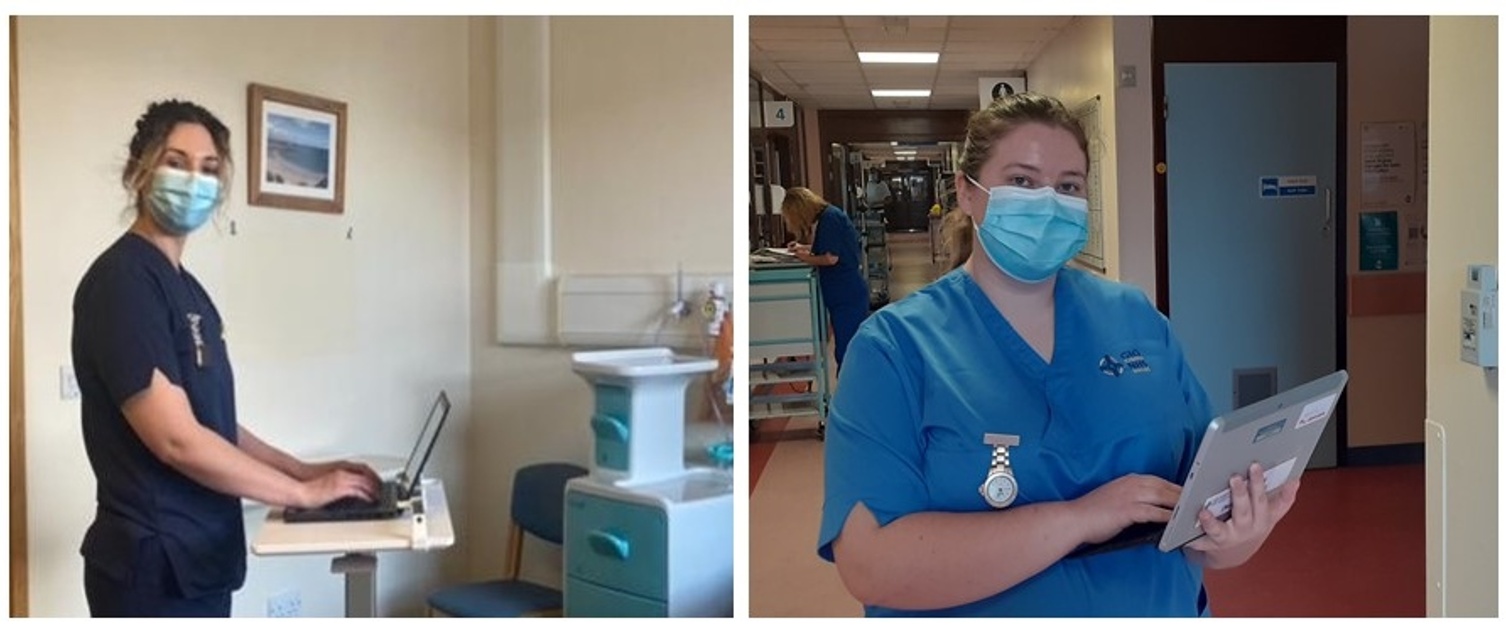 Nurses in South Pembrokeshire and Withybush hospitals are the first in Wales to go live with a new digital Welsh Nursing Care Record (WNCR) leading the way towards smarter, patient-centred ways of working.
This ground-breaking national project, which officially launched in Hywel Dda University Health Board on 19 April 2021, will transform nursing documentation and create a new digital way of working, using the latest tablet-based technology rather than paper forms. In the first month of a phased implementation, over 15,000 nursing entries and more than 10,000 risk assessments have been made, reflecting the level of care and attention that each user is giving to the inpatients of Withybush and South Pembrokeshire hospitals.
Hywel Dda University Health Board and other NHS organisations across Wales are working with Digital Health and Care Wales to produce digital nursing documents that follow a patient through their healthcare journey, using the same standardised nursing language to reduce duplication and improve patient experience and care.
Mandy Rayani, Director of Nursing, Quality & Patient Experience said: "We are very excited to be involved in this collaborative project and to have the opportunity to influence the future of e-nursing for the benefit of nursing staff and patients.
"I'm proud of how nursing staff within Hywel Dda UHB have embraced this new way of working and we look forward to rolling it out to other hospital sites over the coming months."
Claire Bevan, Senior Responsible Owner for the WNCR project added: "I'm sincerely grateful for the incredible support given to the WNCR journey so far. and for the encouragement and support to make this possible within Hywel Dda, the first in Welsh nursing history to go digital."
Angharad Murray, Staff Nurse at Withybush Hospital said: "The new system has changed how I work and I found it so easy to learn how to use it. It's a very efficient process with nursing notes now all in one place and I don't have to decipher different handwriting styles anymore!"
Fran Beadle, National Clinical Informatics Lead (Nursing), Digital Health and Care Wales said: "I had the pleasure to be present at the official launch of the Welsh Nursing Care Record in Hywel Dda; it was fantastic to see staff adapt so quickly to the new ways of working. A big thank you to everyone for embracing this change to make a difference in patient care across Wales."
Clinical representatives are leading the project to ensure it is fit for purpose, patient focused and aligns to nursing process. As a starting point, the teams have identified that the first set of documents to be standardised and developed digitally are the adult inpatient assessment and core risk assessments in relation to falls, pressure damage, pain, continence, nutrition, manual handling and discharge.
These have been chosen based on frequency of use, and those that have the biggest potential to improve patient assessment, inform care planning and enhance patient safety and outcomes. The current practice of recording and keeping paper records has become a burden and is taking front line staff away from care activities.
The experience, learning and feedback from the ward teams as they adopt the new digital process is helping to inform the future and ongoing development of digital patient care records.