Dementia specialist nurse appointed in South Pembrokeshire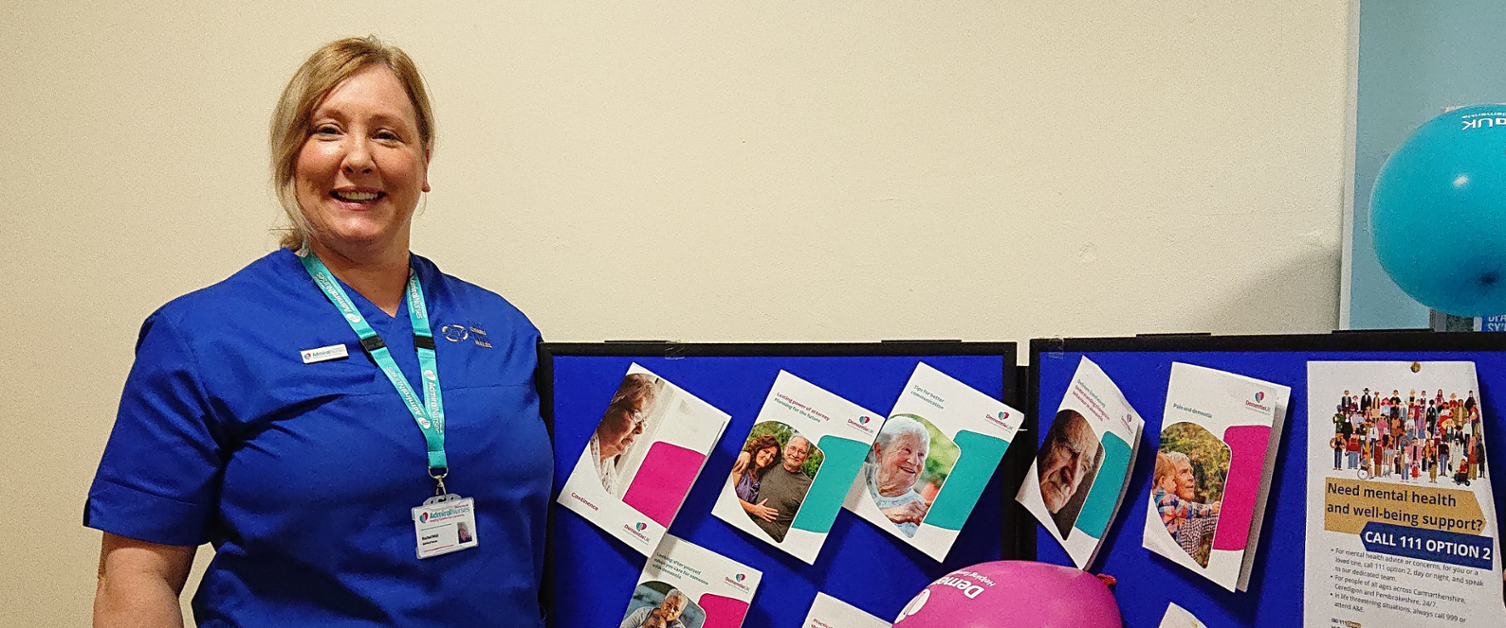 14 February 2023
Hywel Dda University Health Board has worked with Dementia UK, the specialist dementia nurse charity, to create a new dementia specialist Admiral Nurse role within the community hospitals in Pembrokeshire.
New Admiral Nurse Rachel Wall will work with the multidisciplinary team to support carers and share best practice in dementia care on the wards as well as linking with other statutory and voluntary providers of services across the dementia pathway.
This role is in addition to the existing Admiral Nurse community service which was launched in March 2021.
Dementia is a huge and growing health crisis, with 944,000 people living with the condition in the UK – and this number is set to increase to 1.1m by 2030.
Admiral Nurses, who are continually supported and developed by Dementia UK, help families manage complex needs, considering the person living with dementia and the people around them. They provide life-changing support and guidance for families affected by all forms of dementia in communities, hospitals and hospices, on the free national Dementia Helpline, and in clinics.
The Admiral Nursing service will focus on providing support to Sunderland Ward, South Pembrokeshire Hospital and Tenby Ward, Park House Court. The service will also support transfers of care; sharing relevant information across care boundaries. It will ensure that care transitions are coordinated, safe, timely, and involves carers.
Sunderland Ward is a 40-bed nurse-led unit and Tenby Ward is a 10-bed unit. Both wards offer holistic assessments, general nursing care, rehabilitation, discharge planning, palliative, and end-of-life care. The highly skilled team consistently works with individuals, families and carers to promote empowerment and active participation in health care.
Elaine Lorton, County Director for Pembrokeshire, said: "We are so pleased to welcome Rachel Wall to Sunderland Ward and Tenby Ward, Park House Court as an Admiral Nurse providing a greater level of expertise and support for our patients with dementia.
"This is a gap we have noticed for some time and with our population in Pembrokeshire getting older, we are proud to be piloting this role.
"We hope Rachel will be able to share her expertise with the other ward staff thereby growing our understanding of how to provide the very best care. She will be that additional support not only for patients but also families and carers as they transfer home."
Charlie Duhig, Admiral Nurse Clinical Lead, commented: "I am really excited to be working with Rachel in setting up this new service to support people in the community hospitals.
"Rachel has previously worked within a variety of services in Hywel Dda University Health Board, including the district nursing team, clinical skills training, and the community hospital. She is passionate about delivering excellent dementia care. Her vast experience will be a valuable resource in supporting best practice in dementia care and working with carers on the ward."
Rachel added: "'I am really excited to be working in our community hospital to support people living with dementia and their families when they need it the most.
"Caring can be stressful and distressing role and as an Admiral Nurse I will be there to support carers who have complex needs. I am looking forward to working alongside the ward staff to share best practice and improve care and outcomes for our patients living with dementia."
Dr Hilda Hayo, Chief Admiral Nurse and Chief Executive at Dementia UK said: "The last few years have placed increasing pressure on local services that support families with dementia. This has left many families struggling and unable to cope with no one to turn to for support.
"Admiral Nurses understand the challenges faced by families with dementia; they help people with dementia to stay independent for longer and they support the people caring for them so that they have the strength to cope with the bad days and the energy to enjoy the good days. It is critical that we have more Admiral Nurses across Hywel Dda to support those who need it the most.
"We are pleased to welcome Rachel to the Admiral Nurse team and look forward to watching her excel in this role."
Referrals to the service can be made for carers whose loved ones are currently an inpatient at Sunderland Ward or Tenby Ward, Park House Court, and are experiencing complex support needs in relation to dementia. Referrals can be requested by speaking to the ward staff.