Apprenticeship really is for everyone regardless of age, gender or race.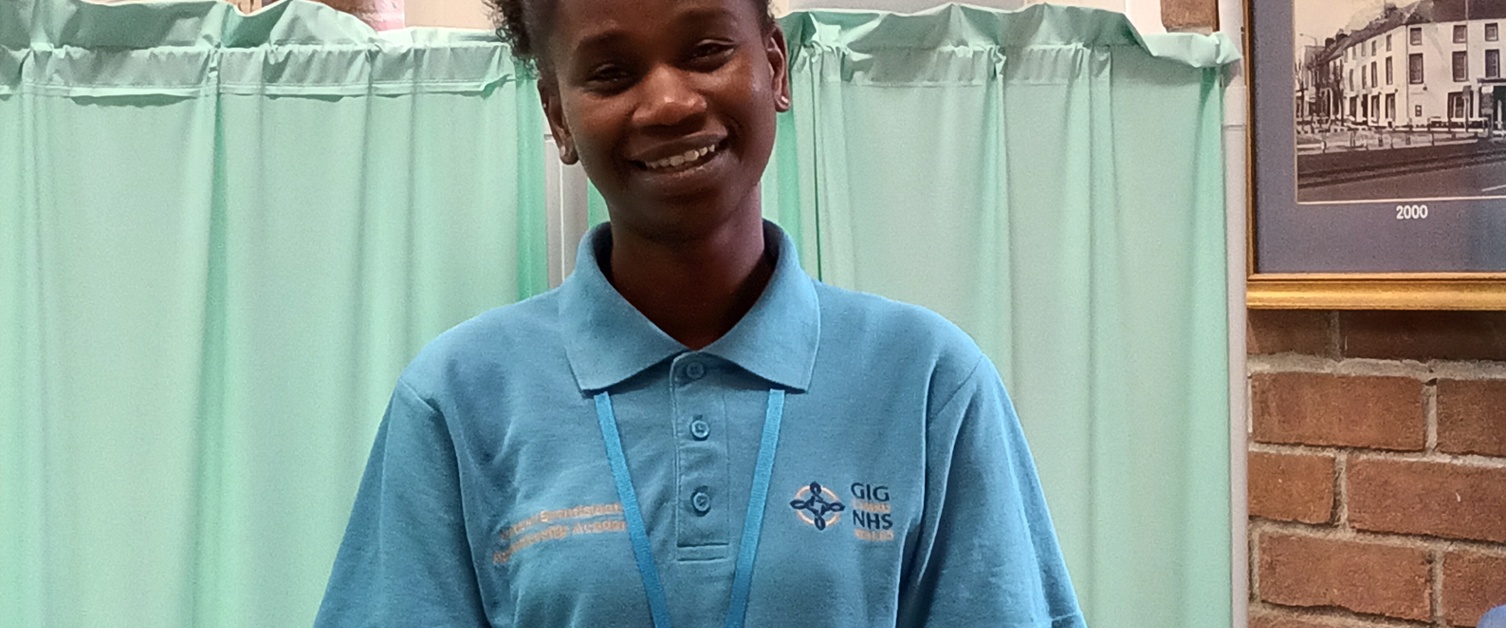 10 February 2022
This National Apprenticeship Week, Adama, an apprentice at Hywel Dda University Board shares how "Apprenticeship really is for everyone regardless of age, gender or race."
31 year old Adama Mboob, a Hywel Dda apprentice and a single mother always wanted to be a nurse, but was unable to because of various circumstances. When she first became aware of the Apprenticeship Academy programme at Hywel Dda University Health Board (UHB), she was excited, but sceptical because of her age.
"After I became a mother, I knew I couldn't go to university. I had to stay in the area for my son, so the apprenticeship was the perfect way for me to become a nurse.
"When I first had the form to sign up to the apprenticeship, my first thought was 'this is not for me' because I'm 31 and the apprenticeships are typically for people 18+. However, with encouragement and support from communities for work and a local Soroptimist ladies group, I filled the form out regardless. I am really happy that I did. I am not the only one who is older, and it's nice that there is a mix in ages and experience levels between everyone."
Hywel Dda UHB's apprenticeship programme offers a structured work-based learning programme that helps an apprentice learn as well as earn while they earn a range of nationally recognised qualifications. The apprenticeship pathways include areas such as healthcare (leading into adult nursing), patient experience, workforce development, digital experience, governance, and estates (developing both electrical and mechanical engineers) with more pathways in development.
Adama, originally from The Gambia, started her apprenticeship in September 2021, in the middle of the COVID-19 pandemic. She is currently placed at a COVID-19 testing centre in Haverfordwest, where she works on testing patients before they go into hospital for treatment or operations. For her, like many other apprentices during this period, the pandemic brought with it both its share of uncertainties, as well as learning opportunities.
"It was scary starting the apprenticeship during the pandemic. It was also a worry for me because my son is asthmatic, so I was scared to take anything home to him.
"However, I have really enjoyed the challenges that working during the pandemic has thrown at me so far. I used to be a carer, so it means a lot to me to be doing hands on work and helping people."
Adama currently works on site four days a week, with the remaining day assigned for study. While juggling being a single mother without a support system with work can be difficult, she advocates joining the apprenticeship programme for several reasons.
Apprenticeship is for everyone
"I didn't realise at first that I could do it because of my age, but the apprenticeship really is for everyone regardless of age, gender or race. You can tell the younger apprentices about your experience as you're older, so I think it works well, it is a nice balance.
"I would strongly encourage anyone younger or older who are considering the apprenticeship to apply. If you are someone who doesn't want to go to university, or you can't afford it, or you have family to look after, the apprenticeship is the perfect option. You're not just in a classroom, you're working hands on with patients and getting valuable experience alongside people with different professional backgrounds. You are working and learning at the same time, so if you are considering it, go for it!
"Being around patients really builds your confidence. There will be the odd downfall, but it is very rewarding.
"I will qualify in seven years. It can be quite scary to consider my age by the time I qualify. But it's not a bad thing. This is something that I have always wanted."
Lisa Gostling, Director of Workforce & Organisational Development at Hywel Dda UHB said: "Our apprenticeship programme so far has seen applicants from a diverse range of ages and fields. As Adama says, the apprenticeship is open to anyone who is interested from the age of 16 and above.
"The structured programme helps you gain the required skills and qualifications on the job and offers a variety of learning experiences day to day. As well as being in the workplace, you will attend college or a training centre to work on your qualifications. There are a range of programmes to choose from depending on what interests you - from caring for people, to looking after patient experience, to corporate governance, to gaining expertise in the digital world. "
We will be announcing plans for this year's apprenticeship recruitment programme shortly through our normal communication channels. You can find out more on our current programmes here (opens in a new tab) or email us at apprenticeship.academy@wales.nhs.uk.