A message of thanks, one year on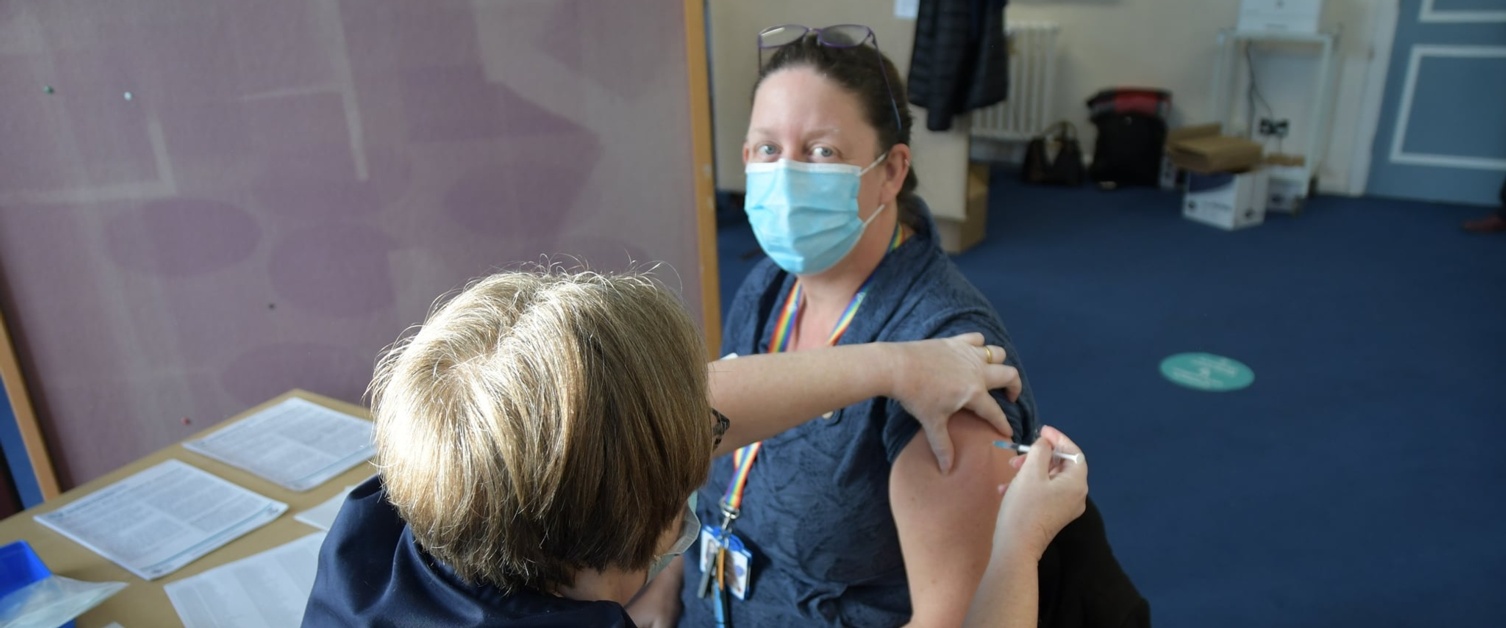 8 December 2021
One year ago, on 8 December 2020, health and social care workers and care home staff from across Carmarthenshire, Ceredigion and Pembrokeshire travelled to Hywel Dda University Health Board's first mass vaccination centre to be among the first in the world to receive a COVID-19 vaccine.
Dr Nicola Drake, Withybush A&E Consultant and Clinical Lead for Emergency Medicine received the first Pfizer BioNtech vaccine given by Hywel Dda UHB at Glangwili Hospital, a vaccine approved six days earlier by the UK's Medicines and Healthcare products Regulatory Agency.
Since then, over 752,000 COVID-19 vaccines have been given by Hywel Dda's vaccination teams and primary care colleagues at mass vaccination centres, GP practices and community pharmacies, in the community and through mobile vaccination vans and pop up clinics; an achievement only made possible thanks to the collective efforts of thousands of staff and volunteers.
Maria Battle, Chair of Hywel Dda UHB, said: "It is undeniable that the COVID-19 vaccine has saved hundreds of thousands of lives across the world this past year. While the risk that COVID-19 presents has not gone away, the vaccine gives protection to those most at risk of serious illness and death from this awful illness and those working and volunteering on the frontline every day at great personal risk and sacrifice.
"One year on, this is an opportunity to reflect and thank everyone who has made the rollout of the vaccine possible across Hywel Dda.
"We really have seen the collective community spirit over the last year. We've seen familiar faces, retired after many years of service, return to the frontline to join our vaccination programme.
"We've seen local companies and partner organisations help out how they can, from providing tuk tuks to transport people to and from their appointments to providing vehicles to hold mobile vaccination clinics.
"The colossal effort of primary care colleagues in GP practices and community pharmacies, community vaccination teams as well as our mass vaccination centres has ensured 88% of our eligible population has had at least one vaccine.
"But we also cannot forget the support of partner, third sector and charitable organisations that have helped make the vaccine accessible to so many across our community. By working together, vaccinators have been able to visit community events, fayres and county shows; take the vaccine to care and residential homes, homeless shelters, to hospital patients and into the homes of those housebound.
"To everyone who has contributed to the vaccine programme, and to members of the public who have come forward for their vaccine in the last year, thank you for doing what you can to protect our community and our local NHS as we continue the rollout of the largest mass vaccination programme in the history of the NHS."
To find out more about the Hywel Dda rollout of the vaccine please visit https://hduhb.nhs.wales/covid19-vaccination