A sustainable NHS celebrated at Green Teams awards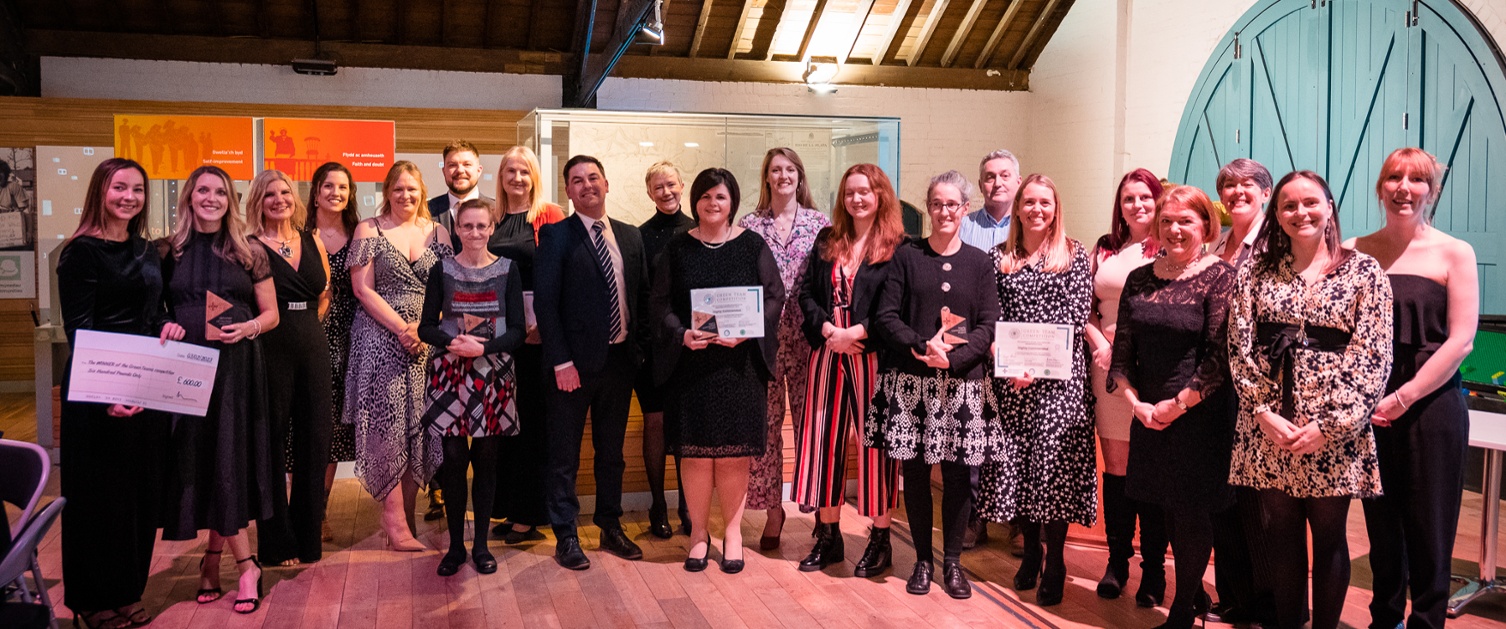 16 February 2023
Hywel Dda and Swansea Bay university health boards have become the first NHS Wales organisations to participate in the Green Teams competition, an award-winning programme that supports NHS staff to improve the sustainability of their service.
Six teams from each organisation undertook a ten-week programme and were supported by the Centre of Sustainable Healthcare, a registered charity that develops knowledge and resources to support health services to reach net zero carbon and wider sustainability, to implement their projects and measure emissions reductions, financial costs and savings, social impacts and clinical impacts.
The Procurement Team, led by Lewis Wells and supported by Gemma Deverill and Miles Thomas were named as the Hywel Dda winner at a showcase event held at the National Waterfront Museum in Swansea earlier this month, making them the first ever non-clinical winner of the Green Teams competition.
The team won for their transition to a local supplier to maintain the 53 automatic doors across Glangwili Hospital. Aside from engineers now travelling a shorter distance to local call outs, the new supplier is committed to replacing all vehicles to electric by 2030.
The following projects were undertaken across Hywel Dda University Health Board, as part of the Green Teams Competition:
Reducing Pathology sample transport with the aim to reduce ad-hoc transport by 5-10% in a 12-month period - Pathology Team.

Reducing the Inhaler Blues with the aim to reduce the carbon footprint of metered dose inhalers (MDIs) being prescribed by a GP practice by changing appropriate patients to lower carbon footprint MDIs or dry powder inhalers (DPIs) as appropriate - Medicines Optimisation team.

Hywel Dda Frontline Procurement with the aim to measure the social, environmental and financial impact of transitioning to a local supplier for automatic door maintenance – Procurement team.

Diverting nappy/incontinence waste from deep landfill to the recycling waste stream with the aim of trialling nappy and incontinence waste recycling in the Special Care Baby Unit (SCBU) - Environment Team.

Reducing plastic bag usage in Bronglais Hospital pharmacy department with the aim to reduce the number of plastic bags used - Pharmacy Team.

Transfer sheets in Endoscopy with the aim to reduce environmental waste by reducing unnecessary use of single use slide sheets and replace remaining necessary slide sheets with a reusable alternative - Endoscopy Team.
Lee Davies, Executive Director of Strategic Development and Operational Planning, for Hywel Dda UHB, said: "Everyone involved with the Green Teams competition should be very proud of what they have achieved.
"As a large public sector body, we have a collective responsibility to do what is needed to embed sustainability and decarbonisation at the core of our operations and business to support the wider public sector ambition to address the climate emergency.
"The Green Teams competition has shown there are many ways clinical and non-clinical teams across the NHS can contribute to the sustainability agenda and it is important that we continue to give our staff permission to act and support them to generate meaningful change.
"Annual projected savings based on actual changes made during the ten-week competition were calculated at £26,300 per annum and a projected reduction of 2,340,950kg CO2e.
"The social and clinical benefits with these projects were also phenomenal, with examples of improved management of conditions for patients, increase in job satisfaction for staff, positive impacts on the local community from suppliers through recycling nappies, all contributing to a better understanding of what sustainable healthcare really looks like."
As well as being presented with their awards, the winning teams also received cheques for £600 to invest in their work. Judith Paget, NHS Wales Chief Executive; Health and Social Services Minister Eluned Morgan; Chief Medical Officer Frank Atherton and Chief Nursing Officer Sue Tranka sent videos congratulations.
The competition was supported by the Centre for Sustainable Healthcare and Welsh Government, and received sponsorship from Respiratory Innovation Wales, Natural UK along with event organising support from Kyron Media.
It followed the green organising principles set by the two health boards with digital tickets, locally sourced and seasonal produce. Locally crafted sustainable awards and leftover food were also packaged into seaweed and plant-based containers courtesy of NotPla and delivered to Dinas Fechan and Ty Tom Jones hostels, which supports people who are homeless in Swansea.