Alternative Route into Nursing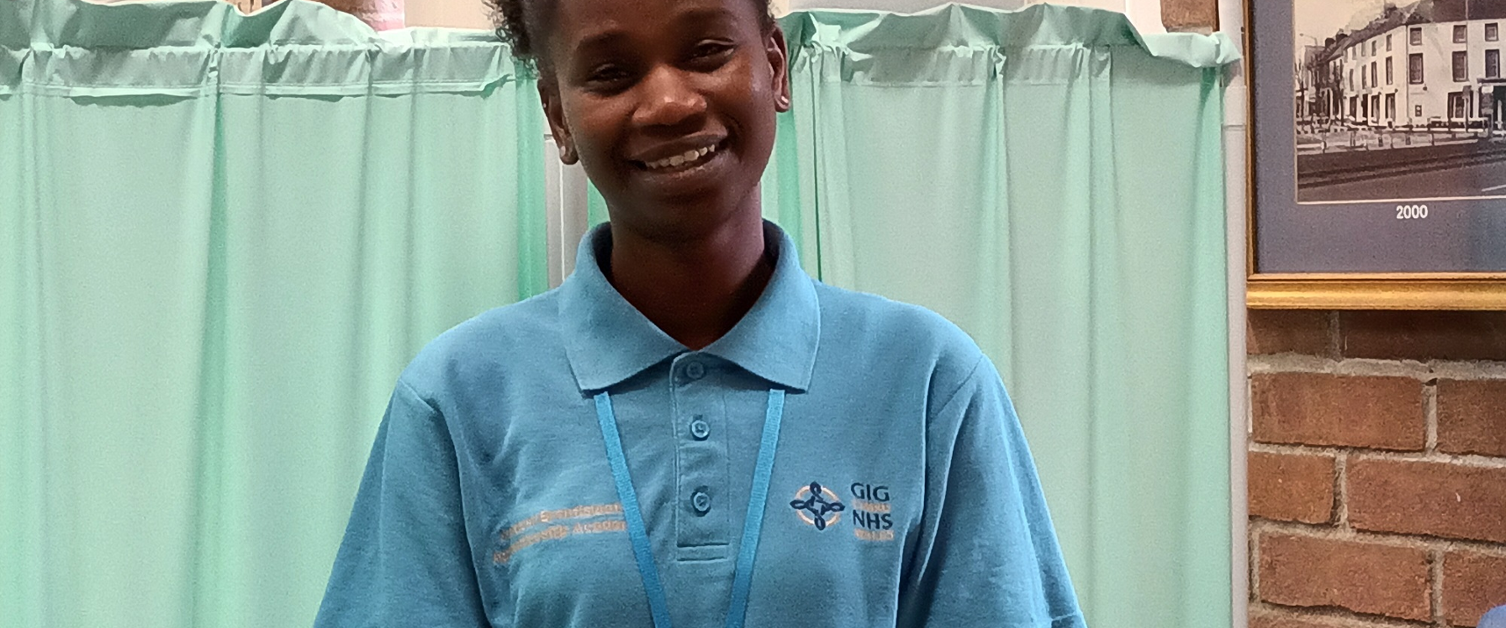 12 May 2022
Hywel Dda University Health Board is reminding people during the week of International Nurses that it has an alternative route into a nursing career, to help grow a diverse and stable NHS workforce, through its Apprenticeship Academy.
The scheme, currently open to applications until Sunday June 5, helps individuals who might not have followed more traditional routes, into a career as a registered nurse. It provides them with an opportunity to earn while they learn, here in Carmarthenshire, Ceredigion and Pembrokeshire.
This is of significant benefit to the local community, as it supports the provision of compassionate care to local people at a time when there are great challenges in recruiting into clinical jobs within the NHS.
Lisa Gostling, Director of Workforce & Organisational Development at Hywel Dda UHB explained:
"Our apprenticeship programme so far has seen applicants from a diverse range of ages and fields and we hope to see the same in this next round of recruitment. It is so important that we harness the skills that exist in our community and not rely on a single pipeline for our future workforce.
"The structured programme helps people gain the required skills and qualifications on the job and offers a variety of learning experiences day to day.
"This is one of the key actions we are taking to grow and harness our workforce in Hywel Dda UHB and reflects our strategy and vision to create a healthier mid and west Wales."
In this round of recruitment, the health board is looking to place up to 100 healthcare apprentices across Bronglais Hospital, Aberystwyth, Glangwili Hospital, Carmarthen; Prince Philip Hospital, Llanelli and Withybush Hospital, Haverfordwest.
This apprenticeship is available for anyone from the age of 16 years old to apply, from the Working for Us (opens in new tab) pages of the Hywel Dda University Health Board website (opens in new tab).
During the programme, apprentices will undertake clinical healthcare support training, before progressing to university to complete a registered nursing degree on a part-time basis. At the end of the programme, participants will be qualified nurses, without having to pay any university fee. They are expected to remain in employment with Hywel Dda UHB for a minimum of two years post qualification.
Adama Mboob, an apprentice based in Withybush Hospital, Haverfordwest said: "I thought the healthcare apprenticeship was only for age 16 years to 21 years. I didn't realise at first that I could do it because I applied at 31 years, but the apprenticeship really is for everyone regardless of age, gender, or race.
"I would strongly encourage anyone who is considering the apprenticeship to apply. If you are someone that can't afford a university degree, or you have family to look after, the apprenticeship is the perfect option. You're not just in a classroom, you're working hands on with patients and getting valuable experience alongside people with different professional backgrounds. You are working and learning at the same time, so if you are considering it, go for it!"
Phoebe Jacob-Pritchard, an apprentice who is from Burry-port and currently posted to the vaccination centre attached to Prince Philip Hospital (PPH), in Llanelli, said: "It's a fantastic opportunity, I'm so passionate about becoming a nurse. Every day is different and you are constantly learning. The healthcare apprentice programme is fun, challenging and rewarding."
Scott Holmes, an apprentice currently posted to the endoscopy unit, PPH, said: "The things I enjoy most about my apprenticeship is the fact that you don't know what you're going to walk into each day, no two days are ever the same when you are working on the ward and the fact that you get to socialise with your patients as well as your colleagues. The healthcare apprentice is worthwhile, eye opening and engaging."
The health board does also run other apprenticeship programmes such as in informatics, governance, workforce, patient experience and engineering. Follow SwyddiHywelDdaJobs on Facebook or Twitter for more information as schemes are launched.