Booster COVID-19 vaccine rollout update from Hywel Dda UHB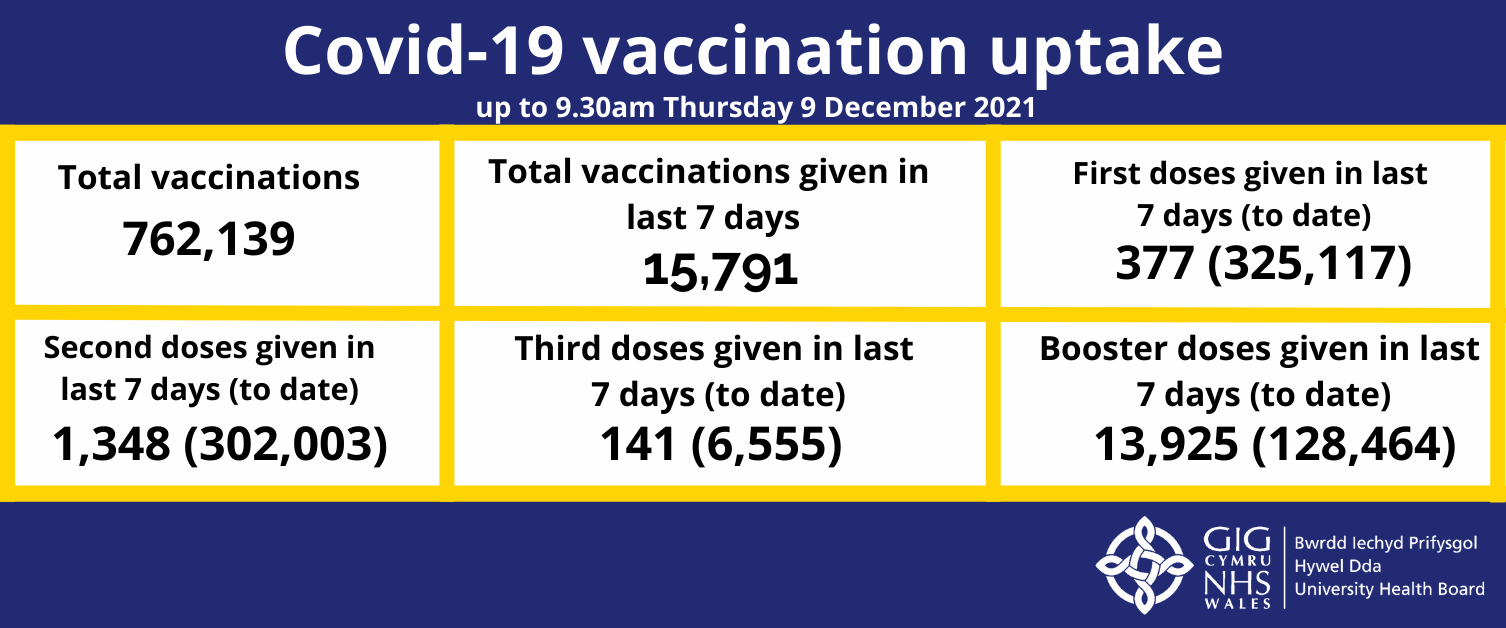 Following last week's announcement by the JCVI, Hywel Dda University Health Board's mass vaccination team is working at pace to ensure its current facilities are used to their maximum capacity. The health board is confident that everyone eligible for a booster will receive an offer by the end of January 2022.
The health board continues to prioritise people living in Carmarthenshire, Ceredigion and Pembrokeshire for their booster appointment against the time scale since their primary course was completed, which in turn, was driven by age and vulnerability. We would like to take this opportunity to thank the public for their patience and for attending their appointment when it is their turn.
People attending their appointment are also asked to show their support and kindness towards the hard-working staff, security and volunteers, who will be spending a second festive period helping to keep Wales safe.
Bethan Lewis, Interim Assistant Director of Public Health at Hywel Dda UHB, said: "Following last week's significant update to booster eligibility, our efforts have been focused on achieving this incredibly ambitious programme by increasing the number of appointments across our seven mass vaccination centres and recruiting extra staff and volunteers.
"Our communities across Hywel Dda have a big role to play in helping us offer a booster vaccine to everyone aged 18 and over and our most clinically vulnerable by the end of January.
"First, please be patient and do not attend any of our centres without an appointment. Our call centre is also receiving lots of calls and this is causing delays in answering, so we strongly advise that you do not contact the health board or your GP to ask about your vaccine.
"Our priority is to increase the number of appointments available and we will contact you when it is your turn. This will be done by letter, or text, and it may be at short notice.
"We understand people have commitments, especially at this time of year, but we must ask people to prioritise their appointment as far as possible. Due to the high volume of people we are currently vaccinating, if you have to cancel your appointment, or change the date, it may be some weeks before it can be re-scheduled.
"The vast majority of the population are currently receiving their booster appointment on or before 26 weeks since their second dose. As more appointments are made available across our seven centres, this gap will reduce significantly. Please bear with us.
"You can also help by arriving for your appointment on time and no earlier than 10 minutes before your allotted time. This will help keep our car parks flowing and limit the length of queues. We apologise if there are delays, but please be patient and dress for colder weather in case you are asked to wait outside."
The health board understands that many people have been anxiously contacting our COVID-19 Command Centre to ask questions or to rearrange an existing appointment, which has resulting in long waits to speak to someone.
The health board is increasing the number of call and email handlers but if you have any questions about the COVID-19 vaccine, please visit https://hduhb.nhs.wales/covid19-vaccination in the first instance to find the answer to your query or visit Public Health Wales's website https://phw.nhs.wales/topics/immunisation-and-vaccines/
Again, we ask people to not contact us to ask about their booster vaccine, however it is very important that we leave no one behind. In light of yesterday's ministerial announcement, if you are over 65 and haven't yet had a booster appointment, or if it has been more than 26 weeks since your second dose and you have not received an appointment, please get in touch with the health board directly.
The health board is also prioritising those who are still need their first and second vaccines. Everyone aged 12 and over is eligible for a COVID-19 vaccination and no one will be left behind.
Please visit https://hduhb.nhs.wales/covid19-vaccination to request your vaccine or if you cannot request one online, please call 0300 303 8322.
If you would like to work at a mass vaccination centre, the health board has full and part time hours available as well as bank opportunities. Please visit https://hduhb.nhs.wales/archived/jobs/ to apply.
For volunteering opportunities please visit contact the health board's volunteering team via hdd.volunteerforhealth@wales.nhs.uk or by calling 01267 244 401.