Bronglais Hospital has welcomed a new Consultant Colorectal Surgeon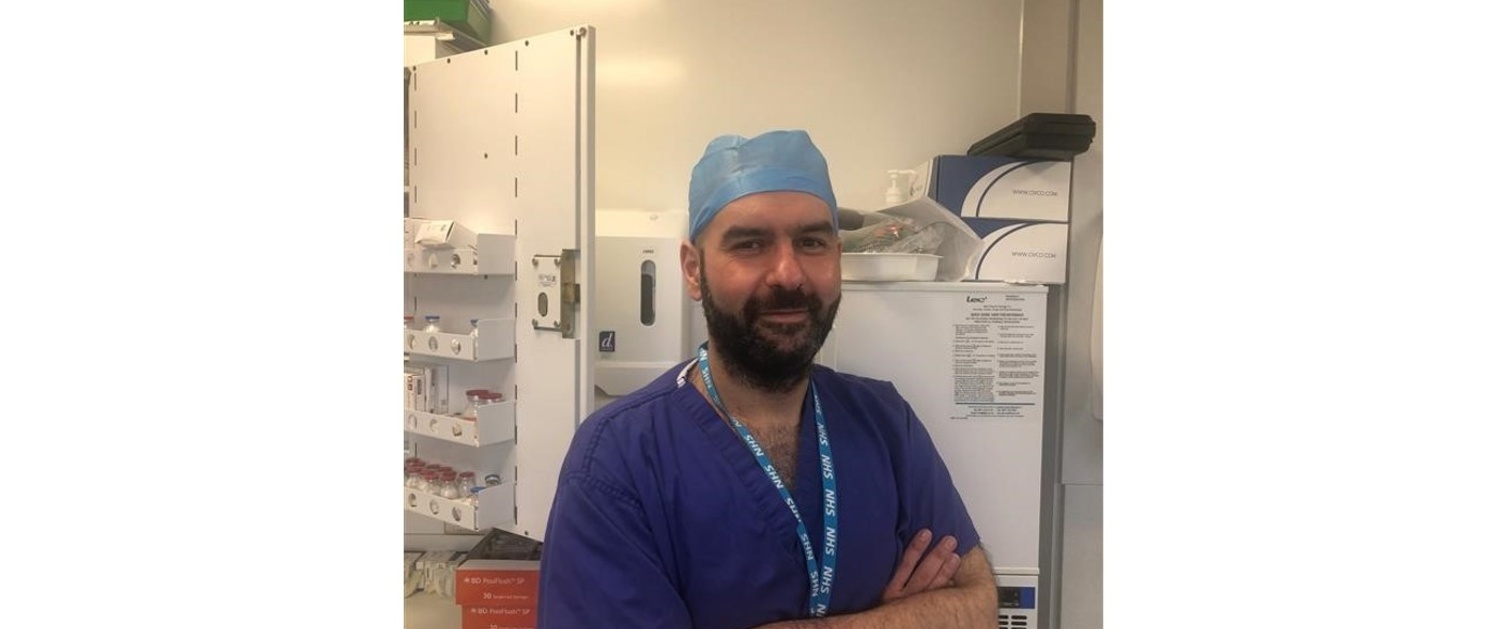 A new consultant colorectal surgeon has been welcomed into a new post at Bronglais Hospital, Aberystwyth, meaning that patients will no longer have to travel long distances to receive operations.
After seeing a job advert for his posting early on in 2020, Mr Sebastiani came to visit the hospital and later joined Hywel Dda University Health Board in January 2021 as part of the clinical team at the Ceredigion hospital.
Mr Sebastiani said: "I was really impressed with the quality of all of the professionals working in Bronglais Hospital. Also, after hearing that the patients had to travel for over an hour in order to have their cancer operations, I felt that I could help them to receive colorectal service locally."
Maria Battle, Chair at Hywel Dda Health Board said: "It is our pleasure to welcome Mr Sebastiani to the Team at Bronglais. We are delighted he has joined us. This is a big step forward for services in Mid Wales. We are fortunate to have such a strong team and Mr Sebastiani will contribute to providing a more comprehensive and united service."
Originally from Rome, Italy, Mr Sebastiani studied medicine at the University of La Sapienza in the city where he graduated with full marks in 2008. He then started his surgical training in Rome, rotating between a university and rural hospital.
Through the Italian training programme, which allowed a trainee to spend 18 months abroad, Mr Sebastiani spent six months in Belgium working in one of the biggest centres in Europe for laparoscopic liver resection and liver transplant. In moving to the UK for his final year in training and qualifying in 2015, he became a middle grade in colorectal surgery in Luton and more recently in 2019 he moved to Plymouth for a fellowship in laparoscopic colorectal surgery where he worked as a locum consultant.
"I liked the idea of helping to reinstate the service and I believe there is incredible potential for development here at Bronglais, and I wanted to be part of it."
Mr Sebastiani moved to Ceredigion county in December 2020 with his wife, also from Rome, who is a nurse also working at Bronglais Hospital.
"We like it here. It is small and quiet, but in a nice way. There is the sea and the mountains, so plenty of things to do and places to go."
Philip Kloer, Medical Director and Deputy CEO at Hywel Dda Health Board said: "We are delighted to welcome Mr Sebastiani here at Bronglais. We have first class facilities at Bronglais Hospital which are improving all the time and Mr Sebastiani's knowledge and experience will help us to continue strengthening our acute surgical service for our patients at the hospital."
For regular updates and roles which may interest you or someone you know, follow the University Health Board: on Facebook and Twitter @HywelDdaJobs and on LinkedIn at: www.linkedin.com/company/hywel-dda-university-health-board, or by visiting: https://hduhb.nhs.wales/archived/jobs/archived/working-for-us-archived/