Deputy Minister for Mental Health and Wellbeing Lynne Neagle praises staff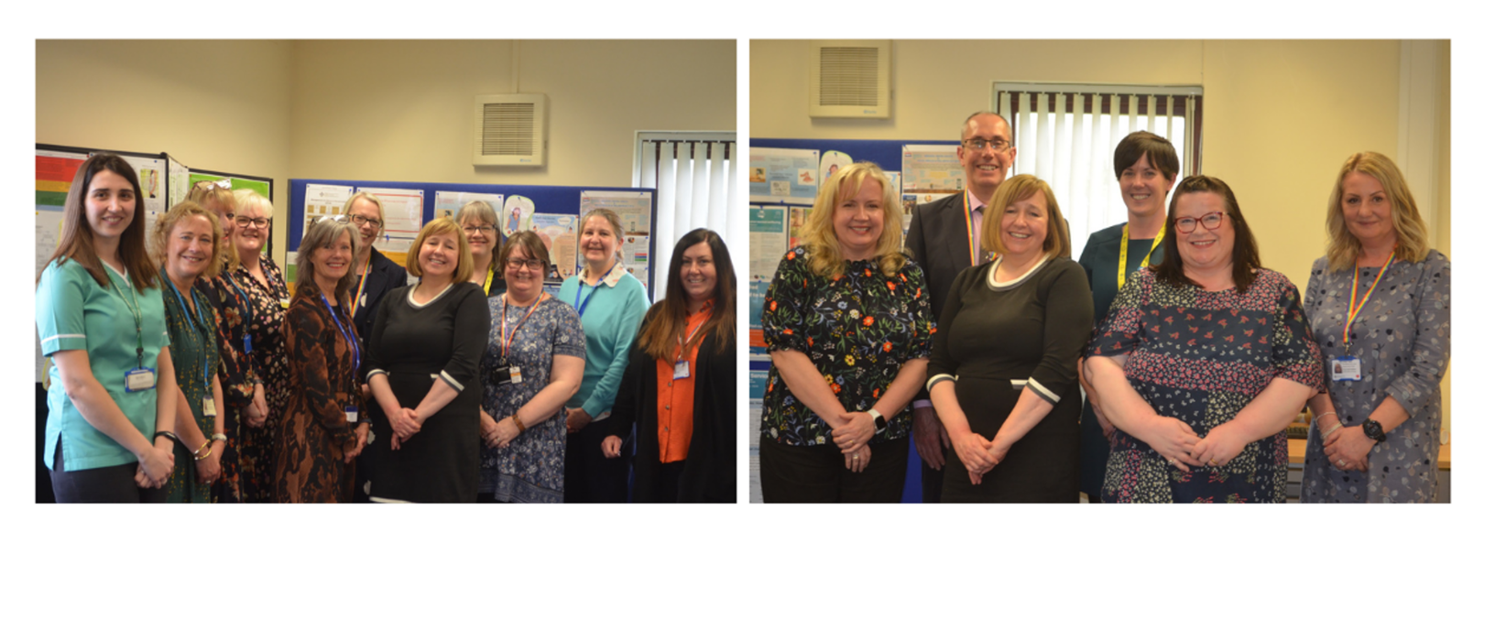 05 April 2023
Deputy Minister for Mental Health and Wellbeing Lynne Neagle visited Hywel Dda University Health Board (UHB) in Carmarthen on Thursday, 30 March to hear about two innovative projects aimed at helping to improve mental health across the area.
Ms Neagle met staff delivering Perinatal mental health care services and partners from mental health charity Mind and Public Health Wales.
Hywel Dda UHB's Perinatal and Infant Mental Health service supports women and their families before a baby is conceived and up until the baby is 12 months old, or up to 24 months should the mother be needing support to bond with her new baby.
Ms Neagle said: "It is fantastic to be here and to meet such a strong, diverse and multi-disciplinary team and to hear about all the work they do to support perinatal mums and dads, of course. It has been great to hear all about this excellent service – the work they are doing now and their plans for the future."
Hywel Dda UHB's Assistant Director of Mental Health and Learning Disability and the Strategy Lead for Perinatal Mental Health Angela Lodwick said: "We are immensely proud of the rapid development of the Perinatal Mental Health Team since its original inception of two clinicians to a team now of 21 highly skilled and dedicated practitioners.
"We are looking forward to further expansion to include Infant Mental Health and closer working alongside Specialist Child and Adolescent Mental Health Services to ensure all babies and families have the best start in life.
"I am delighted that Deputy Minister for Mental Health and Wellbeing Lynne Neagle came to find out more about the amazing work the team do – it was a great opportunity for her to speak face-to-face with our dedicated team."
During her visit, the Deputy Minister heard a presentation from Hywel Dda UHB''s Adult Weight Management Service team led by Karen Thomas, the health board's Head of Dietetics.
The Adult Weight Management Service provides a compassionate and needs-led weight management service to support individuals living with obesity to manage their weight in the long term.
Karen Thomas said: "Our service is here to support individuals to improve their relationship with food, address the factors that influence their eating behaviour with the aim of helping them achieve moderate, sustainable reductions in weight.
"It was great to be able to share this with the Deputy Minister – she asked lots of questions after the presentation, so it was a great opportunity to tell her more about our work."
Deputy Minister for Mental Health and Wellbeing Lynne Neagle said: "The Adult Weight Management Service is doing such valuable work – it has been really brilliant to hear all about it and I would like to congratulate the team for all their hard work and the difference this is making to health care in our communities. I'm sure the service will go from strength to strength."