Health Minister praises partnership working at community hospital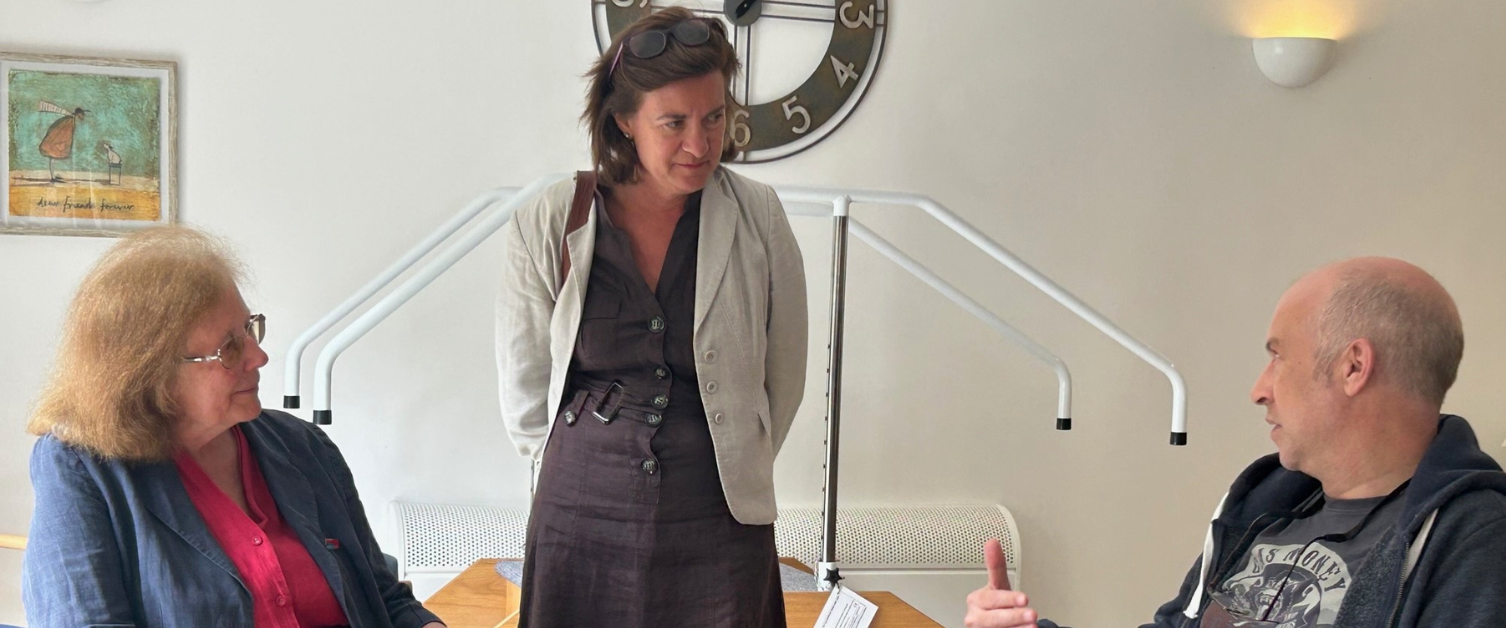 6 June 2023
The Minister for Health and Social Services Eluned Morgan and Deputy Minister for Social Care Julie Morgan have visited South Pembrokeshire Community Hospital in Pembroke Dock to learn more about how partnership working helps patients in Pembrokeshire receive the best care.
The visit last week (Wednesday, 31 May) came ahead of today's announcement that Welsh Government will invest up to £30m to deliver more care at home or in the community and reduce time people spend in hospitals.
The Health Minister and Deputy Minister for Social Care have set out how they will work with local government, NHS and other partners to strengthen local care services in order to help alleviate the kind of pressure on the health and care system seen this winter.
To see this work in action, Eluned Morgan and Julie Morgan, visited the Co-ordination Centre at South Pembrokeshire Hospital to hear more about the 'Further Faster' initiative where the Hywel Dda University Health Board, Pembrokeshire Council and third sector work together to co-ordinate and allocate the appropriate care to people across the county.
Operating seven days week, 8am to 6pm and staffed by a team of experienced clinicians and coordinators, the Coordination Centre provides a single place for the co-ordination and triage of referrals and enquiries regarding routine and planned, urgent and intermediate care needs for the people of Pembrokeshire.
Eluned Morgan said she was impressed by the 'Further Faster' initiative. She said: "I think this is an example of exactly what we're trying to achieve across Wales but we're trying to see this supercharged so we're seeing local authorities work with the health board to make sure that we can discharge people from the hospital much quicker.
"But we also have a real recognition that there's a lot of work we need to do in relation to prevention. And everybody working together here is absolutely key and I think, in relation to care, that is crucial as well."
Julie Morgan agreed and praised the work at the Co-ordination Centre.
She said: ""I think we've seen a really good example of where everybody works together in the same room in the Co-ordination Centre. It was so striking to see everybody there together and the call handlers can refer people on to specialists sitting in the same room as them. The key issue really is to try and prevent hospital admissions and to do all we possibly can to keep people in the community and I think this is a great example."
The Minister and Deputy Minister also met staff and patients at Martello House – a facility for patients who are receiving care after coming out of hospital and re-ablement care to prevent them returning to hospital and to be able to live independently at home.
Patient Paul McGrath from Pembroke Dock had an opportunity to speak to the Ministers about his experience at Martello house.
Mr McGrath underwent heart surgery earlier this year and after months of treatment and recovery in hospital, Mr McGrath was transferred to Martello House. He has been there for two weeks and is hoping to go back home in a week or so.
He said: "Because of the way Martello House works, it's made me feel much more comfortable in doing things. I've been able to get up and about and get moving which has helped tremendously. Certainly, being here and what I've been doing, just moving around and walking, doing stuff for myself has helped my mobility and my confidence.
"They encourage the walking and maintaining the physiotherapy regime that I've been given. Making cups of tea, cups of coffee… sorting out breakfast for yourself, that sort of thing. Just getting on with day-to-day stuff."
Mr McGrath said being at Martello house had speeded up his recovery process.
"When I first came here, I still couldn't see myself being at home – I was worried about that. But being here made me realise that I'm supposed to be at home. I can be at home, I can carry on with whatever I'm doing here. Everything I do here, I can do at home."
Jill Paterson, Director of Primary Care, Community and Long-Term Care for Hywel Dda University Health Board said: "This is a priority for us and our partner organisations. By working together to coordinate and deliver our services we can support individuals to remain at home or in their community with the right level of care and support so that they spend less time in hospital."
Cllr Tessa Hodgson, Pembrokeshire County Council Cabinet Member for Social Care and Safeguarding, said: "We have a history of excellent partnership working in Pembrokeshire, with health, third sector and the authority's social care delivering projects and services which supports our communities. It's important to focus on what will benefit patients – and improve outcomes for the people who live in Pembrokeshire who need these vital health and care services. This approach will improve the co-ordination and efficiency to ensure services are fit-for-purpose and improve the lives of those who need support the most."
According to Eluned Morgan, the new £30m investment will help to deliver thousands of extra hours of reablement services across Wales – providing as a safe alternative to hospital admission and to keep people at home, or so people can recover at home more quickly after a stay in hospital.
The money will also be spent on:
Recruiting more community workers to advise people on how they can access the right support and services to help them recover and lead independent lives;
Ensuring every local authority has a Technology Enabled Care (TEC) Responder Service by winter 2024. Currently only 10 local authorities have this facility. Using the latest monitoring technology this service will ensure people can get the help they need as quickly as possible;
Moving towards 24/7 Community nursing by increasing the availability of community nurses across Wales for an extra 10 hours a day on Saturdays and Sundays;
Strengthening community specialist palliative care – by making specialist nurses available overnight;
Providing practical support for local services to collaborate to put in place an individual care plan for those people identified as most at risk for urgent care. This will help to reduce hospital admissions.