Help improve your mental health by enjoying a walk in the Garden of Wales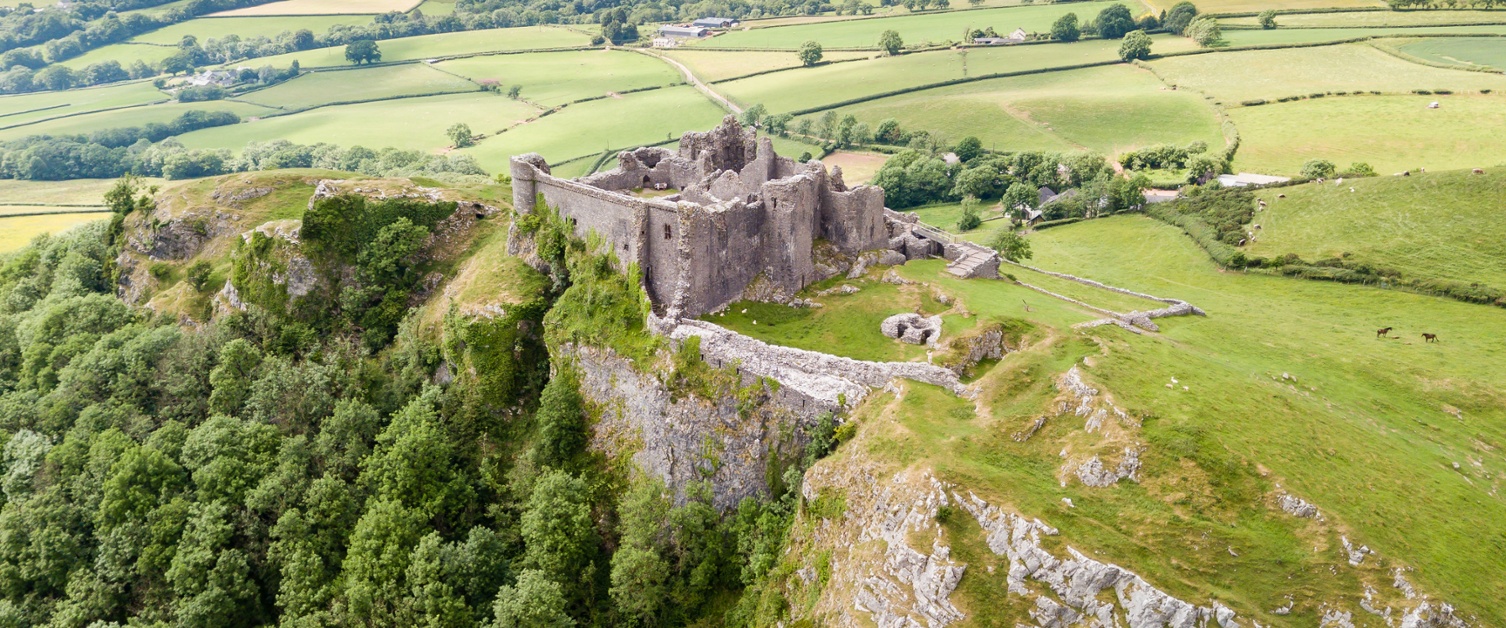 01 February 2022
Carmarthenshire is often called the Garden of Wales and offers walkers the opportunity to explore enchanting woodland, stunning coastline and beautiful castles. With health professionals encouraging us to practise self-care and adopt small changes to help improve our mental well-being, it is the perfect time to get some fresh air and enjoy a walk at one of these stunning locations.
The traditional benefits of exercise have been to improve and maintain physical fitness but, more recently, the benefit of exercise to improve mental health has come to the fore. Exercise decreases the stress hormones such as cortisol and increases endorphins. Endorphins are the body's natural 'feel-good' chemicals, and when they are released through exercise, your mood is boosted naturally. As well as endorphins, exercise also releases adrenaline, serotonin, and dopamine. These chemicals work together to make you feel good.
Dr Kerry Donovan, Head of Psychology & Psychological Therapies for Hywel Dda University Health Board said, "Eating healthily, taking exercise on a regular basis, keeping regular sleeping patterns, establishing a good structure for our days and engaging in relaxing activities are always important to promote health and wellbeing. If you are experiencing a mental health crisis or feel the need for additional support, please do ask for help. These services remain available and we are here to help."
For information on the local primary mental health support service in Carmarthenshire, Ceredigion and Pembrokeshire visit: https://hduhb.nhs.wales/healthcare/services-and-teams/iawn/
With more than £700m invested annually, the Welsh Government spends more on mental health than on any other aspect of the NHS. If you are concerned about your mental health advice and support on how to look after your mental wellbeing can be found here: https://phw.nhs.wales/topics/latest-information-on-novel-coronavirus-covid-19/how-are-you-doing/
If you're aged 16 or over living in Wales and are experiencing mild to moderate anxiety, depression or stress then you can access a free online therapy service through SilverCloud without needing to go through your GP by visiting https://nhswales.silvercloudhealth.com/signup/
Here are some of the great walks across Carmarthenshire:
Llyn y Fan Fach, Llanddeusant: Circling the lake is a pleasant walk for all levels, but those wanting more of a challenging walk can scale the mountainsides and admire the glacial lake from above.
Gold Mines at Dolaucothi, Pumpsaint: They are the only known Roman gold mines in Britain. Start with an underground mine tour and have a go at panning for gold before you set off on one of the six well marked trails which take you into the woods and around the estate.
Dylan Thomas Birthday Walk, Laugharne: For those simply wanting to follow in Dylan Thomas' footsteps the Laugharne coastal walk showcases the best of the area.
Sandy Water Park walk, Llanelli: This gentle stroll around the lake of Llanelli's Sandy Water Park and along the Millenium Coastal Path is one for all.
Twm Sion Cati Cave Walk, Rhandirmwyn: The highwayman Twm Sion Catti was notorious in the area and this walk takes in the glorious woodland and along the River Tywi up to the highwayman's cave.
Kidwelly Walk: This trail takes in medieval castles, picturesque riversides and delightful wildlife. You'll visit Carmarthenshire's most complete medieval castle.
Llandeilo and Dinefwr Castle Walk: From the town, head out to the Tywi Valley and into the National Trust parkland at Dinefwr.
Cenarth walk: The picturesque village of Cenarth is probably best accessed by this stunning riverside walk along the River Teifi.
Llansteffan Coast and Castle: Start off at the sandy beaches of Llansteffan and make your way through the enchanting woodland to see the beautiful Scott's Bay.
Carreg Cennen, Trapp: Carreg Cennen is one of the region's idyllic ruined castles. It has been referred to as one of Britain's most romantic ruins and is well worth the strenuous walk.