Honorary Professorships awarded to three local health experts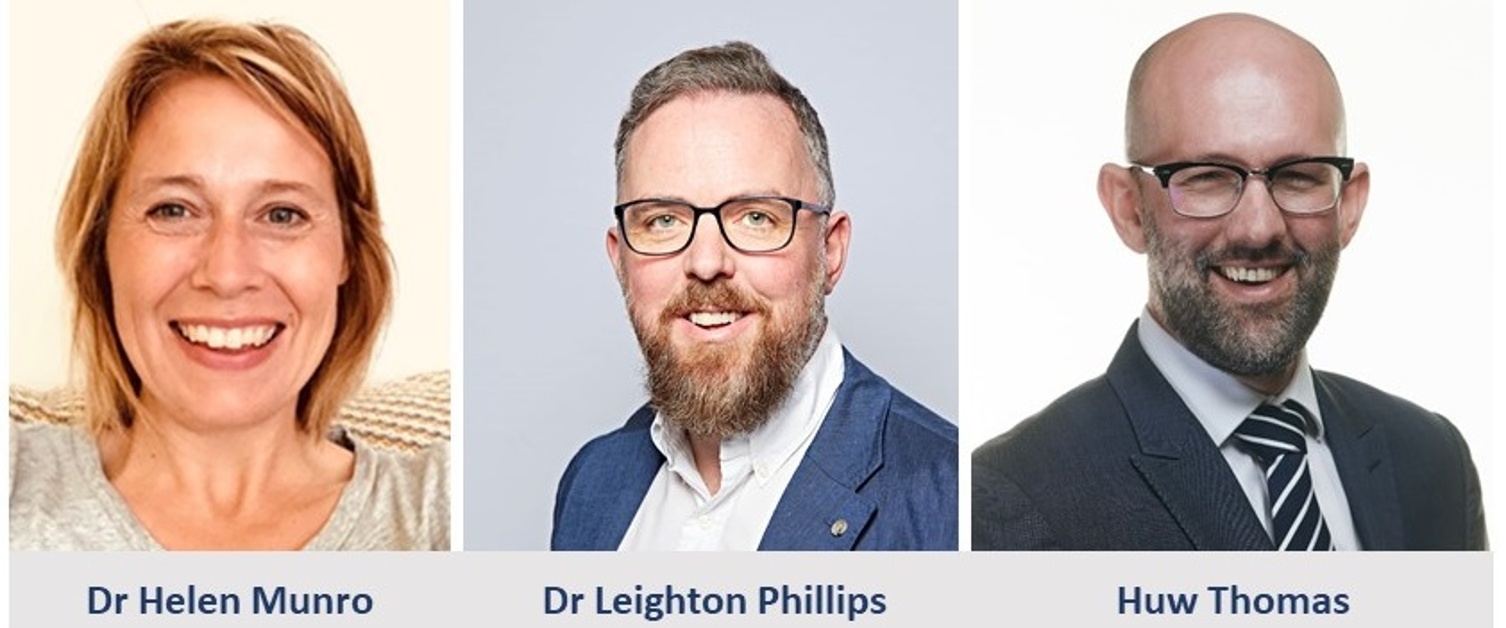 19 December 2022
Three senior leaders from Hywel Dda University Health Board have been awarded Honorary Professorships by Aberystwyth University, further strengthening the university's expertise in healthcare and its partnership with the local health board.
Dr Helen Munro, Consultant in Community Sexual and Reproductive Healthcare at the Board; Dr Leighton Phillips, the Board's Director of Research, Innovation and University Partnerships, and Huw Thomas, its Director of Finance collectively have decades of expertise in the health sector in the United Kingdom.
Steve Moore, Chief Executive of Hywel Dda University Health Board commented: "On behalf of the Board I would like to offer my warmest congratulations to Helen, Leighton and Huw on their appointment as Honorary Professors at Aberystwyth University. Our partnership with the university continues to go from strength to strength and we look forward to continuing our vital work together in the future."
Dr Helen Munro is a Consultant in Community Sexual and Reproductive Healthcare (SRH) with a special interest in menopause care, and works in Hywel Dda University Health Board. She has recently taken up a role as a Research Lead for Contraception and Reproductive Health within the health board. She is the Faculty of Sexual and Reproductive Healthcare Vice President, one of the largest membership organisations, which aims to support its 15,000 members with training, qualifications and producing evidence-based clinical guidance in SRH.
Dr Leighton Phillips is the Director of Research, Innovation, and University Partnerships at the health board, overseeing a large department and significant portfolio of clinical trials, clinical investigation of devices and medical technologies, and Value Based Healthcare Strategy. Dr Phillips has previously held leadership and advisory roles in the NHS, academia, NGOs, and the senior civil service, where in the latter he developed a new strategy and planning system for the Welsh NHS. Leighton's research interests include biopsychosocial determinants of decision making in complex systems, with a particular focus on the factors influencing technology adoption in healthcare systems.
Huw Thomas is originally from Pontsian near Llandysul. Huw read geography at Oxford University before becoming a Chartered Accountant while working at PricewaterhouseCoopers LLP in the City of London. He worked within the banking sector before he moved into the NHS. After working for the Royal United Hospital in Bath, Huw worked for Betsi Cadwaladr University Health Board before being appointed to his current role as Executive Director of Finance, Digital and Performance at Hywel Dda University Health Board. Huw has served as a Council Member for the Institute of Chartered Accountants of Scotland and as a Trustee for the Healthcare Financial Management Association. He is currently a Trustee for the Centre for Local Economic Strategies.
Professor Elizabeth Treasure, Vice Chancellor at Aberystwyth University said: "I am delighted to welcome our new Honorary Professors, who together will bring decades of experience to our research and teaching. Their expertise will further contribute to the role we have to play as a university in helping improve healthcare provision for everyone."
The three appointments coincide with the further appointment of Murray Smith as Professor of Rural Health Economics at Aberystwyth University. Professor Smith is an expert in the use of economics and statistics to predict outcomes in health and health-related behaviours.