Honouring our veterans with vaccine-vial wreaths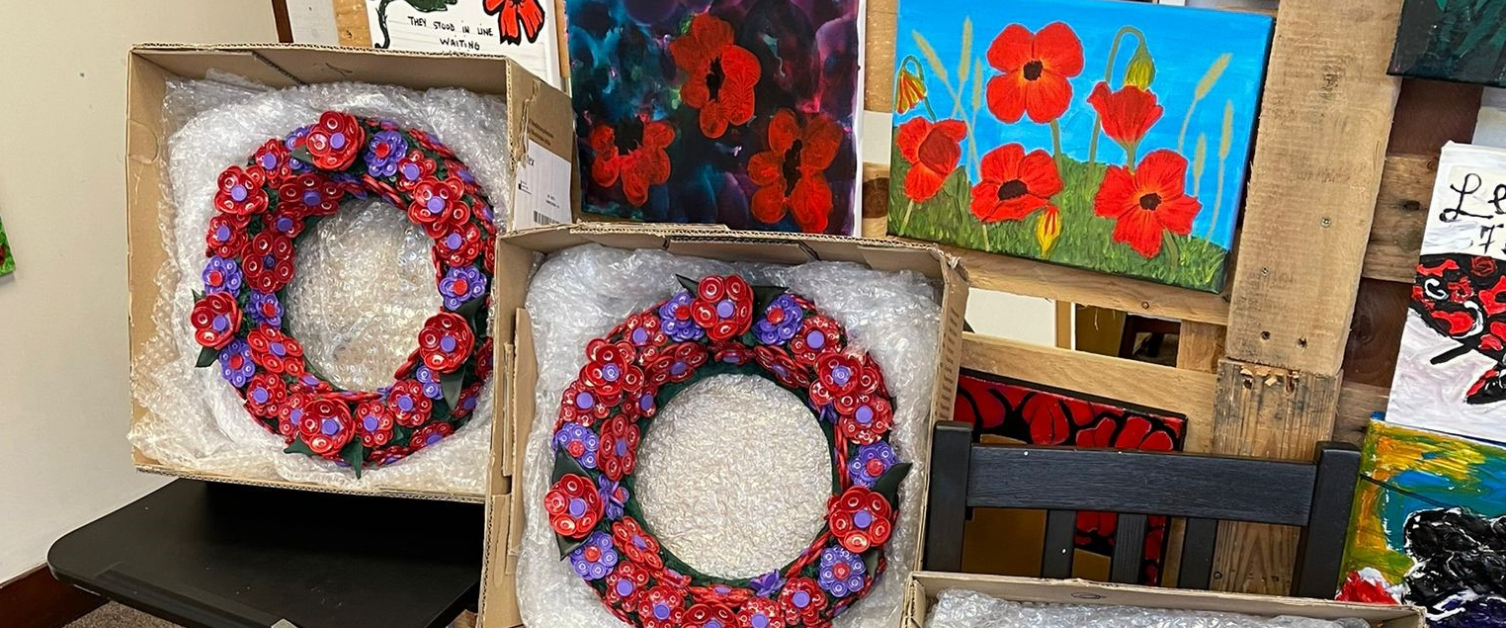 11 November 2021
This Remembrance Day, Hywel Dda University Health Board (UHB) celebrates our veterans with wreaths kindly created by the VC Gallery in Haverfordwest.
Douglas Mottram, Support Officer for the Strategic Partnerships, Diversity and Inclusion Team, after spending time working in our vaccination centres, came up with an idea to recycle and repurpose the tops of vaccine vials to create a poppy.
The VC Gallery, who support veterans and members of the armed forces community particularly through the promotion of arts and crafts created five wreaths, made from the tops of vaccine vials recycled from our vaccination centres.
Anna Bird, Assistant Director of Strategic Partnerships, Diversity and Inclusion, said: "The armed forces have played a huge role in supporting the Covid-19 response in Hywel Dda, working in our vaccination centres earlier in the year as part of their national deployment.
"The creation of these wreaths seemed a fitting way to acknowledge their contribution and to honour and remember those who made the ultimate sacrifice."
Maria Battle, Chair of Hywel Dda UHB, said: "It is wonderful how Anna, Doug and the rest of the Strategic Partnership teams have brought together this innovative idea with the help of the VC Gallery.
"These wreaths give us just a small glimpse of how many lives the Covid-19 vaccine has saved.
"They symbolise the heroic response, self-sacrifice and absolute commitment of our staff and our veterans in the war against the pandemic, and remembering those who have lost their lives, their loved ones and our staff who died and who cared for the sick and dying."
Hywel Dda UHB achieved Defence Employer Recognition Scheme Gold award in July 2021 and is committed to supporting the health and well-being of veterans. For more information visit https://hduhb.nhs.wales/healthcare/services-and-teams/armed-forces-covenant/ or https://www.veteranswales.co.uk/
It is a tradition for the Health Board to lay a wreath at Remembrance Sunday commemoration events in each of the three local authority areas.
On Remembrance Sunday, 14th November, we will lay wreaths at:
Town War Memorial in Haverfordwest from 10:35 AM,
County War Memorial in Priory Street, Carmarthen from 10:00 AM,
War Memorial in Castle Point, Aberystwyth from 10:45 AM,
Llanelli Town Hall grounds from 10:10 AM,
Pembroke Town Cenotaph from 10:00 AM, and
Tenby War Memorial from 11:00 AM.
Please take this as an invitation to witness and if you can pay homage to the victims of war past and present either at these events or services in your local areas in a safe way possible.