Hywel on the Maes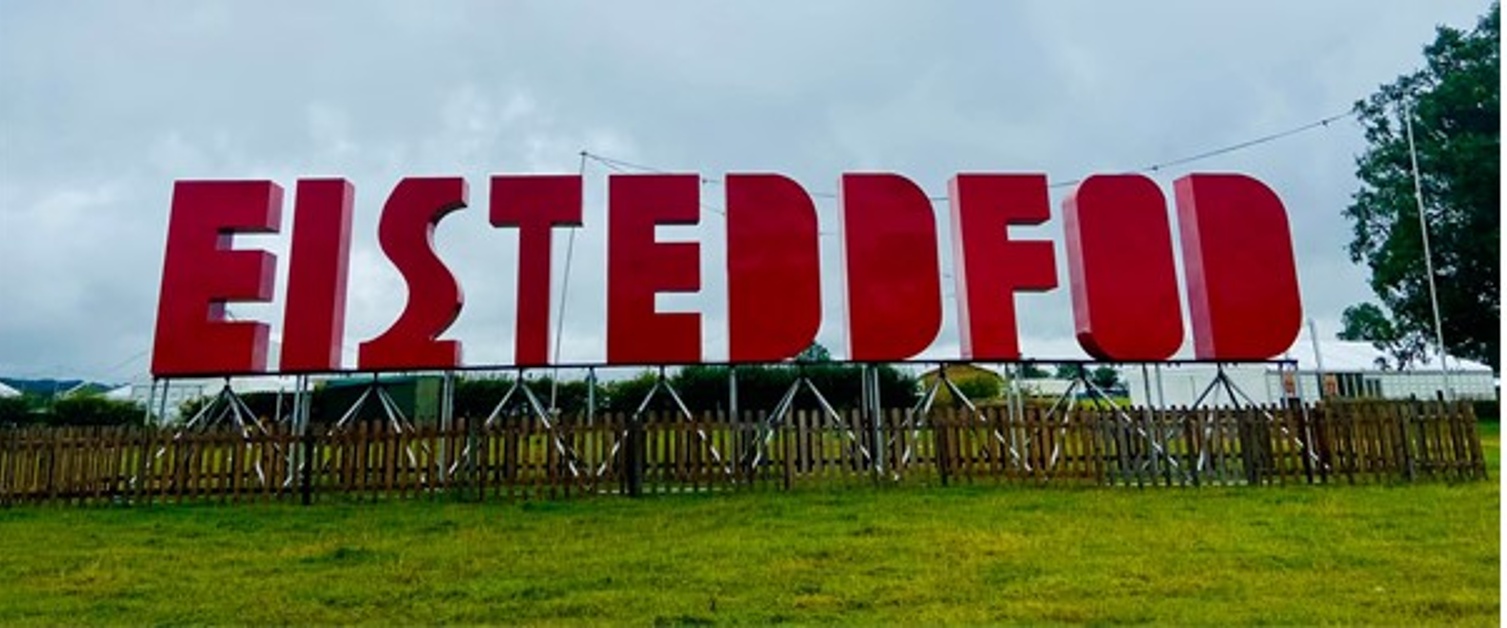 July 27 2022
Whether it is learning to sign or sing Yma o Hyd with speech and language therapists and Dafydd Iwan, or opening up conversations about living and dying well through recognising the local tradition of funeral socks, there's a vast array of health activities for visitors at this year's Eisteddfod in Tregaron.
Hywel Dda University Health Board offers a warm welcome to all at their stall on the Maes. Different health care professionals and activities will be offered throughout the week (more detail below), and health board staff will also participate in activities, including discussions on other stands and stages.
The palliative care and Arts in Health teams will be participating in a discussion (opens in new window) on Llwyfan y Llannerch, at 2:15pm on Sunday 31 July, about life and death, art and medicine – sharing the history of knitting funeral socks in Tregaron and the importance of living and dying well.
The health board's Welsh language and culture discovery process – where we ask our communities what matters the most to them in terms of Welsh language and culture within health - will be launched by BBC broadcaster Beti George at 3pm on Monday, 1 August at the health board's stand.
Dafydd Iwan will be joining the Speech and Language Therapies team at 2pm on Wednesday, 3 August, to sing and sign Yma o Hyd – bringing the song to life through song and sign language.
Visitors to the stand will also be given the opportunity to talk about the health board's long-term Healthier Mid and West Wales strategy and how it will improve health in local communities.
In addition, there will be an opportunity to take part in a variety of activities and to meet with different teams during the week, including:
Speech and Language Therapies will hold daily Babis Parablus sign language sessions (11am each day) and story sessions at (12pm and 3pm). The Speech and Languages Therapies team is also partnering with the Eisteddfod to provide new speech and language communication boards that provide visual resources and useful signs for individuals and showcase how festivals can make their events more communication friendly and inclusive.
The Immunisation and Vaccines Team will be able to answer any questions on immunisations and vaccinations (first Saturday, Monday, Wednesday, and Friday).
The Recruitment Team will share the broad range of job opportunities available at the Health Board and launch the bilingual skills video that highlights the benefits of learning Welsh, and the support available for Welsh learners, at the health board (daily).
In addition to being available to answer any questions about volunteering and careers within the health board, the Future Workforce Team will hold specific talks on volunteering opportunities at 1pm on both Saturdays, Sunday, and Friday.
Pharmacy and Medicine Management will be on hand to check your blood pressure and provide advice (first Saturday and Thursday)
The Youth Health Team will be highlighting the new CHATHEALTH text messaging service for young people aged 11-25, developed in collaboration with the school nursing service (first Saturday).
If you're seeking advice on foot health, including the possibility of a referral to the Health Footsteps Education program for residents of Ceredigion, Carmarthenshire, and Pembrokeshire, the Podiatry team will be available to answer all foot-related questions on Monday.
The Designed to Smile team will be on hand on Tuesday to provide advice on oral health – particularly for young children and their parents, including a demonstration on how best to keep teeth clean and healthy.
The Dementia Wellbeing Team will have a screening assessment for individuals concerned about their cognitive changes (Sunday) and be able answer any questions individuals may have about dementia service available for people living in the area.
Ceredigion Learning Disabilities Team will share information about the support available locally for individuals and carers. (Sunday)
Rural Health & Care Wales will showcase their research and innovative projects to include the Social Prescription Pilot, Cardi Care community resilience project (Solva Care Toolkit) and On Your Bike – incentivising young people to participate in physical activities. (Sunday and Thursday).
The Hywel Dda Charities team will be there to answer any fundraising questions and raise awareness about the work of our charities, and how individuals can contribute towards our charity (Tuesday & Wednesday).
Representatives of Veterans NHS Wales will be on the stall on Friday to provide support and advice for veterans.
Following their talk on Llwyfan Llannerch, Arts for Health will showcase the funeral socks on the stall and will be hosting an art workshop for children on Thursday.
Hywel Dda University Health Board's Director of Communication, and Welsh language lead, Alwena Hughes Moakes, said: "We are looking forward to meeting with local people and visitors to the Eisteddfod and learning more about what matters most to them in health and care, as well as showcasing some of the fantastic work our NHS teams undertake for the communities we live and work in. We hope there is something of interest to all visitors in our line-up. We are delighted that the Eisteddfod can be held this year and we are all excited to be involved in what promises to be an engaging event and great celebration in our local area."
For the latest from the health board's stand and the Eisteddfod Maes, you can follow Hywel Dda University Health Board on Twitter @HywelDdaHB, Facebook – Hywel Dda Health Board, and Instagram @hywelddauhb or follow the conversation at #HywelOnTheMaes and #IechydDaHywelDda.
ENDS