Lift up your every day this Occupational Therapy Week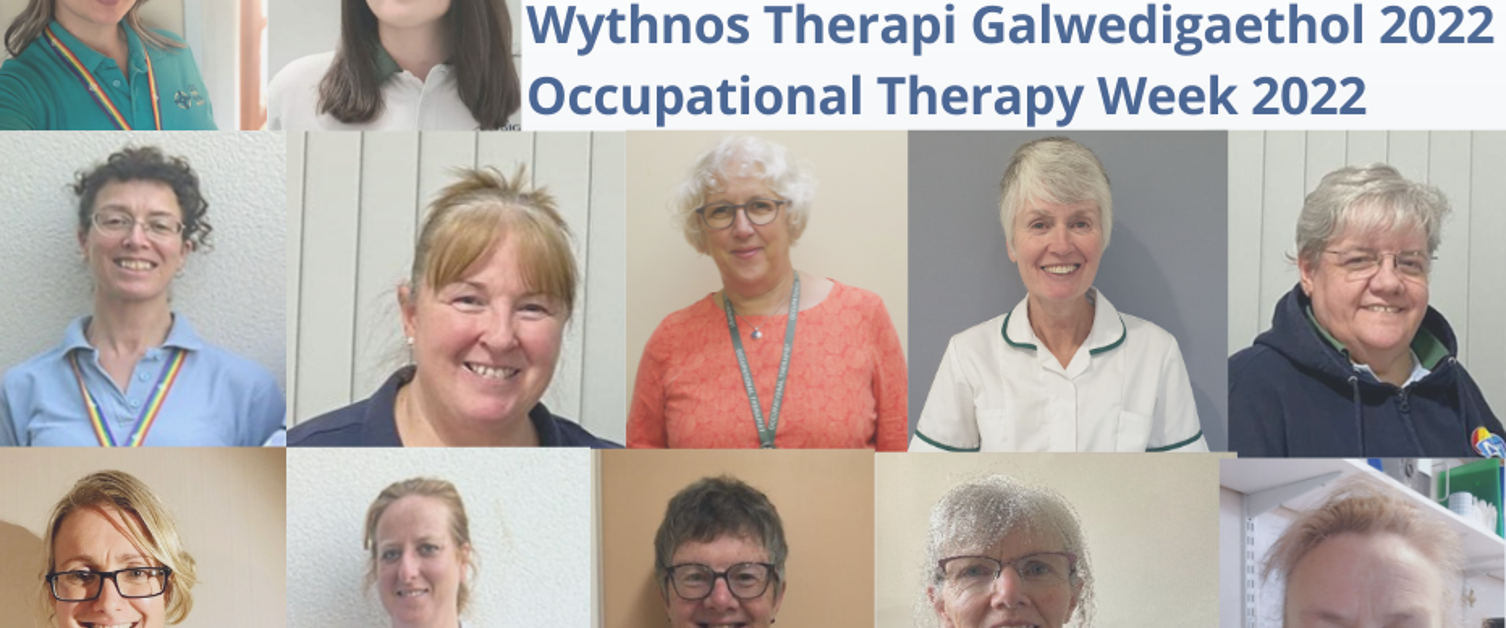 07/11/2022
This year's Occupational Therapy Week (7-13 November) sees the launch of the 'Lift up your every day' campaign across Carmarthenshire, Ceredigion and Pembrokeshire.
The campaign, led by the Royal College of Occupational Therapists, aims to raise public awareness about how occupational therapy can help people to make small changes that will have a positive impact on their lives.
Alison Shakeshaft, Director of Therapies & Health Science at Hywel Dda University Health Board said: "It's really important that people are empowered to help themselves and our occupational therapists can provide advice to enable people to keep doing what they love and need to do. This is about people taking small steps which could make a big difference to their everyday lives – at home, at work, at school and in play."
Claire Sims, Head of Occupational Therapy said: "To mark this year's OT Week, our occupational therapy staff are sharing some simple life hacks to help people across our communities make positive changes to their lives. We want to support people to do the things they want or need to do, to overcome challenges, and to be able to carry out everyday tasks or activities."
Everyone is encouraged to start thinking about what simple life hacks you can do now to make changes in your life that will benefit you. For example:
Take a break

- When work / life situations allow, take a short break from your digital screen (computer, mobile phone, television) and in between meetings, by moving about and getting some fresh air outdoors.
Sleep

- Poor sleep can have a negative impact on how well we function and engage with our chosen activities throughout the day. Look at your sleeping habits and practice good sleep hygiene to improve the quality of your sleep. More advice is available here: NHS 111 Wales - Health A-Z : Insomnia
Falls

can happen to you or someone you care for and are a common cause of injury. Loss of confidence following a fall can stop people from doing the things that are important for them. Falls are not inevitable as we get older and can be prevented. There are simple things you can do to prevent falls and make your home safer for everyone. More information is available here: NHS 111 Wales - Health A-Z : Falls
Claire continued: "Many people don't understand what an occupational therapist does, so this week is a great opportunity for us to raise awareness of how we help people. We do so much more than provide equipment for people; we can help you live your life more fully again. It is also an extremely rewarding career."
Occupational therapists (OTs) in Hywel Dda University Health Board provide expert advice and support to adults and children across Carmarthenshire, Ceredigion and Pembrokeshire, supporting and enabling people to live a meaningful and purposeful life. It's about being able to do the things you need, want and have to do. That could mean overcoming challenges learning at school, going to work, playing sport or simply doing the dishes.
OTs see beyond diagnoses and limitations. They focus on hopes and aspirations, helping people to make adjustments that are practical, realistic and personal to them, ultimately helping people to achieve the breakthroughs they need to elevate their everyday life.
For more information about your local occupational therapy service visit Occupational therapy service - Hywel Dda University Health Board (nhs.wales) and further information about this year's Occupational Therapy Week is available at Royal College of Occupational Therapists - Championing occupational therapy (rcot.co.uk)