Local students experience what it takes to become a doctor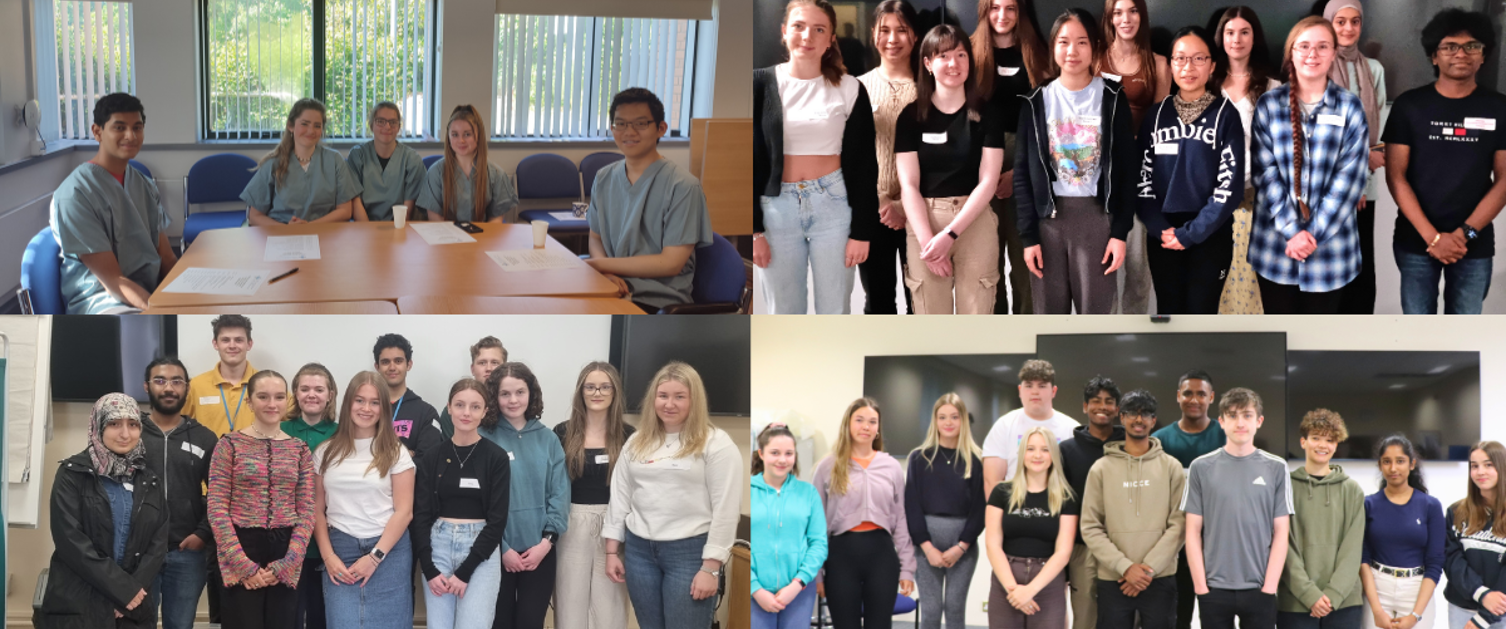 1 September 2023
Local future medical students from across Carmarthenshire, Ceredigion and Pembrokeshire are learning 'on the job' as part of Hywel Dda University Health Board's 'Becoming a Doctor' programme.
The medical work experience initiative gives students the chance to practice simulated suturing, cannulation and to learn from different clinical scenarios.
The 'Becoming a Doctor' programme provides students with people-focused experiences and an insight into the realities of caring for others. It supports the development of the skills and values needed to become a doctor, such as leadership, communication, teamwork, the ability to interact with different people, as well as a realistic understanding of the physical and emotional demands of a career in medicine.
Mark Henwood, Deputy Medical Director at the health board said: "This year, we held clinical skills and simulation workshops in our four main hospital sites, Bronglais Hospital in Aberystwyth, Glangwili Hospital in Carmarthen, Prince Philip Hospital in Llanelli, and Withybush Hospital in Haverfordwest.
"We want to raise awareness about this great opportunity with people interested in having a medical career in our local NHS. I hope it encourages and inspires them to consider the possibilities and give it a go.
Helen Thomas, Head of Medical Education & Professional Standards said:
"This year we were really excited to launch the new Becoming a Doctor programme across Hywel Dda. We would like to thank all those departments and colleagues that were involved with making this year's programme such a great success. The feedback from the pupils that attended the programme has been heartening. We will continue to build on this success, enhancing the experiences we provide to further inspire, encourage and support pupils from our local areas to embark on medical and healthcare careers within Hywel Dda."
Our 'Becoming a Doctor' programme incorporates medical school application support (which includes presentations and guidance from admissions staff from Cardiff and Swansea medical Schools), clinical skills and simulation workshops, hospital/GP observation placements where appropriate.
Notes to Editor:
Information for applicants:
• Students must be 16 years of age or over to be placed in a clinical area or ward for work shadowing/observation only - they will be assigned to shadow a medical student/junior doctor undertaking their normal duties, allowing close observation to gain an insight into the role
• Students must arrange a placement through contacting the Future Workforce Team HDD.FutureWorkforceTeam@wales.nhs.uk who will send through the relevant application and clearance forms to students for completion. Application deadline is 31 of December 2023.
• Students will need to meet the following criteria for consideration for a medical work experience placement in Hywel Dda: -
Students will need to live in and/or attend an educational institution within the Hywel Dda University Health Board localities of Carmarthenshire, Ceredigion or Pembrokeshire
Minimum GCSE Grade 6/B in English, Maths, Biology, Chemistry & Physics
High predicted A-level grades (minimum B) in Chemistry and Biology, plus Maths, Physics or Psychology
Completed applications will need to be returned to the Future Workforce Team who will arrange for the forms to be processed
Students who successfully secure a placement will be contacted by the Hywel Dda Medical Education Department with full details of the 'Becoming a Doctor' programme
Please note work experience placements are dependent upon availability and infection control measures and this timeline may be subject to change.