Long Course Weekend participants fundraise for their local NHS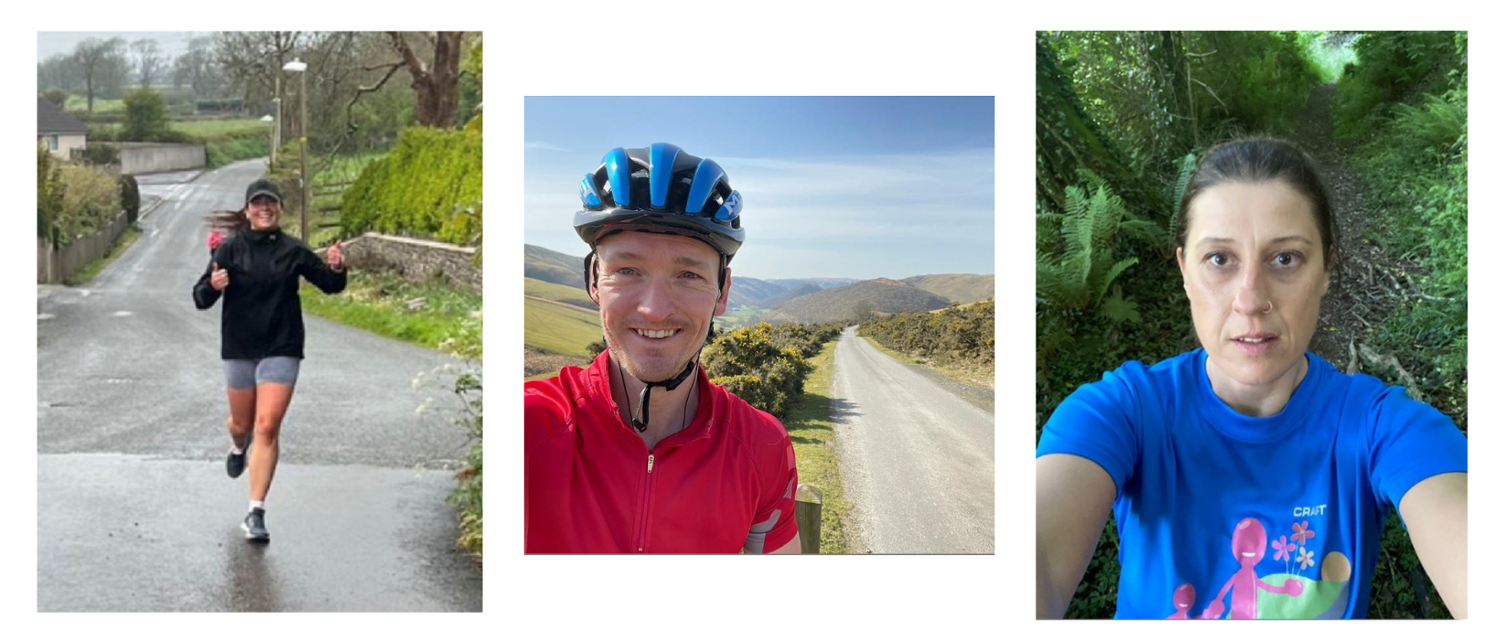 Above: Fundraisers Jess Gibby, Alan Flear and Lydia Hayward

27th June 2022
A team of fantastic fundraisers will be competing in the Long Course Weekend Wales next week. They will be raising funds for Hywel Dda Health Charities, the official NHS charity of Hywel Dda University Health Board.
The Long Course Weekend (LCW) takes place in Pembrokeshire on 1st-3rd July 2022 and is the biggest multisport festival in Europe, attracting over 10,000 athletes. Hywel Dda Health Charities is the Title Charity Partner for the event.
Almost 20 fundraisers will be competing to raise money for Hywel Dda Health Charities, which works to make a positive difference to the health, wellbeing and experience of NHS patients, service users and staff across Carmarthenshire, Ceredigion and Pembrokeshire.
Jess Gibby, who works for the health board, is taking part in the 1.2 Mile Swim and Wales Half Marathon. Jess said: "I will be swimming and running to raise money for mental health services in Pembrokeshire. I've been working in Hywel Dda as a mental health nurse for nearly two years now and would love to be able to give something back to them."
Alan Flear, who works in the Glangwili Hospital's Radiology Department, is taking part in no less than three events: the 2.4 Mile Swim, the 112 Mile Bike, and the Wales Marathon. Alan said: "The Paediatric Ambulatory Care Unit and Cilgerran Ward in Glangwili Hospital are outstanding at providing care to children in the Hywel Dda area. Being a father of three, I wanted to fundraise for a ward that is close to my heart and that has always given superb care and service to my family."
Lydia Hayward, who also works for the health board, will be taking part in the Wales Marathon. Lydia said: "Myself and one of my colleagues are taking part in the LCW events in Tenby this year to raise funds for garden furniture and equipment to enable our service users to safely enjoy the outside spaces within our older adult mental health wards.
"It's so important that our services users and their loved ones are able to enjoy that time off the ward together, whether just to relax and catch up, or maybe take part in therapeutic activities."
Hywel Dda Health Charities will have a stand at the Long Course Weekend, providing the opportunity to find out more about the charity's work and make a donation.
Tara Nickerson, Fundraising Manager at the charity, said: "We're so excited to be working with Activity Wales Events as the Title Charity Partner for this year's Long Course Weekend.
"The funds that we receive will help Hywel Dda provide services and activities above and beyond what the NHS can normally provide.
"We look forward to seeing you there!"