NHS Wales General Management Graduate Programme launched for future leaders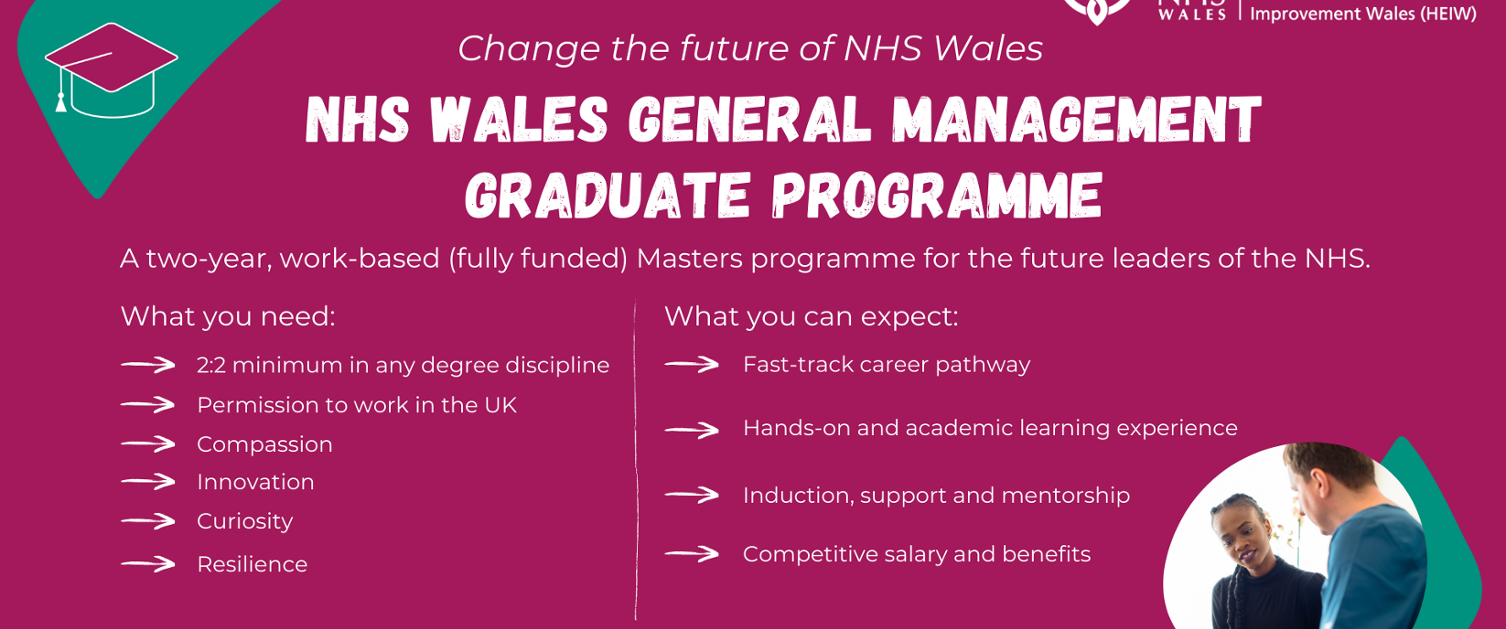 The search has begun for future leaders of NHS Wales with the launch of the NHS Wales General Management Graduate Programme.
This two year work-based programme, developed by Health Education and Improvement Wales (HEIW), includes a fully-funded Masters programme.
This fast-track career pathway is open to all graduates who have attained or be predicted to receive a minimum of a 2:2 in any degree discipline and have permission to work and live in the UK, without any restrictions. There is no time limit for how long ago applicants were awarded their degree, and we welcome applications from all groups, including internal candidates
Applicants should be passionate and want to make a real difference to the lives of people in Wales. They will face a variety of different challenges which will ensure a modern, progressive and world-class healthcare system continues to be provided in Wales.
Dr Andrew Goodall, Chief Executive of NHS Wales, said: "Launching this national programme at this time to search for future NHS Wales leaders demonstrates our commitment to ensuring we continue to be led by the best talent we have in Wales.
"The programme will provide invaluable opportunities for the trainees to work across a wide-range of placements and give them the opportunity to learn how our complex and multi-faceted NHS family works brilliantly together to deliver the best outcomes for patients, colleagues and partners whilst working towards a fully funded Master's degree."
The 13 successful applicants will each be based within a health board, trust or special health authority in Wales, (with your own organisation hosting a trainee), helping the health service to increase its resilience and continuously improve while generating creative and innovative ways of working.
An extensive support package will be available to those on the programme. This will include an induction, coaching, training and mentorship from inspirational and dynamic leaders, enabling trainees to develop skills in management and compassionate leadership.
Based in one NHS organisation, trainees will work as part of multi-disciplinary teams experiencing a mix of academic and hands-on learning while undertaking placements in primary care, secondary care and within a corporate division.
Applications for the programme starting in October 2021 are open on Wednesday 7 October and close on Wednesday 28 October 2020.
Please share this information far and wide with colleagues and anyone who wants to change the future of NHS Wales by making a difference.
Where else would you get the opportunity or organisation that can offer experiences of sitting in on a surgery, riding in an ambulance, observing admissions in A&E, visiting a mortuary or attending a board meeting?
Follow the link below to find out more about the programme, be inspired by previous trainees and learn more about the application process:
https://nhswalesleadershipportal.heiw.wales/grad-programmes