Palliative Care Nurse honoured at National Eisteddfod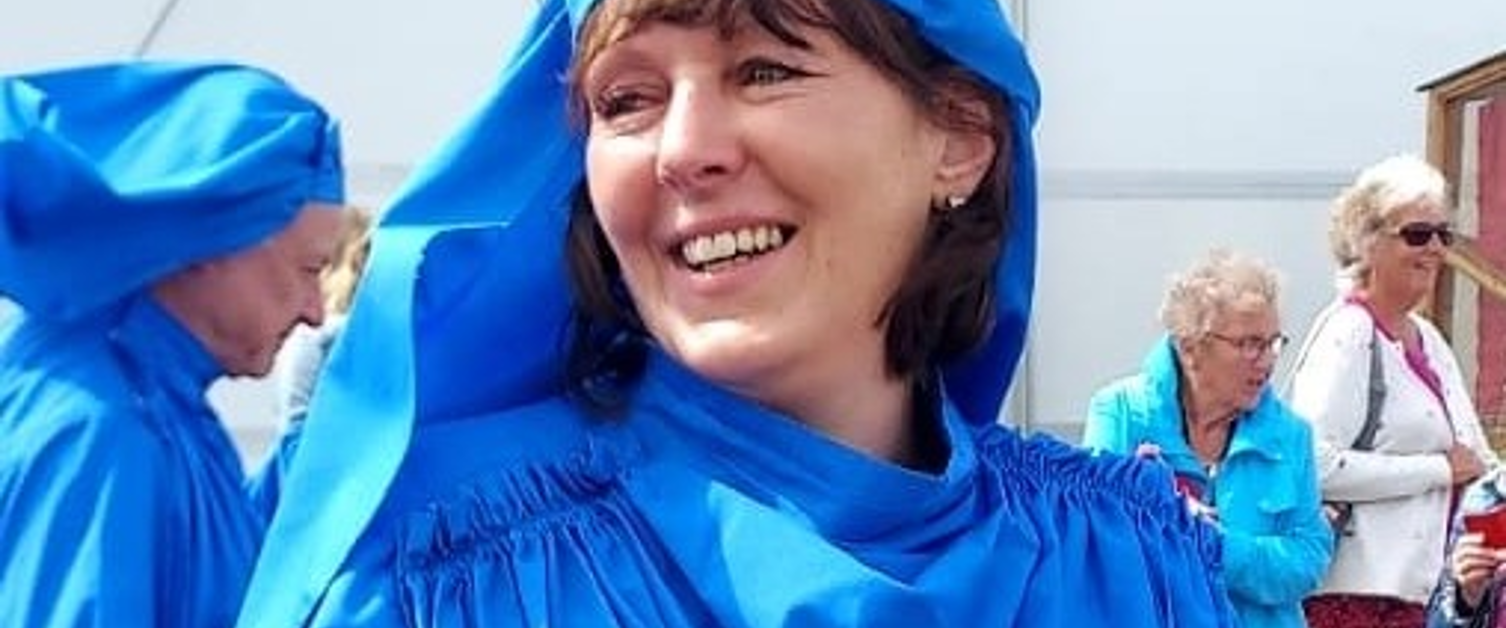 5 August 2022
Today, a member of Hywel Dda University Health Board's nursing team was honoured and admitted to the Eisteddfod Gorsedd at the Eisteddfod in Tregaron.
Carys Stevens, a palliative care nurse from Aberaeron, was honoured for her contribution to end-of-life care in mid and west Wales. She was accepted as a blue robe to the Gorsedd and will be known as Carys Camddwr. Blue robes are awarded to individuals for their contribution to their locality or the nation in the fields of Law, Science, Sports, Journalism or Media.
Carys said: "It is an exceptional privilege to be admitted to the Gorsedd. In accepting this honour, I do so on behalf of the team – my colleagues at Hywel Dda University Health Board – who work hard every day to try to ensure the best end-of-life care for our patients. Our patients, and their families, are very important to us - it is a pleasure to get to know them and be able to play a part in their care and their lives."
Carys believes that everyone has the right to live and die with dignity. She established contact with every local medical practice, ensuring that a team of staff, both volunteers and staff, were on hand to support patients and their families. She established a Hospice at Home service to address the challenges of providing end-of-life palliative care to residents in local rural communities. In doing so, she emphasised the importance of educating individuals about dying and living well, encouraging open discussion and fostering a realistic and humane approach towards the end of life.
Mandy Rayani, Director of Nursing, Quality and Patient Experience, said: "Many congratulations to Carys. We are very proud of her and her contribution to the experience of our patients. With the Eisteddfod in our local area, and following the last two difficult years for our service and communities, this honour is particularly special."
Carys was among a number of individuals who were honoured and admitted to the Gorsedd today. Earlier this year, on NHS Social Care and Frontline Workers Day (5 July), it was announced that the First Minister of Wales, Mark Drakeford, was being honoured by Gorsedd Cymru this year on behalf of all key workers and volunteers in Wales.
The list of individuals honoured today was published in summer 2020, but due to the pandemic, this is the first opportunity for individuals to be admitted to Gorsedd at the Ceredigion National Eisteddfod