Paul Makin shortlisted for Community Nutrition Professional of the Year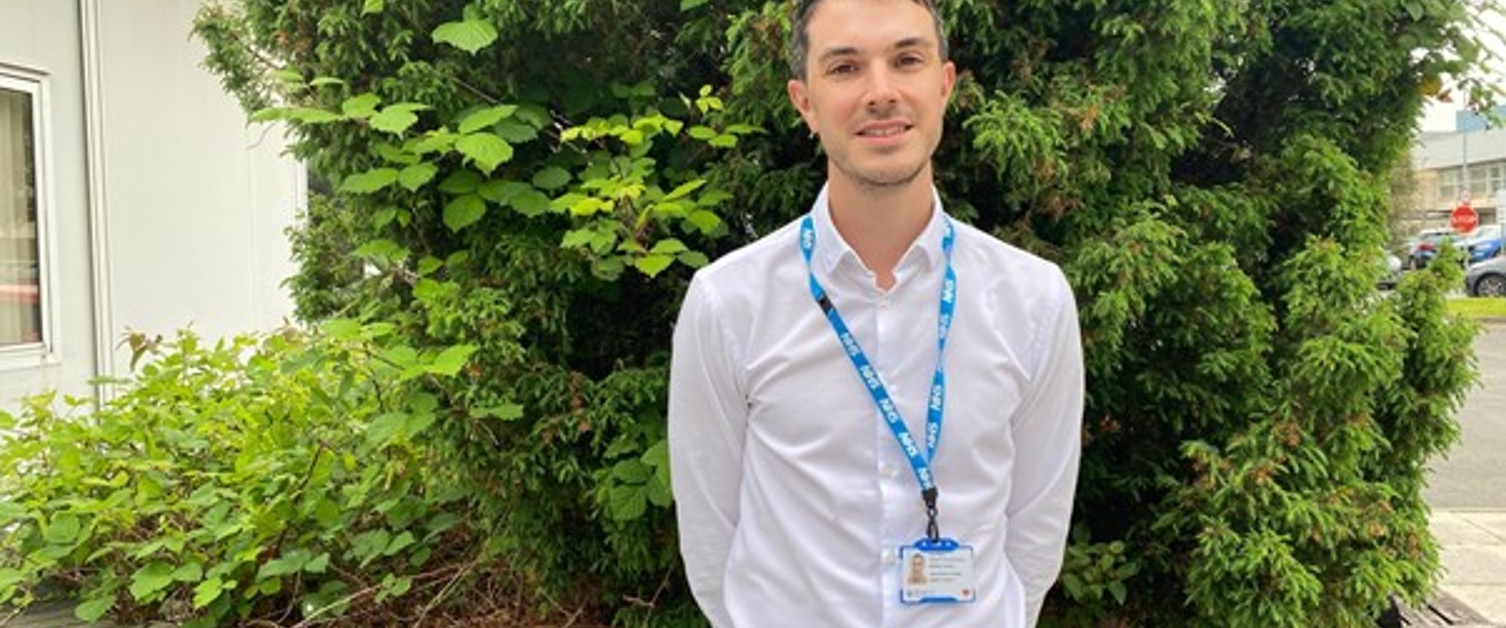 16 June 2022
A Dietitian who has helped provide information and support for people in our communities, including those in care homes, needs your vote to win a national award.
Paul Makin, 37 from Gowerton, is a Lead Community Nutrition Support Dietitian, whose contribution and work is benefiting people in Carmarthenshire, has been nominated and shortlisted for Community Nutrition Professional of the Year by his colleagues at Hywel Dda University Health Board.
Paul was nominated for several reasons, one of which was his development of a self-screening for malnutrition by means of a QR code that leads patients to a nutrition webpage platform. The QR code provides the public, patients, and healthcare professionals with an easy digital resource that they can scan if they are concerned about their own or others nutritional status.
Paul has supported the team in piloting a virtual care home support service to enable the health board to reach care home patients during the height of the pandemic when access was restricted to these areas. Paul is also currently studying a master's qualification and through this is developing a standard operating procedure for the community dietetics team within the health board. This will help the team, that works over four hospital sites.
With regards to his nomination Paul said "I was delighted to hear of my nomination, it was completely unexpected but greatly appreciated. I can't thank the community dietetics team enough for all their hard work and contribution to supporting our quality improvement projects over the past two years. So, for me, this nomination reflects the efforts and involvement of our community teams across the sites. As a clinical lead entering a new health board, it's reassuring to know, despite all the challenges experienced during COVID, that our hard work has been recognised. As a community service, we are working hard to improve patient flow to ensure that those with the greatest needs are receiving the care they need in a timely way."
Victoria Prendiville, Deputy Head of Dietetics, said "Over the last year Paul has turned challenges into opportunities and has led our community team to develop innovative and inspiring quality improvement work. With all these projects Paul has a methodical and inclusive approach, he shows dedication and is a true change facilitator. As a service we are incredibly grateful for his ongoing commitment to patient care, service innovation and change, and his dedication to Dietetics. We are extremely proud of his achievements and those of the team around him."
UK wide voting is now open until the 21st of July. Place your vote for Paul here (opens in new tab).