Re-commitment ceremony and charter implementation toolkit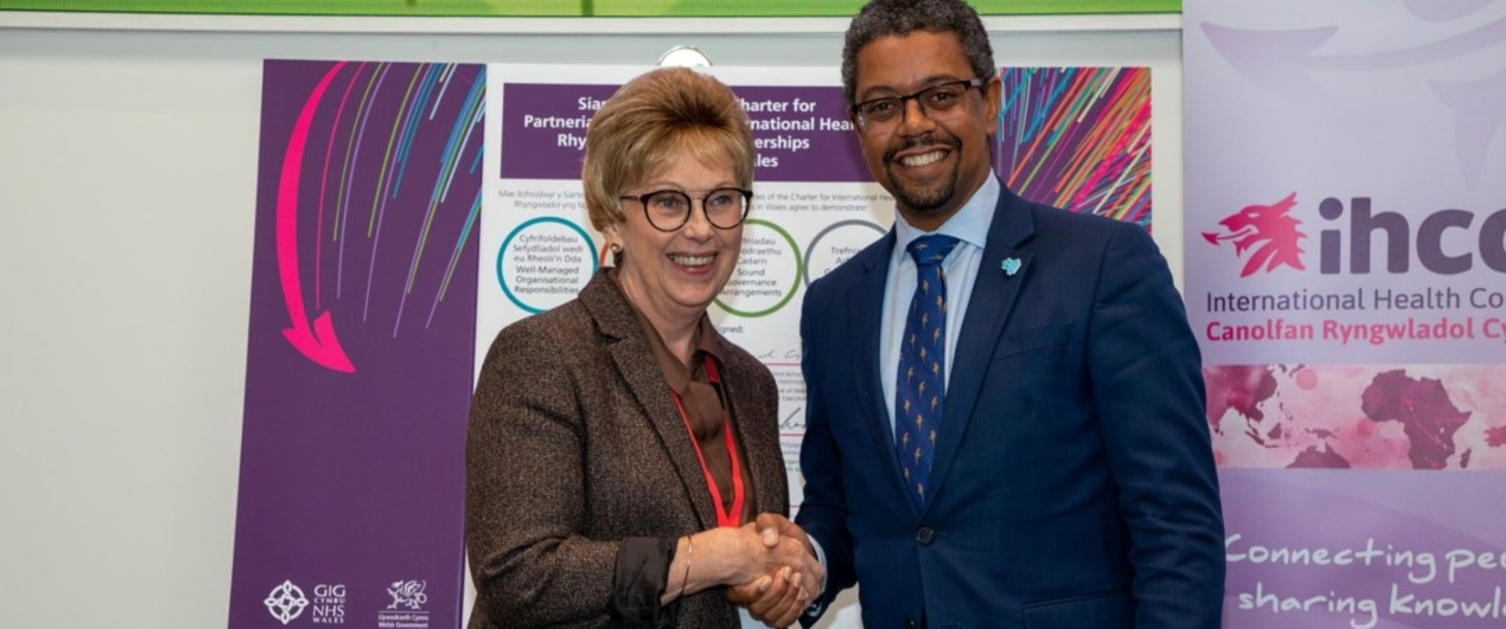 Health organisations across Wales have recommitted to an important charter promoting and strengthening international partnerships.
A recommitment ceremony and celebration of five years of the Charter for International Health Partnerships in Wales was held on 17 October 2019 as part of the Welsh Public Health Conference in Newport, Wales. The International Health Coordination Centre and Public Health Wales were joined by all Health Boards and NHS Trusts, their partner organisations, along with the Minister for Health and Social Services Vaughan Gething AM, the Chief Medical Officer Frank Atherton, and NHS Chief Executive Dr Andrew Goodall.
The event provided an opportunity for NHS organisations to recommit to their pledge to the principles of the Charter and to celebrate all the Charter had achieved. It also provided an opportunity to bring in a number of new signatories from the wider NHS and third sector, along with the launch of a Charter Implementation Toolkit.
Background
The Charter for International Health Partnerships in Wales was originally launched on 26 November 2014. It was developed by the International Health Coordination Centre at Public Health Wales, together with the Health Boards and NHS Trusts.
The Charter is a unique whole-of-NHS commitment, aiming to ensure that principles and values of the NHS are reflected in our international health activity, strengthening Wales' reciprocal work to build evidence-based practice, and developing sustainable partnerships based on equity in the pursuit of mutual, tangible benefits and healthy prosperous lives for all, within and beyond Welsh borders.
All Health Boards and NHS Trusts in Wales signed the Charter in 2014, pledging to follow good practice, ensure sound governance and organisational responsibility, and develop reciprocal international partnerships. Since then many varied and fruitful links have been established between NHS Wales' organisations and their partners worldwide.
These collaborations have ultimately led to greater cultural awareness, solidarity and diversity, increased leadership and health skills, promoted learning, networking and innovation, and have enhanced Wales' international and global health role and impact.
Charter Implementation Toolkit
The Charter Implementation Toolkit has been developed from lessons learned along the way, compiling examples of best practice and providing a robust governance framework to support international health activity. Designed as a 'living document,' the Toolkit will be continually updated to assist signatories in implementing charter principles.
Gill Richardson, Assistant Director of Policy and International Health, Public Health Wales, said:
"Health professionals in Wales have been successfully working with overseas partners for many years now. The Charter has been enormously successful in strengthening international health partnerships and promoting Wales' profile on the world stage.
"Recommitting to the Charter and the creation of the Charter Implementation Toolkit are important steps in ensuring that good work continues."
The Charter for International Health Partnerships in Wales can be viewed here https://ihcc.publichealthnetwork.cymru/files/5914/8467/3051/IHCC_Charter_for_IHP_Interactive_E.pdf while the Charter Implementation Toolkit can be accessed via the following link https://ihcc.publichealthnetwork.cymru/files/1015/7122/9482/Charter_for_Int_Health_Toolkit_English_.pdf