"The Healthcare Apprenticeship Programme has changed me for the better" says Amber Davies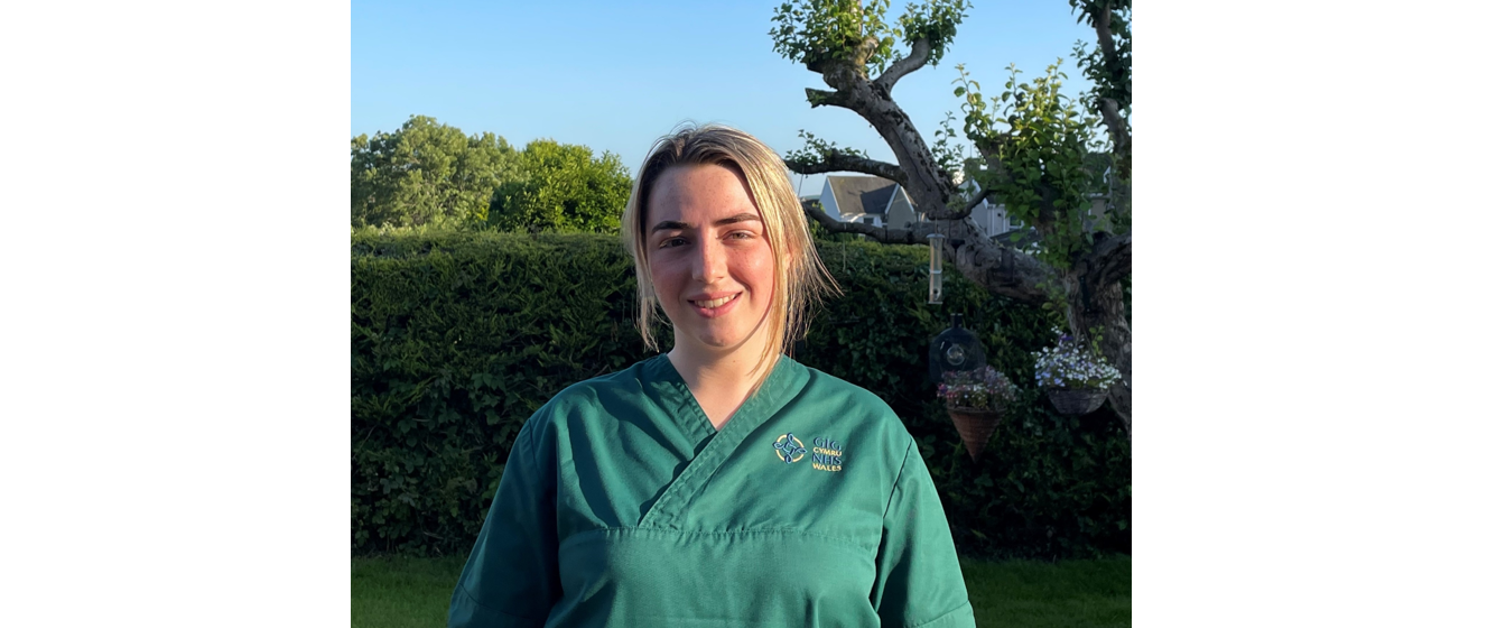 6 September 2021
A local healthcare apprentice shares her emotional journey working throughout the COVID-19 pandemic on Hywel Dda University Health Board's new podcast series.
Amber Davies is currently in her second year of the health board's seven year Healthcare Apprenticeship Programme (opesn in new tab) and once completed she will be a qualified nurse.
"I was thrown into the deep end and had to adapt quickly. When I qualify, I can look back and think… I've accomplished that."
Within the first two years, apprentices work in three-month rotations for different departments alongside healthcare professionals.
Starting in non-clinical practices involving domestics, portering and occupational therapy at Prince Philip Hospital in Llanelli, Amber then moved to a mental health ward during the pandemic.
"When I was working in Bryn Golau mental health ward, we had an outbreak. Staff and patients were tested, and I tested positive for COVID-19.
"I was alright, I just lost my senses. Living at home, I was worried about my family catching it, so I isolated in my bedroom."
Over the Christmas period in 2020 Amber moved to work on a COVID-19 ward, where she worked on the night of Christmas Eve.
"It was very difficult sometimes to not get emotional and I was surprised that I was getting emotional
"I didn't want patients to see me and think that this is really bad, that they're really unwell. But then, these patients weren't having any visitors and so we did get emotionally attached, so it was really distressing at times."
Amber was due to move on from the COVID-19 ward after three months, but the outbreak on the ward meant she had to stay longer.
"You must be strong for patients and their families especially when you're speaking to the families over the phone, it's very difficult."
A sister from Amber's ward would arrange a weekly Friday meeting called 'a huddle group' as a form of support for staff on the ward.
"We'd all debrief together on a Friday and we could talk about absolutely anything, it was nice.
"Coming home to my family who haven't got any medical background, they didn't understand, it was nice speaking to people who'd also lived in those moments.
"Coming home from work it was difficult to forget about the patients, especially when they've been really unwell.
"I would come home and just try as much as I could to distract myself and get out of the house."
A memorial garden for COVID-19 survivors and those who sadly lost their lives is hoped to be placed in a garden at Prince Philip Hospital.
"It's somewhere to sit and remember them, somewhere to feel close to them because (family and friends) weren't able to sit with them in their last minutes."
Amber will begin her nursing training next year.
"I want to complete this apprenticeship first, hopefully successfully, and then whilst I'm completing these different experiences, in different clinical areas I'll go from there.
"Then I'll be able to find out what I would like to specialise, where I'd like to work and go from there then.
"I have worked in both respiratory and mental health services. I've enjoyed both, but there are many more specialities, so I will keep my options open."
Listen to Amber's full podcast (opens in new tab), also available on Spotify.