Wales's first 24/7 mental health hub for young people opens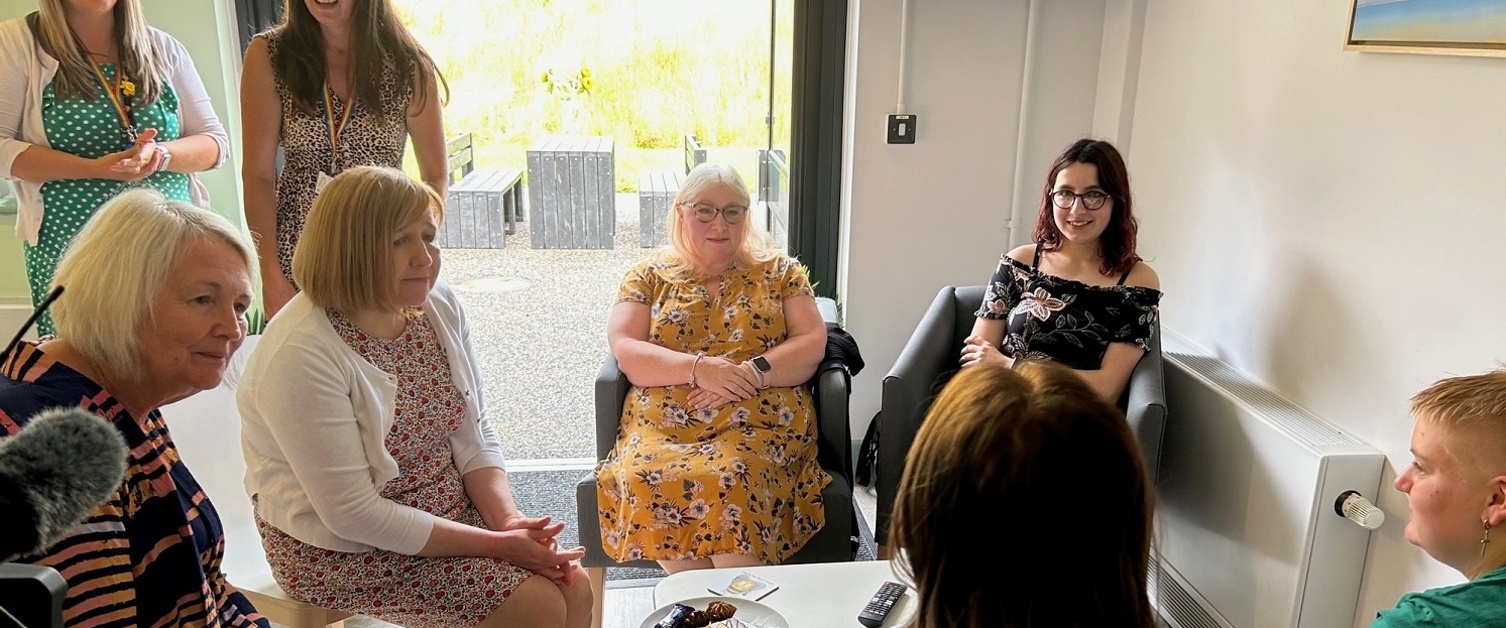 14 July 2023
Hywel Dda University Health Board has opened Wales's first mental health crisis hub for children and young people who are in need of urgent support 24 hours a day, seven days a week.
The Bro Myrddin Wellbeing Hwb was visited on Thursday (13 July) by the Deputy Minister for Mental Health and Wellbeing, Lynne Neagle MS alongside the Designated Member Sian Gwenllian MS.
Both were given a tour of the new centre in Carmarthen by members of the health board's Children and Young People mental health team. They also had an opportunity to speak to young service users and to hear their opinions on the new facility.
The Hywel Dda Sanctuary service offers a round-the-clock bespoke mental health provision for children and young people in the right environment, when they need it most.
It will prevent long waits for distressed children in urgent and emergency care and will prevent the need for acute mental health wards to admit children for short assessments.
The 24/7 Sanctuary facility has been established in Carmarthen by Hywel Dda University Health Board, thanks to a funding commitment in the Co-operation Agreement between the Welsh Government and Plaid Cymru.
Lynne Neagle said she was delighted that the new Bro Myrddin Hwb had opened its doors and was very impressed by what she had seen during her visit.
She said: "It's just fantastic – there are these lovely rooms where young people can come and spend a bit of time, chill out, de-escalate and obviously have an assessment as well so that we can make sure that their needs are being met. It's fantastic to see this lovely new building in operation for young people."
Ms Neagle said that she had enjoyed meeting some of the young service users on her visit and how important it was to listen to their needs and opinions.
"We've had some really good feedback from the young people we've met here today. They clearly really appreciate having this lovely facility. I think it's important for young people to have facilities that make them feel valued when they are struggling, and this is ideal really."
Some of the young service users who were invited along on the day said that they were impressed with the new Bro Myrddin Wellbeing Hwb.
Poppy, 18 from Pencader said: "I think young people will be really appreciative of the centre and think 'this is for me - but not only for me but for all the young people who are suffering'. This is an area they can come to, to feel accepted, welcomed, de-stressed. This is such a positive thing – it is truly marvellous. I can't put it into words how much I appreciate this place and that it's been built for us."
Alex, 17 from Carmarthen said: "It's so beautiful! I remember at first they wanted it to be really colourful and I thought 'that sounds amazing' but there are times when you want to sit and feel at peace. With colours jumping out at you, you can get really over-stimulated and I feel like they've listened to that because it's not overly colourful but it brings joy! It's just a peaceful place. They listened and I find that really validating.
Mia, 16 from Ceredigion said: "I'm really impressed with the new Hwb. It's just really inviting and it's going to be much better for those who use it to have such a friendly environment."
Angela Lodwick, Hywel Dda University Health Board's Assistant Director, Mental Health and Learning Disabilities, said: "The Bro Myrddin Wellbeing Hwb is the first of its kind in Wales and we are incredibly proud of this innovative development.
"Our team has put a lot of hard work into creating this wonderful space where young people in crisis can come to feel safe and cared for at any time of the day or night.
"It provides a real alternative for young people who need help tailored to their particular needs and who would otherwise have to be treated in urgent and emergency care or a mental health ward."
Alongside the new Carmarthen-based Hwb, the health board is collaborating with third sector organisations to deliver Children and Young People Sanctuary services in Pembrokeshire and Ceredigion.
Working with Mind Pembrokeshire and Adferiad Recovery in Ceredigion, the service began in March and is available Friday-Sunday from 5.00-10.00pm and provides a safe space for young people aged 12-18 in crisis or mental health distress.