Why we still need to protect ourselves from COVID-19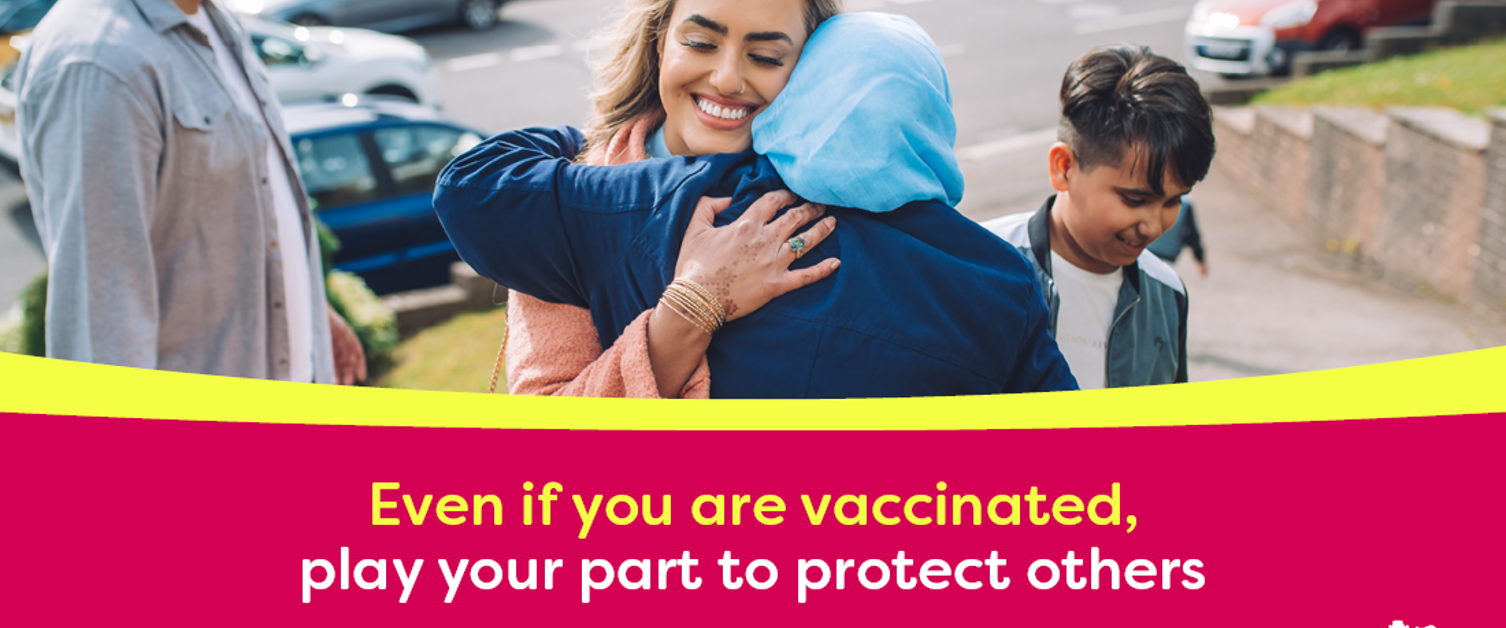 26 August 2021
Even though restrictions are being eased, COVID-19 has not gone away and we all have a reason to keep our communities safe reminds Hywel Dda University Health Board (opens in new tab).
With COVID-19 cases rising across Carmarthenshire, Ceredigion and Pembrokeshire, everyone is asked to remember what we can do to protect ourselves and each other.
As at 26 August, the rolling weekly rate per 100,000 saw an increase in all three counties, with Carmarthenshire increasing to 287, Ceredigion to 271 and Pembrokeshire 396. The overall rate for Hywel Dda increased in this week to 319 per 100,000.
The number of tests carried out in Hywel Dda UHB area has also increased for the same period, with results showing an increase in positivity to 17% (11% the previous week).
While the most significant increase is amongst the under 30s, there are still positive cases among the over 70s.
Even if vaccinated, following these simple steps can keep us safe, and remember that some rules are different in Wales.
- Work from home whenever we can
- Self-isolate and book a test if you have symptoms, even if mild
- Meet outside, it is safer than inside
- Limit our social contacts and keep a distance when possible
- Wear a mask, especially in crowded places
- Wash our hands regularly and thoroughly
We can do this to keep ourselves, our friends and family safe, and to protect our frontline services to serve our communities when you need us most.
Ros Jervis, Director of Public Health at Hywel Dda UHB, said: "We are still very much in this pandemic which continues to disrupt our everyday lives. I'm proud of how much effort people have put into staying safe since it began. The rise in cases shows that, whilst hospital admissions are not as high as in previous waves, COVID-19 remains a risk to our health and our health service.
"I'm appealing to everyone to continue doing our bit by sticking with the 'keep safe' behaviours that have almost become second nature. Without your help, we will struggle to contain further spread of coronavirus here in west Wales."
Anyone with COVID-19 symptoms, including cold and flu-like symptoms, must self-isolate and book a test via the UK portal (opens in new tab) or by calling 119 as soon as possible. By doing this, you can help to reduce the risk of further spread of the virus across our communities.
You must continue to self-isolate until you receive your test result, which will usually be within 24 hours of the test. If your result is negative, you can end your self-isolation, when you feel well enough to do so.
If your result is positive, you must self-isolate for 10 days from the date your symptoms started. A contact tracer will be in touch with you and will only contact you from 02921 961133. If you miss the call, don't worry, they'll call you back.
Why it's important to speak to a contact tracer? By sharing information on recent contacts, tracers can ask those who may have caught the virus to self-isolate to help stop further spread. It's important that people answer the contract tracer's call so they can help you, especially if you or your contacts need extra support. Information you share with them will be kept safe and treated confidentially, as with all health information.
Read more about symptoms, Test, Trace, Protect and vaccinations here (opens in new tab)
Together we can keep Hywel Dda safe.