Launch of public consultation on location of new planned and urgent care hospital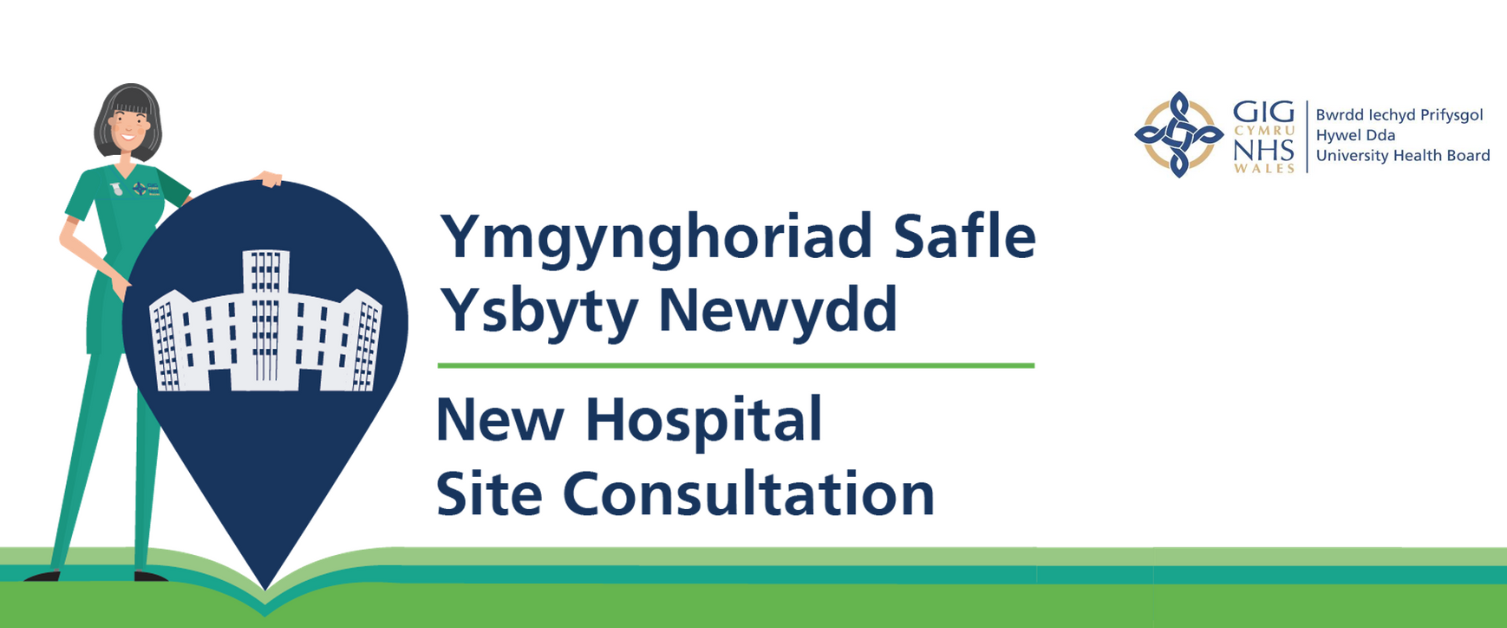 22 February 2023
Between 23 February and 19 May, Hywel Dda University Health Board (UHB) will be inviting members of the public, staff and partner organisations, to share their views about three potential sites for a new planned and urgent care hospital as part of the Health Board's wider strategy to improve health and care in the region.
Last year, the Health Board submitted ambitious plans to the Welsh Government, which if successful, could result in the region of £1.3billion investment into health and care in mid and west Wales. The foundation of the plan, which was developed following consultation in 2018, is to bring as much care as possible closer to people's homes, with plans for a network of integrated health and care centres, designed with local communities, across Carmarthenshire, Ceredigion, and Pembrokeshire.
Maria Battle, Hywel Dda UHB Chair, explains: "A new urgent and planned care hospital is part of our strategy to be able to re-provide more care in community settings, by having a sustainable hospital model fit for future generations.
"This will improve and increase the specialist care services that can be provided in Hywel Dda and tackle some long-standing challenges, including old hospitals, problems in maintaining medical rotas over several hospitals, and staff recruitment."
Steve Moore, Hywel Dda UHB Chief Executive, added: "Our consultation sets out three potential sites for a new Urgent and Planned Care Hospital in the south of the Hywel Dda University Health Board area – two near Whitland and one near St Clears.
"We do not have a preferred site and we have not bought any site or land for this development. Purchasing a site and delivering the new Urgent and Planned Care Hospital is subject to the Welsh Government funding, which is not yet confirmed, and if successful, would take several years to achieve. In the meantime, we want to continue to work with you, our communities, to prepare and deliver the best health and care services that we can.
During the consultation, the Health Board will be seeking feedback from all members of the public – people who live, work, or have an interest in our area, as well as organisations working in or interested in health and well-being, on the potential sites for the new hospital.
Lee Davies, Hywel Dda UHB Executive Director of Strategy and Planning, said: "We want to meet with and hear the views of as many people in our communities as possible during the consultation. To help members of our communities to learn more about the plans for our new urgent and planned care hospital, we have arranged a number of public drop-in events – both in-person and online – for people to share their views with us. We look forward to meeting with members of our communities during the coming weeks."
The public drop-in events will be held between 2pm and 7pm:
10 March, The Great Hall, Guildhall, Cardigan
14 March, Selwyn Samuel Centre, Llanelli
16 March, Haverfordwest Rugby Club, Haverfordwest
21 March, Ivy Bush Royal Hotel, Carmarthen
24 March, Regency Hall, Saundersfoot
28 March, Llandybie Public Memorial Hall, Llandybie
17 April, Whitland Sports and Social Club, Whitland
21 April, Morlan Centre, Aberystwyth
24 April, St Clears Leisure Centre, St Clears
In addition to the drop-in events, three online sessions are planned for:
6:30pm, 13 March
1pm, 23 March
10am, 31 March
Details of the consultation, including information on how to register for the online sessions, copies of the consultation documents in a range of formats, and details of how to share your views, will be available on the Health Board's website on 23 February: New hospital site - Hywel Dda University Health Board (nhs.wales)