Roof mounted photovoltaic panels for Bronglais Hospital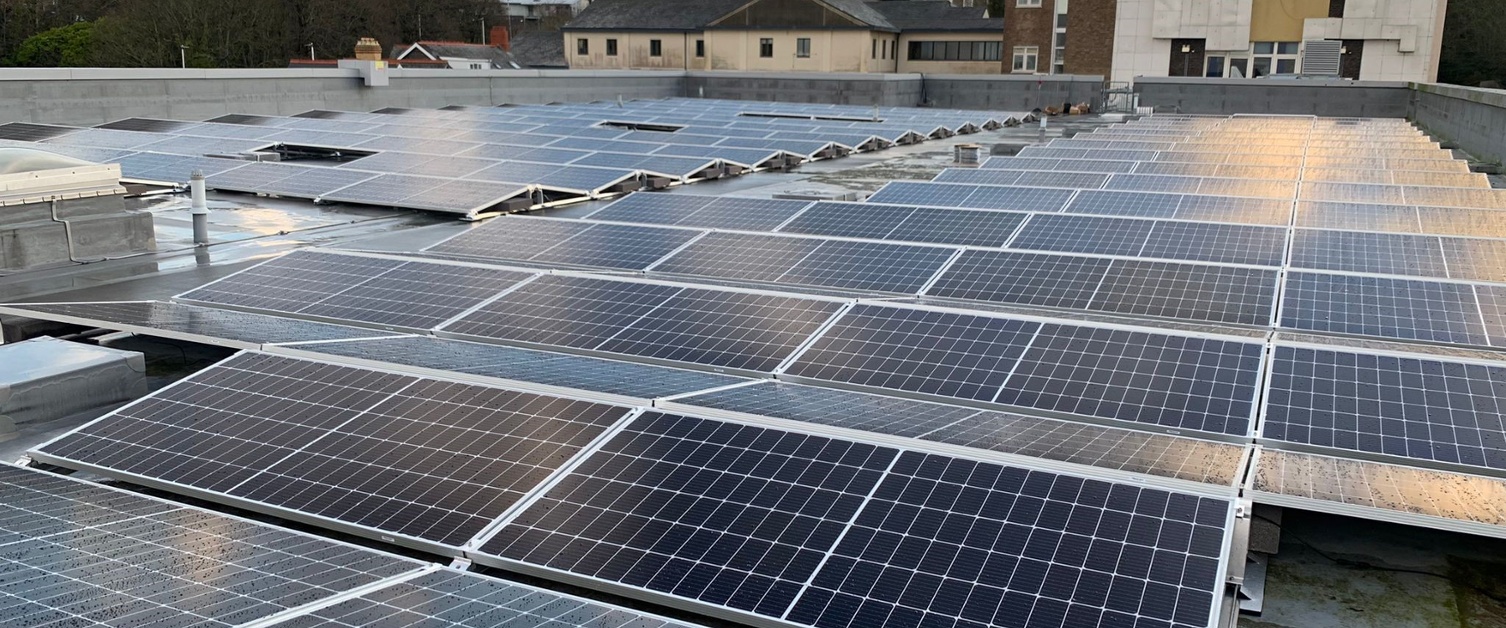 25 February, 2022
New roof mounted photovoltaic (PV) panels have been installed at Bronglais Hospital in Aberystwyth, as a part of Hywel Dda University Health Board's ongoing commitment to decarbonisation.
The panels have been installed on the front house at the hospital,and will eventually generate approximately 3% of the site's use. This is expected to lead to annual carbon savings of 33.39tCo2e.
The panels will generate electricity, which will be fed into the main hospital supply, and thereby reduce the health board's reliance on purchasing grid generated electricity.
In addition to the panels, the hospital is currently undergoing a process to replace traditional light bulbs with LED bulbs in Blocks 1, 2 and 3. This rollout will be completed by the end of March 2022 and is expected to result in annual carbon savings of 9.76tCo2e, and annual costs savings of £5,872.
In the past few years, the health board has implemented a range of initiatives (opens in a new tab) to reduce our carbon footprint. One such method has been the installation of roof mounted PV panels across seven sites between 2019-22. This includes Amman Valley Hospital, Bro Cerwyn, Bronglais Hospital residences, Milford Haven Health Centre, Pembroke Dock Health Centre, and Llandovery and Cardigan Integrated Care Centres. The panels are estimated to save approximately 419,165 Kwh of electricity and £40,000 per annum in energy costs. Annual carbon savings from these projects are expected to be approximately 106 tCO2e.
Paul Williams, head of property performance at Hywel Dda University Health Board, said: "We have always been committed to decarbonisation at our facilities, which is evidenced in the range of energy efficiency, low carbon projects that the health board has delivered over the years.
"The PV panels and LED lights at Bronglais Hospital are further examples of the steps we're taking to tackle the Climate Emergency, which was declared by the Welsh Government in 2019, by tapping on alternate, renewable energy sources.
"Our work however doesn't end here. Over the next few months, we will continue to share our progress on a variety of planned initiatives to reduce our impact on the environment."
In 2019, the Welsh Government declared a Climate Emergency. It has a long-term target to reduce all greenhouse gas emissions to net zero by 2050, and an ambition for the Public Sector to lead the way and be net zero by 2030 (opens in a new tab).