Lord Lieutenant visits Mass Vaccination Centre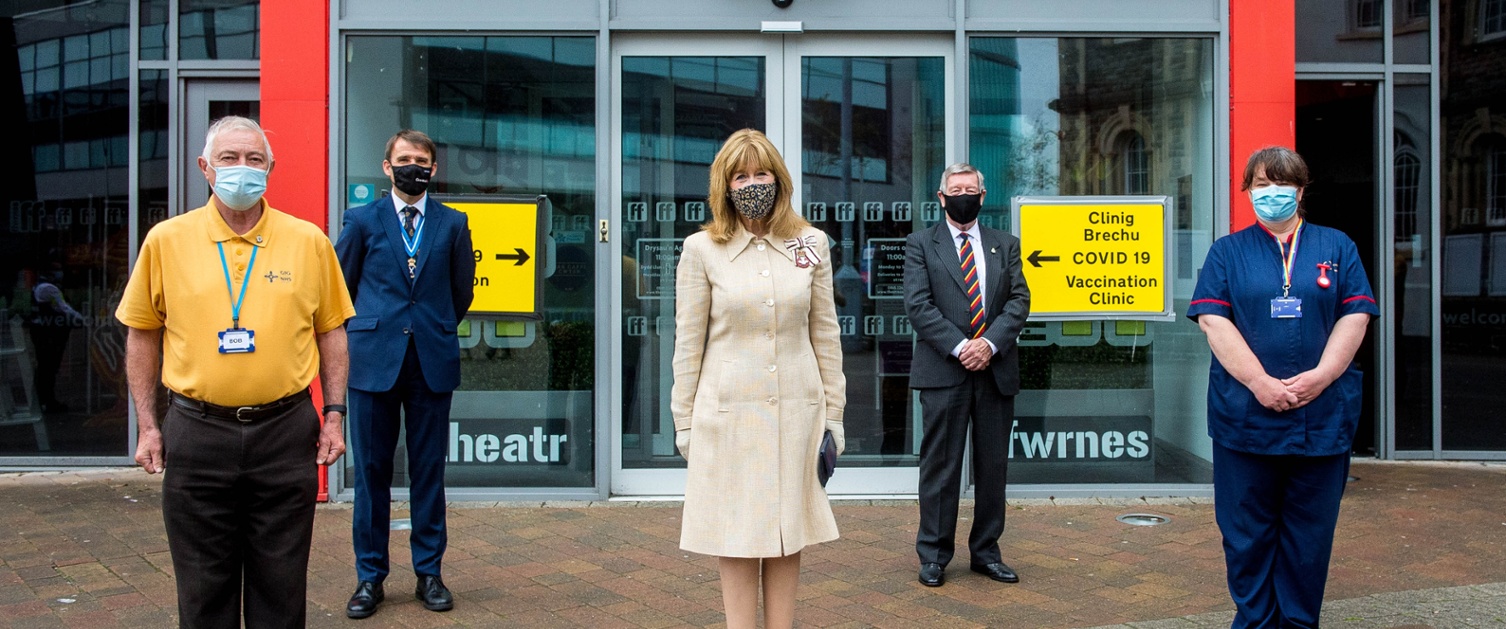 Her Majesty's Lord Lieutenant of Dyfed, Miss Sara Edwards, has paid tribute to all those involved in the COVID-19 vaccination programme during a visit to the Y Ffwrnes Mass Vaccination Centre in Llanelli.
During the visit on Wednesday 9th June she was joined by the Vice Lord-Lieutenant, Lt Col David Mathias, and the High Sheriff of Dyfed, Mr.Jonathan Gravell. They met and spoke to the centre's vaccinators, NHS staff, security staff and volunteers.
To date, the collective efforts of mass vaccination centres, GP practices and community pharmacies in Carmarthenshire, Ceredigion and Pembrokeshire, have resulted in the Hywel Dda University Health Board delivering over 431,850 vaccinations. This means 266,785 of the eligible population have now received a first vaccine, and 165,056 have received both doses.
The Lord-Lieutenant of Dyfed said: "It was wonderful to see first-hand the incredible work being undertaken by the vaccinators, NHS staff and volunteers. They have played a crucial role in the success of the vaccine rollout programme. I would also pay tribute to the public for their overwhelmingly positive response to getting vaccinated."
Maria Battle, Chair of Hywel Dda University Health Board, added: "On behalf of the health board, I was delighted to welcome Her Majesty's Lord-Lieutenant of Dyfed, Miss Sara Edwards, the Vice Lord-Lieutenant, Lt Col David Mathias, and the High Sheriff of Dyfed, Mr Jonathan Gravell. I am deeply proud of everyone involved in the vaccination programme and I'm glad they got to see for themselves the incredibly work being undertaken to help get us through this pandemic."